When Walt Disney World reopens on July 11, 2020, Minnie Van Service will be suspended. For more information on changes to Walt Disney World, please check out this post! 
If you've been to the Walt Disney World Resort in the last year or so, you may have noticed red and white polka dot SUVs driving around the resort. These adorable 'Minnie Vans' are a new "on demand" transportation option for guests, similar to Uber or Lyft. In fact, Disney has partnered with Lyft for the app managing the Minnie Van service. So how does it work?
Step One: Download the Lyft App
Really, step 1A is make sure you have a smartphone! Download Lyft either prior to your visit or once you arrive at Walt Disney World. If not already registered with Lyft, be sure to set up your account and payment information. You may need to confirm the service via the My Disney Experience app.
Step Two: Request Your Ride
Minnie Van service is available from 6:30 am – 12:30 am daily. Open the app to request a ride. Minnie Van Service is available anywhere on Walt Disney World property as well as Bonnet Creek, Flamingo Crossings, and Hotel Plaza Boulevard resorts. Confirm your pick up location, enter your destination, and be sure to select Minnie Van service as your transportation option. (You may need to scroll to the right to see Minnie Van as an option.) Tap "request."
The closest available driver will be notified and on their way to you shortly! You can track their location in the app. You will also be given information about which Minnie Van is yours. They all have a number painted on the sides!
Guests can also arrange Minnie Van service to and from MCO (Orlando International Airport) in advance by calling 407-WDW-PLAY.
Disney Cruise Line guests staying at a Walt Disney World Resort before or after their stay can now arrange Minnie Van transfers to and from Port Canaveral! Unfortunately, Minnie Van service is not available between Orlando International Airport (MCO) and Port Canaveral. Contact Disney Cruise Line to set this up!
Step Three: Enjoy Your Ride
Once your driver arrives, they will greet you, confirm your information, set up any car seats that are needed (each Minnie Van has two convertible car seats available), and get you settled. The vehicles are very comfortable and can seat up to six people. There are even phone chargers that can charge multiple devices and types at one time!
The vans are even equipped with music, themed to your destination. Headed to Animal Kingdom? There is a playlist for that! It is the little touches that truly set Minnie Vans apart from the other options.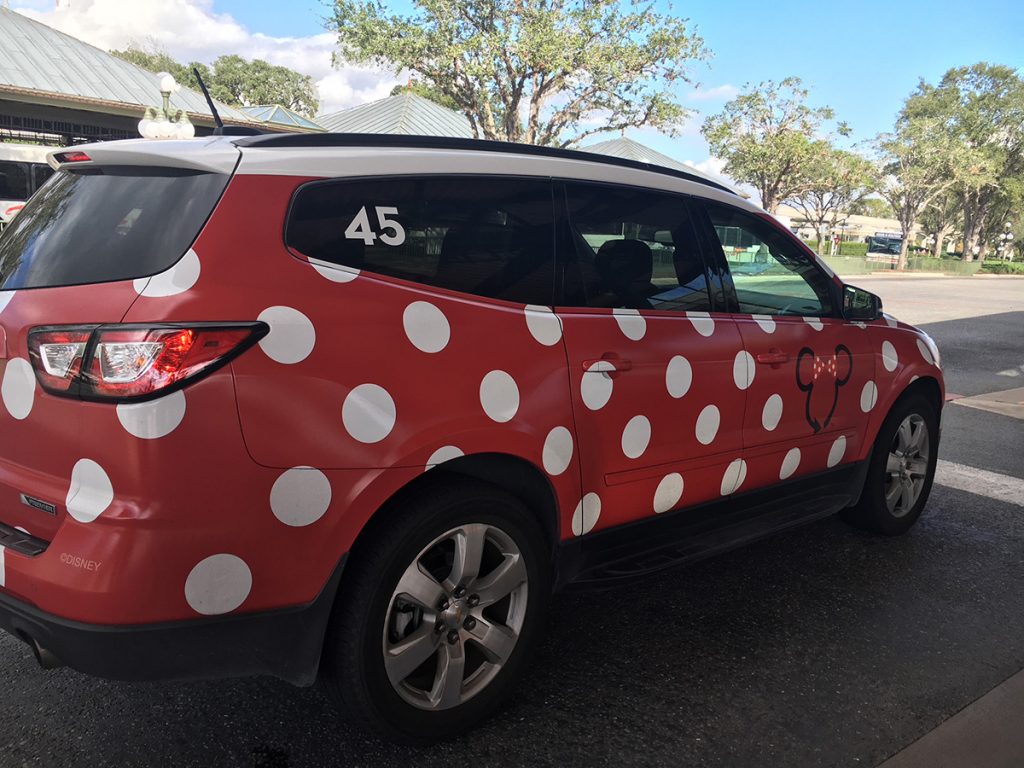 Step Four: Payment
Once you have arrived at your destination, you will complete your transaction through the Lyft app. Minnie Van ride fees are based on the distance between the pick up and drop off location. The app will also give you the option to tip your driver when confirming payment.
Why Do I Love the Minnie Vans?
For me personally, one of the biggest luxuries is not having to wait. Time is money after all! So while there are times when I am content to stand in line for a bus, boat, or monorail, there are also times where I just want to get where I am going quickly, efficiently, and, sometimes most important, quietly. A Minnie Van has been the perfect respite from the chaos of the parks for my family on many occasions!
There is something indulgent feeling about slipping into your private car, driven by a pleasant Cast Member, cranking the A/C, and relaxing into the comfy leather seats. Charge your phone, chat about your day, or simply close your eyes and enjoy the ride. Yes, you are paying for what is often a very short ride that you could take for free on Disney's bus system but to me, it is well worth the money. Certainly not every time I need to get somewhere at Walt Disney World, but as a nice alternative when time is of the essence or I simply need a break.
Minnie Van Versus Other Ride Share Services
Recently the price for Minnie Van Service has increased, making it significantly more expensive at times than a typical Uber or Lyft. So is it still worth it?
The answer is – it depends! On a recent trip, I wound up using Uber/Lyft more often than Minnie Vans. The price was less than half the cost, even for Uber XL or Lyft XL. Now I will say, the ride was not nearly as magical. But all of the drivers I had were very pleasant and the cars were in pretty good shape. I suspect that local drivers have had to up their game a bit to compete! But there is no magic, it is just a ride.
I will definitely continue to use Minnie Van when I want to indulge and arrive in style. What do you think? Have you used Minnie Van service? Do you feel it is worth it? Let us know in the comments!