The Magic Kingdom has a wide variety of restaurants and snack carts spanning the park. There are some great options in each land, but here are my favorites.
Counter Service
Columbia Harbor House
Located between Fantasyland and Liberty Square, Columbia Harbor House offers a variety of New England-style food such as lobster rolls, fried fish, and hush puppies. The menu is updated often and they sometimes offer a vegetarian chili or a chicken pot pie. Everything is yummy! My favorite is the tuna sandwich (the kid's meal version comes on goldfish-shaped bread!).
For side items you can pick from fries or carrots, but their fries are so good it's hard to pass them up even for a healthier option. For dessert try the Boston Cream Pie or the Seasonal Cobbler!
Pinocchio Village Haus
Pinocchio Village Haus is a fun restaurant in Fantasyland. It offers flatbread pizzas, chicken parmesan, and other favorites such as baked ziti. They have seating both inside and outside, but my favorite place to sit is on the west side of the restaurant where you can overlook the it's a small world loading area. They have dessert too, so don't skip that! Gelato and sorbet in seasonal flavors.
Honorable Mention: Be Our Guest
Be Our Guest is unique that it's counter service for breakfast and lunch and table service for dinner. I enjoy the food there for breakfast and lunch more than I do for dinner, but it's all good! The reason this gets an honorable mention for me is because it's so difficult to get a reservation! This restaurant is the only one in all of Walt Disney World that requires reservations for counter service! And while I like the food it's so hard to get in that it makes it difficult to eat there often. But if you can get a reservation, you should eat there, and do try the gray stuff (it's delicious)!
Table Service
Jungle Navigation Co., Ltd. Skipper Canteen
The newest restaurant in Magic Kingdom is the Skipper Canteen in Adventureland. With puns and dad-jokes like the Jungle Cruise, the menu is whimsical and adventurous! They have soups and salads and entrees that are sure to satisfy even Dr. Albert Falls himself. A new addition to the menu is a limited selection of beer and wine.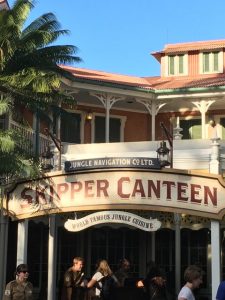 Crystal Palace
A Buffet with Character! An all-you-can-eat character meal, the Crystal Palace is open for breakfast, lunch, or dinner and is some of the best food in Magic Kingdom. There is a huge variety in this large buffet spread. For breakfast you can eat Mickey waffles or French toast (or both), and just about any breakfast food you're looking for. Lunch and dinner offers soups and salads, meats and fish, breads and tons of vegetables.
But the best part of this restaurant is the characters! Winnie the Pooh and friends come around to each table and give you plenty of time with each character to take photos and get autographs. Sometimes the characters lead a parade around the restaurant and kids of all ages are welcome to join in on the fun.
Honorable Mention: The Plaza Restaurant
Located on Main Street USA on the Tomorrowland side, the Plaza Restaurant has a wide variety of foods and is open for breakfast, lunch, and dinner. One reason I love this place is that it's not as "well known" as some of the others, making it easier to get a reservation. But the food is great! I love their sandwiches but they also have home-style favorite such as meatloaf and burgers. And bread pudding for dessert so how can you go wrong?
Snacks
There are snack carts all over the place at Magic Kingdom! Some are the regular cars serving ice cream bars, churros, or popcorn, but there are a few places that are unique.
Sleepy Hollow
I had a hard time deciding if this is a snack location or a counter service location, but I'm going to say it's both! They have all day waffles and waffle sandwiches, but they also have ice cream sandwiches (on churro waffles!!) and funnel cakes. With excellent views of Cinderella Castle or a parade this is a great place to sit and eat your snack sandwiches!
Aloha Isle
Dole Whip, any one? A Dole Whip is a soft-serve ice cream- pineapple flavored! They also have vanilla, but why not choose pineapple? In addition to the Dole Whips they serve root beer (or any soda) floats with this unique soft serve treat. This spot is located in Adventureland near the Enchanted Tiki Room.
What are some of your favorite places to grab a bite to eat at the Magic Kingdom? Let us know in the comments!