I talk all the time about how much I love the snacks at the Disneyland Resort – they do them better than anybody!!! You can always go with the classics – a Mickey bar, a Dole Whip, churro, or those famous corn dogs from the Little Red Wagon. And those are all amazing. But I usually look beyond the obvious to some little more 'hidden gems'. So I thought it was time for me to write down my favorite snacks that I'm pretty much guaranteed to be found eating.
Warning – do NOT read this post hungry!
CHURRO FUNNEL CAKE
Without a doubt this is my FAVORITE snack at Disneyland. Or anywhere else, really. Found in Critter Country at the Hungry Bear Cafe, they've taken a funnel cake and coated the batter in cinnamon sugar churro-y goodness, drizzled it with caramel sauce, and topped with some whipped cream. The amount of heaven this brings cannot be understated. I'm drooling just thinking about it right now. But be sure to share – as painful as that is to say – because sugar shock is imminent if you finish the whole thing on your own!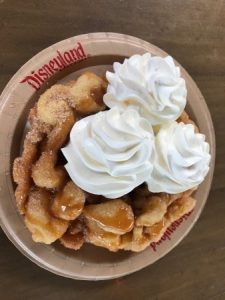 MATTERHORN MACAROON
This is probably the most adorable snack anywhere – the coconut flavored cookie is topped with white chocolate 'snow' and it looks awfully like a certain famous mountain located in Disneyland. You can find this little treasure at the Jolly Holiday Bakery, it's crunchy on the outside and gooey on the inside with all the delicious coconut flavor you can imagine. I love a treat that not only tastes great, but makes for a great Instagram photo, too!
STRAWBERRY TWIST
Located at Maurice's Treats in Fantasty Faire, this is phyllo dough swirled with a strawberry jam and dusted with powdered sugar. It's just sweet enough without giving you a toothache, and I love the chewy texture of it. In the fall, the twist changes to a pumpkin variety and I cannot decide which I love more! Oh… there's a chocolate version for all of you chocoholics out there, too!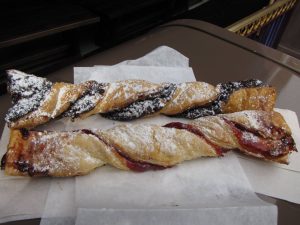 PEANUT BUTTER SANDWICH
Hidden in Critter Country, in the very back corner of the Pooh's Corner gift shop is this fancy little sandwich. It's peanut butter spread between two graham crackers and then covered in milk chocolate. It's like the fancy big sister of a peanut butter cup, and that makes me love it. They're huge, too, basically the size of the palm of your hand. I may be known to sit and eat an entire one in one sitting.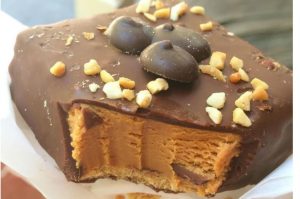 TIGGER TAIL
A marshmallow wand dipped in caramel and then white chocolate, covered in orange sprinkles and then drizzled with milk chocolate stripes – this looks just like Tigger's tail! It's adorable, but also really yummy, and it's also found at Pooh's Corner. It's light and fluffy (so you can eat more of it!) and very sweet. Occasionally Disney will bring back the much prettier version, the Cheshire Tail – which is pink and purple striped to look like that crazy feline from Alice in Wonderland – so keep your eyes peeled for Chesh and consider yourselves lucky if you find it!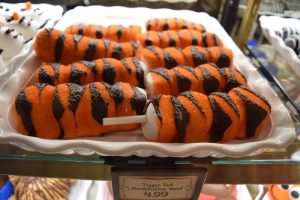 FUNNEL CAKE FRIES
Okay, I clearly love funnel cake. It's deep fried dough. What's not to love? But after Disneyland created the glorious churro funnel cake I thought it couldn't get any better. I was wrong. Over at California Adventure park at Award Wieners you'll find funnel cake fries. Essentially, they are bits of funnel cake cut into french fry shape, but it's what they do with them that makes them amazing. They have become seasonal treats that change flavors with the current holiday or time of year.
There are peppermint and gingerbread versions for Christmas, and currently there's a fancy version for the new Get Your Ears on celebration that features crumbled confetti cake, frosting, whipped cream and Mickey sprinkles (which I really need to try!), but the absolute best version is the pumpkin spice version in the fall. It's sweet with just a hint of spice and I am so in love with it. I go to the park at least three times during the fall to grab a plate. It is the perfect snack!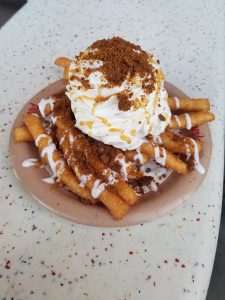 Have you tried any of these? Did I miss your favorite? Share with me the snacks YOU love at Disneyland in the comments below!