Awhile back I wrote a blog post about my favorite snacks at the Disneyland Resort. But I haven't yet written about my favorite snacks at the Walt Disney World resort. It's about time I fix that! If you listen to our podcast, you'll probably know what my ultimate favorite is. But I'm going to give you some of my other favorites as well, so the next time you're visiting the Florida parks you can go try them out for yourself!
My Favorite Snack at Walt Disney World – Carrot Cake Cookie!
I know I say this all the time, but the Carrot Cake Cookie at Disney's Hollywood Studios is my ultimate favorite Disney snack. I cannot get enough of it! It's easily the best carrot cake I've ever had. But instead of a slice, the cake forms two cookies and sandwiched between the two fluffy cookie cakes is this amazing, gooey cream cheese frosting. It is delightful. It's also really big, so either share (I don't.) or be prepared to save some for later (my preferred option) because otherwise you'll go into a sugar shock!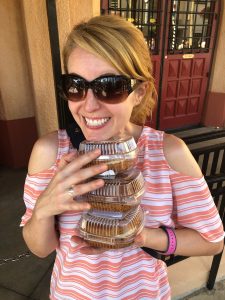 Corn Dog Nuggets
Over at the Magic Kingdom I always head right to Casey's Corner for these little beauties. You can order them as a meal with fries, but I usually just get an order on their own and snack away. They're tiny little cocktail hot dogs battered in cornmeal and then fried until golden brown. I smother them in ketchup and sit and giggle to myself while I snack on them. They're also not something everyone knows is available, so they're somewhat of a hidden gem at the Magic Kingdom!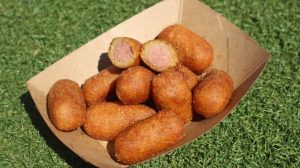 Cinnamon Roll
Who else besides me was devastated when the Main Street Bakery became Starbucks? Some of my favorite treats were located here and I was so sad to lose them to history (RIP, French Toast Loaf). But thankfully, one item was saved and moved over to Gaston's Tavern. If you haven't gone in and tried the warm cinnamon roll, I don't know what you're waiting for. It's almost identical to the one from Main Street Bakery. It's massive – twice the size of your hand and served so warm and gooey. Pro Tip: ask for a side of frosting that you can drizzle over your roll to make it extra sugary and delightful!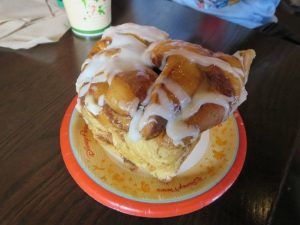 Bavarian Pretzel
Over at Epcot in the Germany pavilion is one of my favorite snacks in the entire park. The giant pretzel is soft and chewy and salty and buttery and really just perfection. If you want to grab a pint from the beer cart next door to have with your pretzel and complete your German culinary experience, I'm not going to judge you! You do you!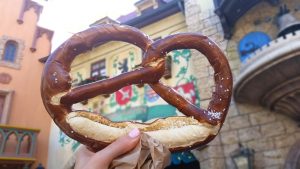 Caramel Corn
The Germany pavilion at Epcot is clearly the place I like to go for my snacks, because here you'll also find another of my favorites – the Werther's Original caramel corn at Karamell Kuche. Have you had this yet? If not, why!? I know you've smelled the incredible scent wafting out onto the promenade as you walked by. This is unlike any other caramel corn I've ever had. It's super buttery, not overly sweet, and if you're lucky (or incredibly patient), you can time it right and watch cast members make it right in front of you and you get to eat it warm out of the kettle? Name one thing better than that!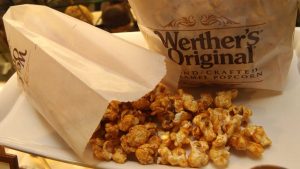 There are so many snacks at Walt Disney World, it would be impossible to name every single one I love (I didn't even get around to naming cupcakes!). Did I miss your favorite? Let me know what it is in the comments below!