It can be hard to find information on the Disney parks in Asia. It's hard to get to China, so there aren't many articles to be found, but I had the best time at Hong Kong Disneyland. It's such an adorable little park! I want to share with you everything I loved most about the park. Here's some personnel insight on my fondest memories.
HALLOWEEN AT HONG KONG DISNEYLAND!
I visited Hong Kong Disneyland in mid-September, and just like the parks here in the US, the Halloween activities were in full swing. UNLIKE the parks here in the states though, Hong Kong Disneyland goes all out. There's trick or treating and crafts for the little ones and characters in costume. But after dark, things get sinister. In Adventureland, smog reveals cursed pirates lurking in the dark. There's a cavalcade of Disney Villains parading down Main Street. And my most favorite thing – just off the hub you'll find The Nightmare Experiment. It's a haunted maze where Disney characters get creepy, pulling guests out of the audience, chasing you from room to room and making all of your nightmares come true. We would NEVER see something like this at the US parks, and that's what makes it so delightful. It's so much fun to run and scream and see Disney get a little scary on us.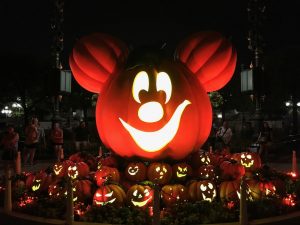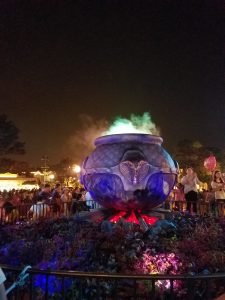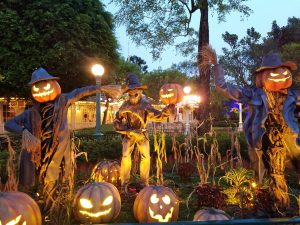 MYSTIC MANOR AT HONG KONG DISNEYLAND
All of the Magic Kingdom parks around the world have a version of the Haunted Mansion, but in Asia the culture doesn't believe in ghosts. So what to do? Enter Mystic Manor – owned by Lord Henry Mystic and inhabited by his adorable sidekick, Albert. Albert is slightly mischievous and opens a magical music box that causes all of Lord Mystics artifacts he's collected on his travels to come to life and terrorize the house. It's a fun new spin on an attraction we all love, but beyond that, there is no ride track. Instead, the ride vehicles move via electromagnetic trackless system so you're twirling and twisting all over the place. Never knowing where you'll be headed next is part of the fun. And I guarantee you'll get off the ride laughing and completely smitten with Albert, just like I was!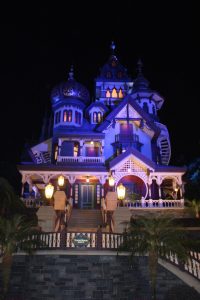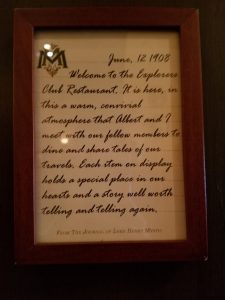 BONUS! I was able to take a tour of the park with an Imagineer and he pointed out this photo in the queue – it's of a meeting of the grand opening of Mystic Manor. Take a close look at those two boys in the front right of the picture – look familiar?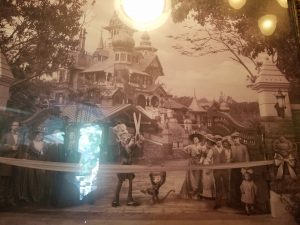 ALL THE ADORABLE SNACKS AT HONG KING DISNEYLAND
Okay, I'm just going to say it. We don't have snacks like this at the US parks. Everything I ate at Hong Kong Disneyland was so cute you almost couldn't eat it. All the foods look like Disney characters. It became my mission to seek out all of the fanciful treats and be sure to take pictures with them. We're finally starting to get cute foods here, but I don't know if we'll ever catch up to the cute foods out in the Asia parks. Look at these treats!!!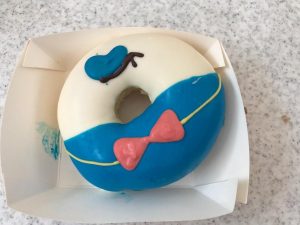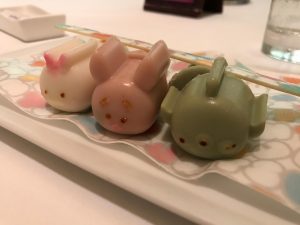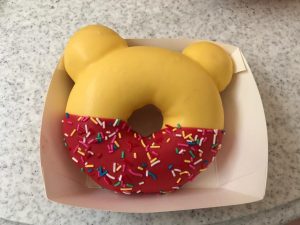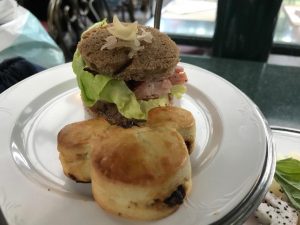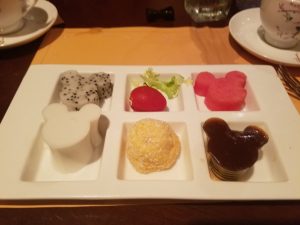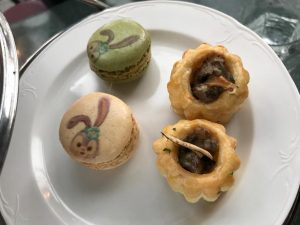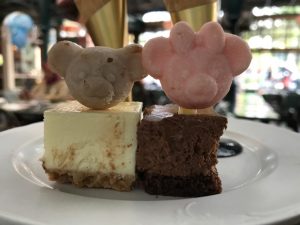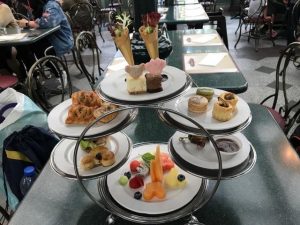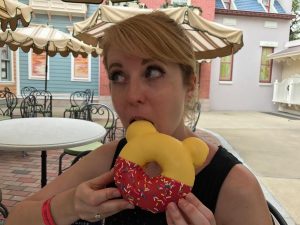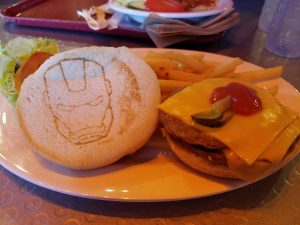 BIG GRIZZLY MOUNTAIN RUNAWAY MINE TRAIN
I like to call this the love child of Big Thunder Mountain, Expedition Everest and Seven Dwarfs Mine Train. Seriously, this coaster was so unexpected it wasn't even on my radar. I had no idea it existed. But, whoa, was this a fun ride. I don't want to spoil too much for you, but you're going every which way and you run into these adorable bears along the way that are of course wreaking havoc on the mountain. These are some of the best animatronics I've seen, and you'll need to ride at least three times to catch all of the gags the bears get up to. The first time you go by so fast you don't notice. On your second trip you'll catch one or two, but the third time you'll start to laugh at all of the little jokes placed throughout the mountain.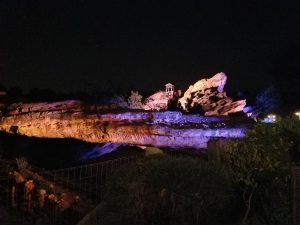 TOY STORY LAND
Now that we have Toy Story Land in Florida, it may seem like this isn't a big deal. But this is the original and it's adorable! There's no Slinky Dog Dash here. Instead, there's Slinky Dog Spin; a tilt a whirl type ride that goes round and round and eliciting tons of giggles as Slink moves up and down the hills. There's RC Racer, where RC goes up and down a u-shaped ramp, which results in a bunch of hand time on either end of the track. It's one of the most terrifying rides I've been on and I basically spent the entire ride with my eyes closed and screaming at the top of my lungs. There's Toy Soldier Parachute Drop, and a quick service stop called Jessie's Snack Round Up instead of Andy's Lunch Box. But the theming is so similar – down to the infuriating lack of shade – so be sure to keep your eyes peeled for the fun details like giant sized Andy footprints on the ground, massive replicas of toys everywhere as well as our favorite Toy Story pals.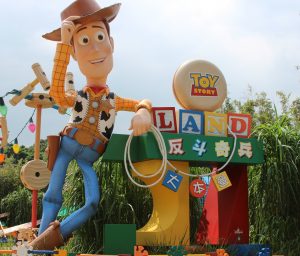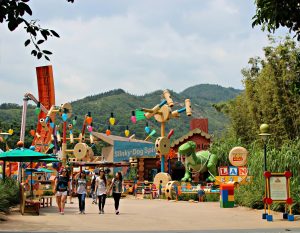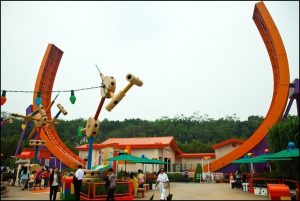 And to tie into my love of the Halloween decorations here – it seems that Sid's toys have taken over and decorated for the holiday!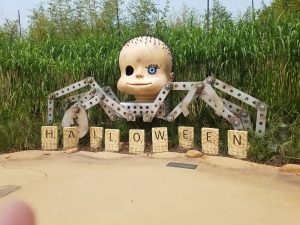 MTR RAIL LINE
Okay, it sounds funny to put a train on my favorite things about this park, but our parks here don't have a train stop. And though all of the foreign parks DO have trains that make a stop, the one at Hong Kong Disneyland is SO easy. It has a line that stops right at the entrance to the park. It's so easy to jump on the train and head right into the heart of Hong Kong – no guessing which train to take because it's the only one. And just LOOK at how adorable it is. Velvet banquette seating, Mickey shaped handles, displays with statues of favorite Disney characters. Wouldn't our morning commutes all be better if our trains looked like this!?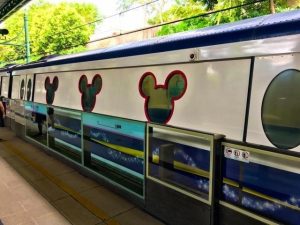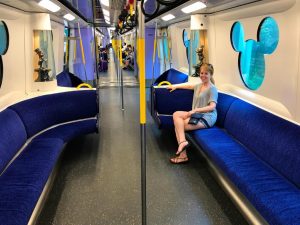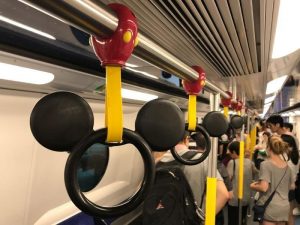 It was so much fun remembering Hong Kong Disneyland and how different it is from our parks. If you've visited, let me know in the comments below what your favorite things about the park were. Planning a trip out to Hong Kong? Let me know what you're looking forward to the most!