Last week I wrote about My Favorite Things About Hong Kong Disneyland, and I was fortunate enough to also visit Shanghai Disneyland in the same trip. So, let me tell you about my favorite things at this park!
The big thing most people know about the Shanghai park is Pirates of the Caribbean. You'd probably think it would be my number one favorite thing, but you'd be wrong. It doesn't even crack my top five! Don't get me wrong. That ride is so incredible that anything I say won't do it justice. It's just that there are so many amazing things at Shanghai Disneyland it's almost impossible to choose.
But I'm going to give it my best shot. So, let's look at my favorite things at Shanghai Disneyland!
CHALLENGE TRAILS AT CAMP DISCOVERY
The saddest thing in the world is that we don't have anything like this at the US parks and most likely never will (thanks, OSHA). Imagine one of those corporate team building rope/obstacle courses. You know the kind – you're hooked into harnesses and climb telephone polls and cross tire bridges high in the air. Well, that's the Challenge Trails at Camp Discovery, only these come with a Disney twist. There are three courses, all with different difficulty levels, that take you under and through waterfalls, caverns, rivers and cliffs. There's even an old archaeological excavation unearthing artifacts and cave drawings.
Talk about daring! You are harnessed in and crawling along while water is squirting at you and you're going up and down different levels. It was truly the coolest thing I've ever done at a theme park. But get here early – the lines for the courses (and even just for the lockers to store your things!) can be hours long later in the day. Also important to note is that you must wear closed toe shoes and it will not operate in the rain. But I promise you this is something you CANNOT miss, and I would go back to Shanghai Disneyland in a heartbeat just to do this again.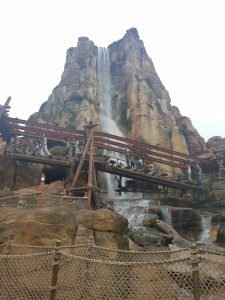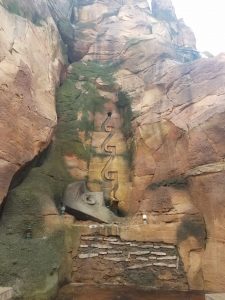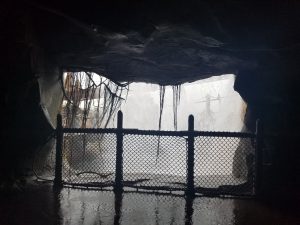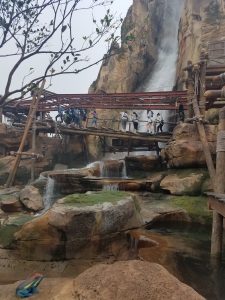 TRON
Guys, really, who isn't excited for this to come to Walt Disney World in Florida? Because I don't know of many people more excited than I am, since I rode this no less than 16 times on my trip to Shanghai Disneyland. Have you not always wanted to ride a light cycle!? Because I have, and this really made me feel like I was on the grid battling rogue Programs. You're inside, outside, flipped upside down, at one point you're racing another light cycle. And the black and neon color scheme is just pretty.
If you're a coaster fan, this is a must, and it's unlike anything Disney has done before. I couldn't stop laughing and smiling the entire time. Once it's in Florida be prepared to find me there pretty much my entire trip riding over and over again!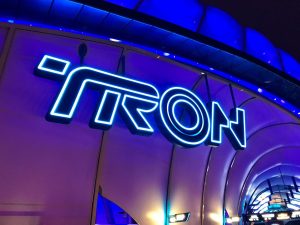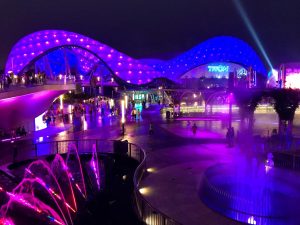 WORLD OF DISNEY
Well, I am a Disney Park Princess, so of course shopping has to be on here! Just like all the other World of Disney stores, this one is huge and it's so easy to get lost in. But unlike the ones here in the states this is housed in just one massive, oval room with so many possibilities stretched in every direction. It's meant to be an old railroad roundhouse!
What I love about this World of Disney is the crazy merchandise options. There are so many things you can't find anywhere else in the world, including items created just for this store. There's also a 'Magic Mirror' that when you step in front of it, it lets you see yourself virtually dressed in a princess costume! And when you move, the costume moves with you. It's so cute.
Plus, there's a TrenD that connects into the World of Disney that has the coolest apparel and accessories for all us ladies. I definitely came home with no less than 3 shirts, a pair of shoes and a new hand bag. An Alice in Wonderland VHS cover bag that I have yet to see here in the US. Exclusive shopping? Yes, please!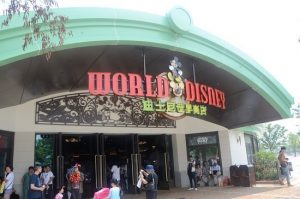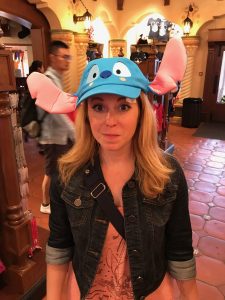 ALICE IN WONDERLAND MAZE
I mean, how could I NOT love this!? Capitalizing on the success of Alice's Curious Labyrinth over at Disneyland Paris, the Shanghai version is dedicated to Tim Burton's films and characters, and it is massive. I spent over an hour wandering through the pathways. It's so colorful and at every turn some surprise is happening. Like when I went into a cave and the Cheshire Cat appeared seemingly out of midair. Or when I went to turn a door handle and the Bandersnatch started growling from behind the door and tried to break it down to get to me.
I made sure to stop by the Queen's garden and take a picture on her throne while she was out, and then quickly moved on to the hedge maze and into the cutest part of the maze – the Mad Tea Party! The tea pots and cakes are interactive, and this was one of the coolest photo ops ever. You'll be running around playing through the party. I think the only way I would have loved this more is if it was themed to the original 1951 Disney cartoon.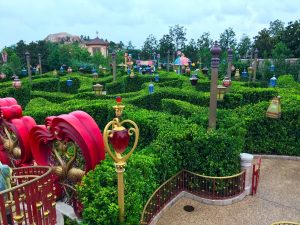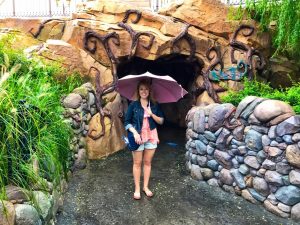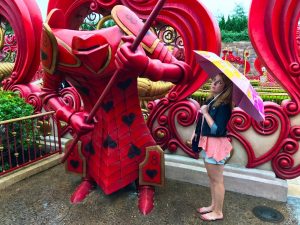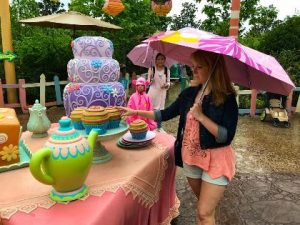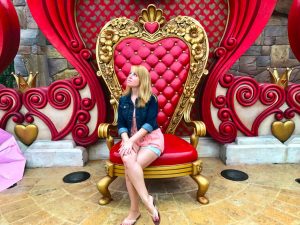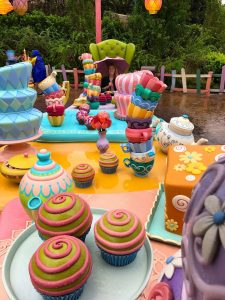 ENCHANTED STORYBOOK CASTLE
I remember when this park opened all you heard about was how big the castle was. And they were right – it's huge! No matter how much I heard about the size of this castle, I definitely wasn't prepared for the actual site of it. It towers over the park. Walking around and through it, I was taken with the sense that this feels like a 'real' castle. As if in some point in history actual people could have lived their lives in there – it's that massive with that much space!
But beyond the size, there's just so much to DO in the castle! The Royal Banquet Hall is a fine dining restaurant with a character meal (yes, it's a THING and I want to go!) where you'll be able to meet favorite Disney characters while enjoying a three-course menu. You'll also find the fan-favorite Bibbidi Bobbidi Boutique located in the main hall of the castle, just across from the restaurant.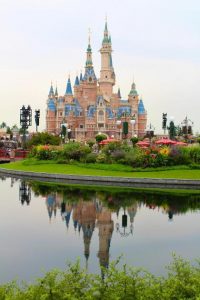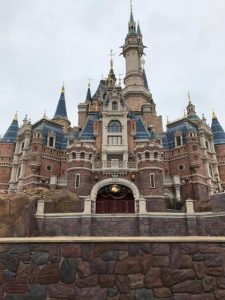 But here in Shanghai, the castle also houses two (TWO!!!) attractions. The Voyage to the Crystal Grotto is a beautiful boat ride underneath the castle, which brings you into mystical grottos. Along the way you'll see scenes of your favorite Disney fairytales come to life with music, animation and dancing fountains. It's great to sing along with your favorite songs and watch a little Disney magic happen in front of your eyes.
On the upper level of the castle you'll find the Once Upon a Time Adventure. I had no idea what to expect with this, and I was blown away! It most resembles Sleeping Beauty Castle at Disneyland where you walk through the castle and see little tableaus of the story of Sleeping Beauty. But in Shanghai, we're learning about Snow White and it is so high tech your head will spin.
As a magic storybook invites you into the tale, a forest grows around you. You interact with forest creatures and help them tidy up the Dwarfs cottage. Then you confront the Evil Queen and help save Snow White. Venturing from room to room guests are presented with tasks for you to complete. I was in a group of all adults and I can honestly say we were giggling and running around as if we were all children! We don't have anything close to this here in the states and you simply cannot miss it on your visit!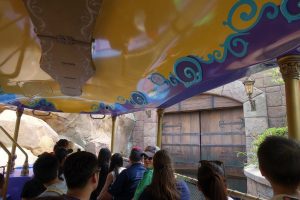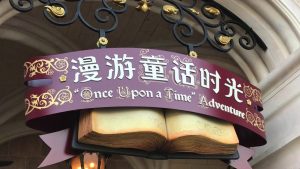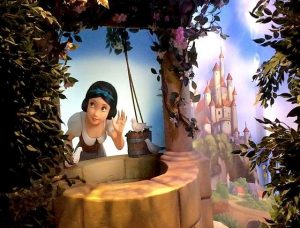 Besides having so much to do, the Enchanted Storybook Castle is just PRETTY. It's pink and blue and comes to life at night during the fireworks show with projections and lasers. There's also several levels of staging in front for different shows to take place throughout the day. It's such an experience!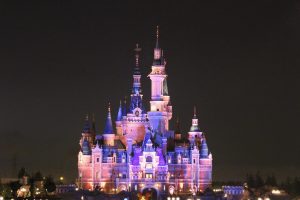 HIDDEN CRI-KEE
Okay, this one is so small (literally), but I loved it immediately. If you're not paying attention you will most definitely miss it , and I do NOT want you missing the adorable hidden Cri-kee, Mulan's loyal sidekick. When you're eating at Wandering Moon Teahouse (and you should – because NOODLES), take a peek at the lanterns hanging around the restaurant. If you're lucky, you'll notice Cri-kee hanging out in one! Such a cute touch, because as I learned on this trip, Chinese children do keep crickets as pets, just like Mulan did! (Thanks to Adventures by Disney for including a guided tour of the park with a Disney Imagineer so I got to learn all of these special details)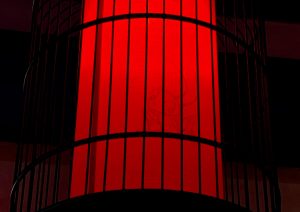 This is such a beautiful park and they've already expanded in the short two years since they opened. There are open grassy areas all over the parks for guests to enjoy, Mickey Avenue with SO MANY hidden nods to Disney characters and movies that you can spend hours hunting for all of them, and that aforementioned Pirates of the Caribbean. I want to go back so badly – I smell another trip to China in my future. I mean, I do have that 10-year Visa that I should get some use out of! Have you visited Shanghai Disneyland? What was your favorite thing about this park? I'd love to hear!