It's no secret that we here at Disney Park Princess love the Epcot International Food & Wine Festival. It's basically our favorite event of the year. Of course when we go we spend days wandering World Showcase sampling all the goodies from the Global Marketplaces. But when we Food & Wine, we like to plus it up a bit by experiencing one or two (or ten!) of the special events that take place during the festival. Here are some of our favorite events to attend.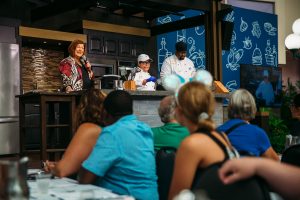 BEVERAGE SEMINARS
These are the lowest cost special events at just $17 plus tax per guest, and they're a great way to get in touch with your inner wine, beer or spirit connoisseur. Each 45 minute session is led by sommeliers or other beverage experts who share their extensive knowledge. But the best part is the sampling – depending on which seminar you choose, you'll get to taste the different wine, beer or spirit being showcased (all while sitting down in the air conditioning!).
CULINARY DEMONSTRATIONS
Who hasn't wanted to learn how to cook from a professional chef? At each 45 minute demonstration, renowned chefs will impart years of kitchen wisdom while whipping up a special dish. Attendees can collect tips and tricks to sharpen their skills, as well as tasting the fantastic dish they just watched being made. Plus, everyone receives a copy of the recipe so they can try it at home.
MIX IT, MAKE IT, CELEBRATE IT
If you want to get more hands on with the food, this is the event for you! You'll work side by side with chefs, beverage experts and other industry pros for a hands on lesson that teaches one of many different culinary and beverage styles. Depending on the seminar you choose, you could be making sweet treats or even shaking fresh cocktails. This is the perfect way for all you home chefs to spend an afternoon.
CHEESE SEMINARS
There aren't many people around who don't like cheese, so you know we're obsessed with these seminars. During each 90 minute seminar guest cheesemakers will explain the major aromas, textures and flavor profiles of popular cheeses. But if that sounds too formal for you, don't worry. There are plenty of samples to go around, all paired with different wines, beers and cocktails. You can choose from seminars featuring Mediterranean cheeses, French cheeses, Italian cheeses and many other options.
SPECIALTY DINING & BEVERAGE PAIRINGS
Hands down, these are some of our favorite special events at the festival, and we do at least two every year – more if we can get reservations! There are many different options to choose from – between wine or beer pairing lunches in France, Italy and Morocco – to a tequila lunch in Mexico or a Hibachi experience in Japan. You'll experience specialties of that region spread over several courses, all paired with wine, beer or other beverages to compliment the food. Throughout the pairings your chef will detail the food selection while your sommelier explains how the beverages compliment each item. You'll leave feeling incredibly fulfilled (and informed!) from one of the most amazing dining experiences the festival has to offer.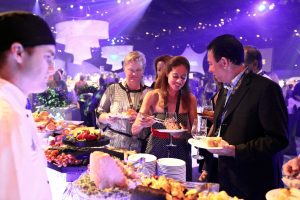 PARTY FOR THE SENSES
Now this is the PREMIER event of the Food & Wine Festival and a must for us every year! Think of it as the ultimate cocktail party and the best way to pamper yourself at the festival. This elegant dining gala features endless entertainment and a variety of gourmet tasting stations. You can taste your way around the party, sampling food and beverages from around the world, all while enjoying performances from different musicians and artists. If you really want the VIP treatment, reserve a table in the Wine View Lounge. In addition to the standard offerings, you'll have a reserved table in a premium section, premium bar service, artisanal cheeses and a specialty cocktail toast. You know we're all about spoiling ourselves and being treated like royalty, so this exclusive option is right up our alley!
The Epcot International Food & Wine Festival runs through November 12, 2018. You can book all of these events online by visiting www.epcotfoodfestival.com.
Some photos courtesy of Disney.