One of the best things about Walt Disney World is the FOOD! But what about some of the newer, plant-based (vegan) options, do they hold a candle to the rest?
As a recent convert to the plant-based food lifestyle, I was skeptical about eating plant-based at Walt Disney World. Will I miss my favorite go-to meals?  Will I be hungry? And most importantly: will it taste good? The answers- I did not feel like I missed out on anything, my food was so good and so filling that there was nothing at all I would have done differently.  In fact, at most meals my friends were jealous of my food!
Thanks to my friend Suzannah over at Vegan Disney Food, I was able to pre-plan a lot of what I ate. In addition, all restaurants at Walt Disney World have a plant-based option, so it was only a matter of what sounded good to me. And with mobile order, my party was able to eat at different quick service restaurants and meet somewhere else if we wanted.
Quick Service
The quick service meals were what I was most nervous about. I wasn't sure if I would enjoy some of the options I had looked at before my trip. But I was wrong- the plant-based quick service meals I had were incredibly good, and filling.
The best part about eating plant-based options is what I did not have to eat fried foods at every meal. Don't get me wrong, I love fried chicken and french fries, and Walt Disney World does have a lot more to offer than just the typical theme park food, but I was really looking forward to eating a different way from the norm.
Some of my favorite quick-service meals included the Harbor Salad at Tomorrowland Terrace and the Two Suns Hummus from the Backlot Express at Disney's Hollywood Studios. I also wanted to eat about seven of the Vegan Hot Link Smokehouse Sandwich at Flame Tree Barbecue
Table Service
Ordering plant-based at a table service restaurant was a little easier. One, there were more options, and two, it was nice to be able to talk to the server and remove a particular item from the dish if I wanted (this is much harder with mobile order for the quick service meals).  There was at least one plant-based item on every menu, sometimes more, including desserts.
One amazing dish I had was the  plant-based "chicken" enchiladas at La Hacienda de San Angel at Epcot. This one I had to modify a little, it comes vegetarian with regular cheese, but they have a plant-based cheese option if you just ask for the vegan version. It was absolutely incredible, and even if I were a regular meat-eater I would still consider this as a meal. I don't think anyone would know the difference if you put it in front of them.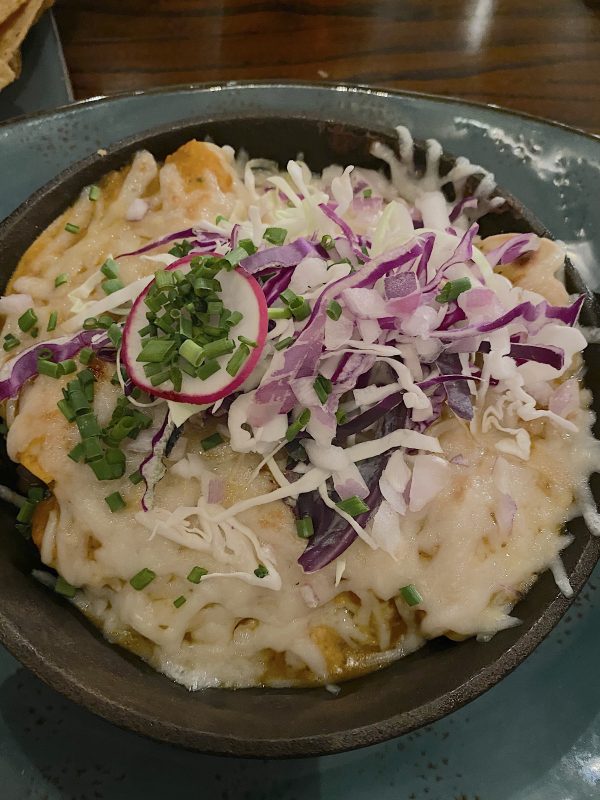 By far, my favorite table service meal was at Paradiso 37, where I had the most amazing Flatbread Pizza! It was so good and when I said before that everyone was jealous that my food was better, this was the main reason why. It's made with a cauliflower crust, vegan mozzarella cheese, tomato, basil and a balsamic glaze. I cannot even describe how good it was.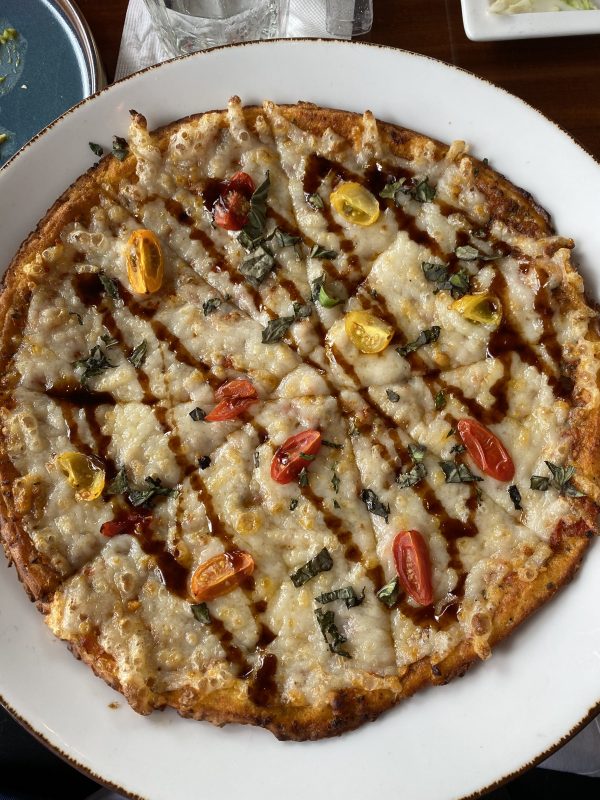 Snacks
There are a lot of plant-based snacks at Walt Disney World, including Dole Whip (except for vanilla), popcorn, and of course a Mickey pretzel without the cheese sauce. I found the main foods so filling I didn't need to snack too much, but I could not resist a couple of pretzels since it had been so long since my last Walt Disney World visit.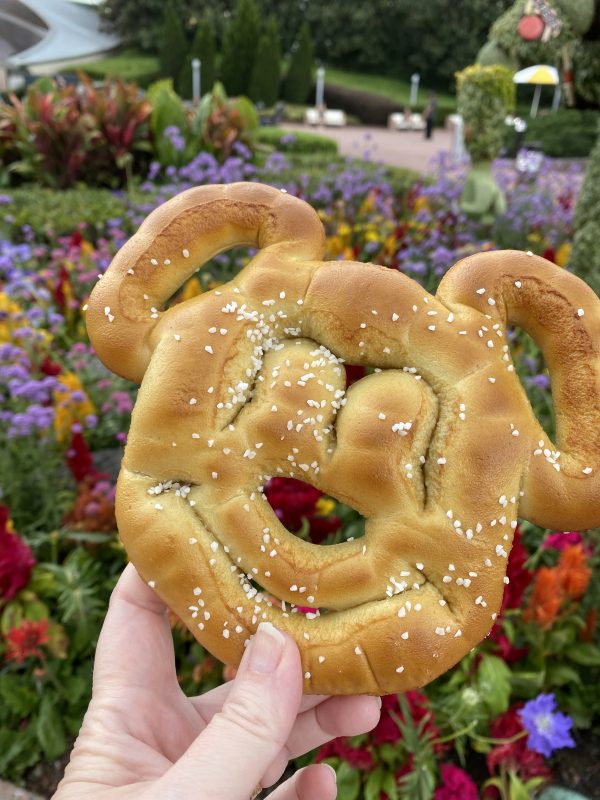 Flower and Garden Festival
Epcot is definitely becoming a year-long festival. I am not really complaining, as I love to eat many items from many different countries. I was able to find plenty of plant-based options available at the snack booths, including an entire booth sponsored by Impossible™ Foods. For a full Flower and Garden Festival guide, check our Vegan Disney Food's Complete List.
My favorite options were the Sope de Chorizo (Mexico), with a plant-based chorizo, and everything at the Trowel & Trellis Hosted by Impossible™ Foods (Showcase Plaza).
Conclusion
No matter what, if you're a meat-lover, vegetarian, or vegan, you're sure to love all of these plant-based options at Walt Disney World. It's so much more than a little salad or small meal here and there. I am very excited that these foods exist for those who want them, and I cannot wait to try even more on my next trip.
P.S. Now that you've found us, be sure to subscribe to our newsletter below or in the link on the side! You can also check us out on YouTube, Facebook, and Instagram!