On my recent cruise on the Disney Dream we were able to make two stops at Disney's Castaway Cay– their own private island in the Bahamas. On the first stop we decided to do something we'd never done before- and that was to snorkel with stingrays! I booked the Castaway Ray's Stingray Adventure Port Adventure (Disney's fancy word for shore excursions) through the cruise line. The price was relatively inexpensive for what you got- $56 per person for anyone over 10, and $45 per person for children ages 5-9.
Quick note- for these lovely underwater photos I used the Crosstour Action Camera 4K WiFi Underwater Cam 16MP Sports Camera– similar to a GoPro but at only about $45 it was ok with us if it didn't work out! (This is an Affiliate link, but I still think it's a pretty cool camera!)
Is it safe?
The first thing most people probably ask the Port Adventure team or the Cast Members on the island is undoubtedly about the safety of this excursion. Yes! It's safe! First off- everyone is given snorkel gear (no flippers) as well as a buoyancy compensator- not quite a life vest but it'll help keep you afloat a little. The water is only about 4 feet at its deepest in this lagoon area, so most adults can touch the bottom.
For the rays themselves, their barbs are not at the tips of their tails, but more in the middle. The Disney team of stingray experts take great care to trim their barbs, which is much like trimming a human's nails- it doesn't hurt them at all. It takes about 4 months for the barbs to grow back, so they cut the barbs off every few months.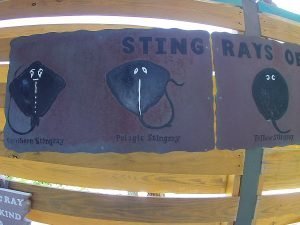 Feeding the Rays
The first thing we did was get a little instruction from the stingray expert- he showed us how to feed the rays and how to walk into the water to make sure you don't step on one. It was just a sand shuffle- the rays can feel the vibrations of the ocean floor when you shuffle in and will move out of the way if necessary. I didn't really see much point to the shuffle because the water was so clear we could see all rays as we were walking into the water.
We were each given one piece of food at a time, a shrimp, a squid, or a "stingray jello" item, which was pretty gross! It was a mixture of shrimp and veggies, a little nutrition for them but it felt way grosser than the shrimp or the squid! One at a time the stingrays would swim up to the platform, eat the food we put down, and swim off. While they were on the platform we could pet them!
Snorkeling with the Rays
When feeding time was over we got the go-ahead to put on our snorkel gear and swim around with the rays! They are used to people so that was no issue at all. In addition to rays there are also lots of fish in the lagoon. You don't have to do much swimming here because the water is not too deep, but it is deep enough to swim around a bit and follow the pattern of the rays. They are pretty beautiful when swimming around!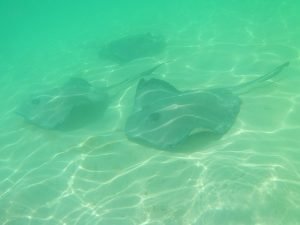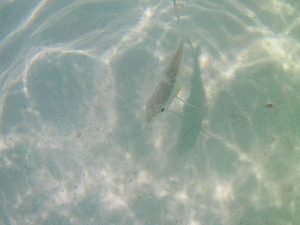 Fun Facts about the Rays on Castaway Cay
Stingrays are a little bit like cats- they love to brush up against your legs! It's a very funny sensation! But they also seemed to brush up against the legs of those who wanted it the least- also like a cat!
Disney has 69 stingrays in their reef; 68 of them are female!
The Stingray Experts recognize every single one of them and know them by name! They work with them daily and keep track of how much food they are being fed as well as who is refusing to eat on the platforms.
A female stingray can grow up to 6 feet in wingspan. I didn't see any that large but there were some pretty big ones in the lagoon. And at least one baby!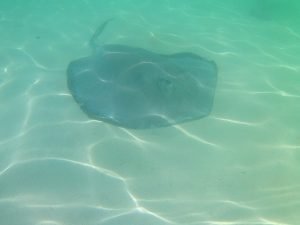 If you're interested in booking this Port Adventure on an upcoming cruise, more information can be found here.