Walt Disney World is known for its incredible restaurants with delicious cuisine and interactive experiences. But did you know that there are restaurants at Walt Disney World so unique that they are literally a category unto themselves?! The Walt Disney World Signature Dining restaurants are the ultimate in Disney dining.
Signature Restaurants are located throughout Walt Disney World at Deluxe Resorts, in the theme parks, and at Disney Springs. Not restricted to just fine dining, the Signature Dining list also includes dinner shows, and even a character meal!
What Makes Signature Dining Restaurants Unique?
So what makes the Signature Dining Restaurants so different from all other restaurants at Walt Disney World? Not to mention, what makes them worth the additional cost?
The Experience
Signature Dining restaurants at Walt Disney World are an elevated experience. Their locations and décor are unique and incredibly detailed! From Cinderella's Royal Table located inside the Castle, to California Grill at Disney's Contemporary Resort with sweeping fireworks views and an open kitchen, there is a Signature Dining location for every type of diner.
Looking for an intimate, romantic meal? Victoria & Albert's at Disney's Grand Floridian Resort is considered one of the best restaurants in the country. With very limited seating in the dining room, and a dedicated server team, you will feel pampered and indulged as you enjoy course after course.
Need somewhere to celebrate with family and friends? Topolino Terrace at Disney's Riviera Resort, or The BOATHOUSE at Disney Springs offer fantastic views with a warm atmosphere.
And for the ultimate in experiences, check out the Hoop Dee Doo Revue at Disney's Fort Wilderness or the Spirit of Aloha show at Disney's Polynesian Village Resort. Talk about dinner and a show!
The Food
For me, the most gorgeous restaurant in the world is nothing without delicious food. And most of the Signature Dining restaurants at Walt Disney World have AMAZING food! That's right – I said most.
A few of these restaurants over the years have become victims of their own success and the quality of the food has suffered. Now, any restaurant can have a bad night. So I firmly believe in giving a restaurant a second chance! But even after multiple meals, I still find a couple names on this list (::ahem:: Le Cellier) that have lost focus on the food. Which is not to say they have BAD food! Just that I question if they are worth the price tag if you are leaning only on experience.
But don't think that dining at a Signature Restaurant automatically means "fancy" food. There is a wide range of menus with everything from Fried Chicken (Hoop Dee Doo Revue) to Wagyu Beef (Takumi Tei).
If you are looking for a fun, family atmosphere with delicious down home food, the Hoop Dee Doo Revue is a must-do. (Currently closed due to COVID, it is our hope this long-running dinner show returns soon!)
Looking for an intimate, romantic dinner for two with multiple courses and French-inspired cuisine? Victoria & Albert's the the perfect option.
Signature Dining Restaurants at Walt Disney World
Currently, there are over 20 Signature Dining locations! They are located in the Walt Disney World theme parks themselves, at the resorts, and even at Disney Springs.
Magic Kingdom:
Be Our Guest (Dinner Only)
Cinderella's Royal Table
Epcot:
Le Cellier
Monsieur Paul*
Takumi-Tei*
Disney's Hollywood Studios:
The Hollywood Brown Derby
Animal Kingdom:
Tiffins
Disney Springs:
Jaleo
Paddlefish
The BOATHOUSE
Morimoto Asia (Dinner Only)
STK Orlando
Wolfgang Puck's
Resorts:
California Grill (Contemporary)
Citrico's*, Narcoosee's, and Victoria & Albert's* (Grand Floridian)
Flying Fish* (Boardwalk)
Topolino's Terrace (Dinner Only, Riviera Resort)
Jiko* (Animal Kingdom Lodge)
Yachtsman Steakhouse* (Yacht Club)
Il Mulino (Walt Disney World Swan)
Todd English's bluezoo (Walt Disney World Dolphin)
Dinner Shows
Hoop Dee Doo Revue* (Fort Wilderness Campground)
Spirit of Aloha Dinner Show* (Polynesian)
*Restaurants marked are temporarily closed due to COVID.
I hope that I have convinced you to consider a Signature Dining restaurant for your next Walt Disney World vacation! They are the perfect place to mark a special occasion, or just enjoy a delicious meal.
Which is your favorite restaurant at Walt Disney World? Have you been to one of the Signature Dining restaurants? Let us know in the comments!
P.S. Now that you've found us, be sure to subscribe to our newsletter below or in the link on the side! You can also check us out on YouTube, Facebook, and Instagram!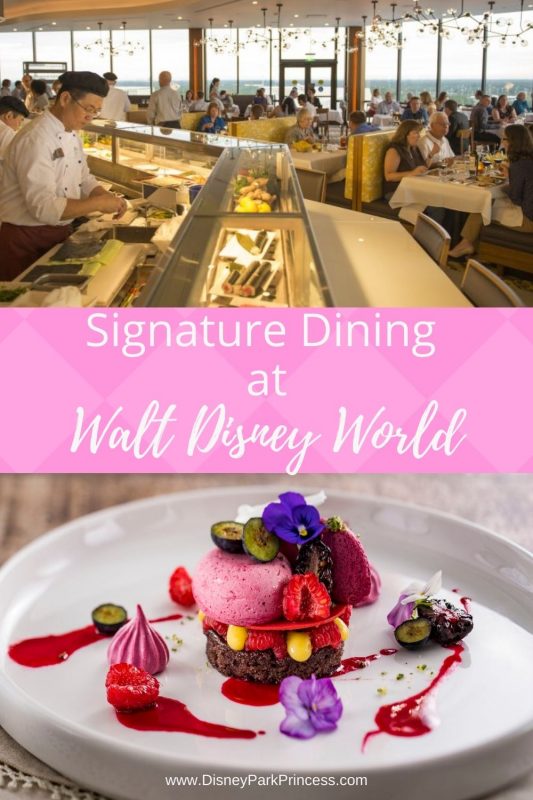 Share this article on Pinterest!