Did you know there is a hidden category of super luxurious Suites at Disneyland? Learn more about the Signature Suites at the Disneyland Hotel!
What if I told you that there were rooms at the Disneyland Hotel that you probably didn't know were there? And that they were available for the public to book? And that by staying in one of them you are transported to a favorite Disneyland icon?!
I'm talking about the Signature Suites and they have to be one of the very best kept secrets of Disneyland. But I'm going to fill you in all about them – this way you will be "in the know", and you can start planning when you'll be booking your stay!
Beyond being incredibly themed by Walt Disney Imagineering, these suites are the ultimate in luxury and the best way to feel like a true VIP at Disneyland. When you leave the parks for the evening your immersion in the magic doesn't stop, and with perks like a Personal Vacation Planner who helps you with hard to get dining reservations and access to preferred viewing locations for parades and shows, your every wish is taken care of.
Plus, you get access to the E Ticket Club – Disneyland Hotel's concierge lounge where you can grab a light breakfast or hors d'oeuvres and happy hour drinks in the evening. I know if you're reading this blog you love to feel special on vacation, and I can't think of a better way to celebrate a special occasion than one of these suites, so let's take a look!
The Fairytale Signature Suite at the Disneyland Hotel
You know we like to feel like Princesses over here, so this suite is right up our alley! How can we not love a suite where Tinkerbell greets you at the door and lights a crystal castle? Beyond that, the room is gorgeous. There are two walls of floor to ceiling windows with amazing views of BOTH parks, and the canopy bed is so plush I might never leave it (unless it's to take a bath in a beautifully mosaicked soaking tub with a glass of champagne. But then I'll be right back in that bed.). The Fairytale Suite sleeps up to two guests and is the perfect place to spend a honeymoon or an anniversary.
THE BIG THUNDER SIGNATURE SUITE AT THE DISNEYLAND HOTEL
Named after the Big Thunder Mountain Railroad inside Disneyland park, you can expect this suite to be a little more rustic in theme. But don't let that fool you – this is anything but 'roughing' it! If the free-standing copper soaking tub in the bathroom doesn't scream luxury, then maybe you'll fall in love with the steam shower or beautiful dining room overlooking the park.
There are some really fantastic Magical Moments that happen here, too. Like the 'Do Not Turn' knob just as you walk in through the mine shaft foyer that triggers sound effects from the ride. Make sure you ring the doorbell, too – you'll hear howling wolves signaling your arrival. There's even an old-timey phone where you can hear old party line conversations. This suite sleeps up to 6 guests and has two bedrooms, a living area, and dining room.
ADVENTURELAND SIGNATURE SUITE AT THE DISNEYLAND HOTEL
This has to be my very favorite of the Signature Suites, and the one I have been lucky enough to visit twice. This sleeps up to 5 guests with two bedrooms, two baths and a living and dining area with wet bar. Themed as a 1930's safari camp, this is the ONLY way I want to camp. Start by ringing the doorbell – and you'll hear tiki drums start to play. Enter into the plush living area and try to find the hidden closet. And don't worry – your eyes aren't playing tricks on you; those artifacts really are moving in the display cases!
But the absolute greatest part of this suite is the master bedroom. Enter and not only is there a canopy bed, but a claw foot tub right in the middle of the bedroom. Continue walking through into the master bathroom (gorgeous in its own right!), but look at that walk in shower! If you continue through the shower, you'll find a hidden SECRET GROTTO with a steam shower, rain shower AND a foot spa that has lighting and sound effects that make you feel like you're in a rainforest or on a savanna. This suite even has its own background music themed to the Jungle Cruise ride – what else could you want!?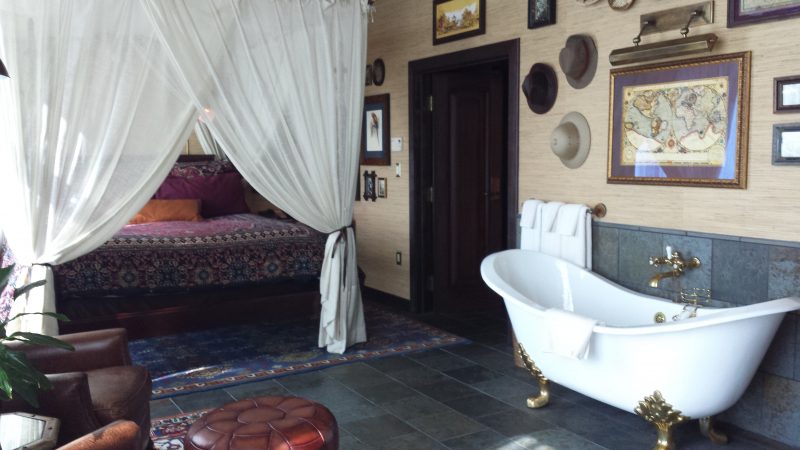 THE PIRATES OF THE CARIBBEAN SIGNATURE SUITE AT THE DISNEYLAND HOTEL
If you're a fan of the classic theme park ride, or the newer series of movies, you're going to love this suite! This suite will sleep up to four guests in two bedrooms and has living and dining areas. Start by ringing the doorbell (are you noticing a theme here?) and 'Yo Ho, Yo Ho, A Pirate's Life For Me' begins to play. Inside, you'll notice hardwood floors and wooden beams overhead, evoking a very Spanish colonial feel, very much as if you've entered the world of Pirates of the Caribbean. You'll also find concept artwork from the original ride, as well as props from the movie. Ready to feel like pirate royalty? This is where you come!
If you'd like to stay in one of these Signature Suites (and I don't blame you, because I need to get to ALL of them!), call your travel planner or 714-956-6425. We always talk about how to treat yourself on vacation and feel like true royalty. I think staying in one of these suites is the ultimate way to do so! If you've been lucky enough to try one out, let me know in the comments below!