With so many great Walt Disney World Resort hotels, I have almost always stayed on-site at an official, Disney-owned resort hotel. But there are a ton of off-site hotels, too, just waiting to be enjoyed. Here are some of the options when considering off-site vs. on-site.
There are a lot of differences when it comes to the Walt Disney World Resort hotels- they are not just a place to lay your head after a long day enjoying the theme parks. In fact, the resorts themselves have their very own themes and are very much inside the Disney "bubble"- you don't have to leave all of that Disney magic behind when you go back to your resort at the end of the day.
But, there are many options for staying off-site as well, and while these hotels are not Disney, and do not have the same magic feeling, many of them are resorts themselves. Some have multiple pools, mini-golf, ice cream, pizza, water slides, lazy rivers, and a lot of the options (and more) than the Disney resorts have. Read on to find out some of the benefits and downfalls to staying off-site.
Location, Location, Location
As with the on-site hotels, off-site is all about the location. Because it can take 20-30 minutes to get to a Walt Disney World theme park even from an on-site hotel, you really want to think about the location of your off-site hotel. Some hotels, for example, are technically on Walt Disney World property, such as the Swan and Dolphin, the Bonnet Creek hotels, the Four Seasons, and the hotels that are right next to Disney Springs. With these hotels you get some amenities, but the main positive aspect is the location.
Other hotels may be less expensive, but we all know that time is money, so be sure to consider WHERE you will be staying in reference to Walt Disney World, or Universal, or other theme parks in the area. It's definitely a good idea to stay closest to the area you will be the most. You could also consider a split stay between a near-Disney hotel and a near-Universal hotel.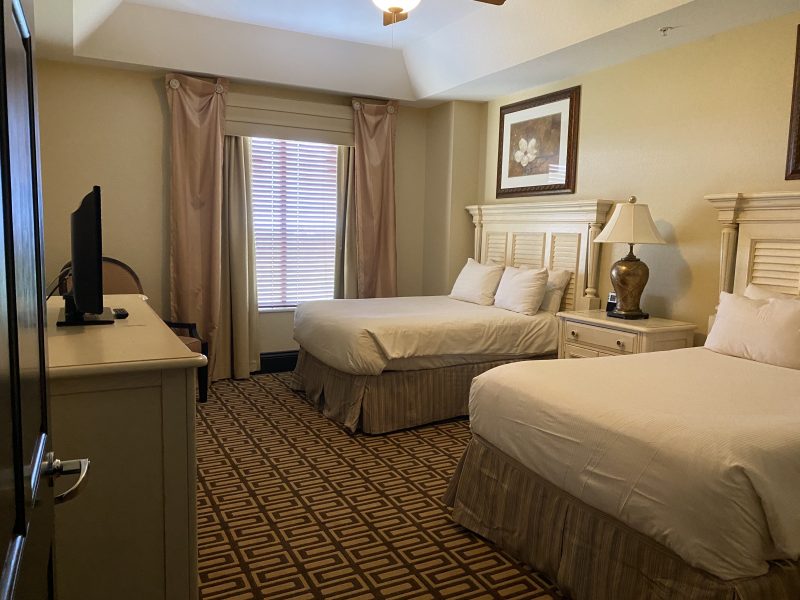 Transportation From Airport
If you're flying into the Orlando area, you'll need to decide how to get to your off-site hotel from the airport. One option is to rent a car, and you can keep it for the duration of your stay. Another option is to take a taxi or ride share service. These options are nice, but then you'll be without a car at your hotel. The third option is to see if your hotel has transportation from the airport, whether it be complimentary or for a fee.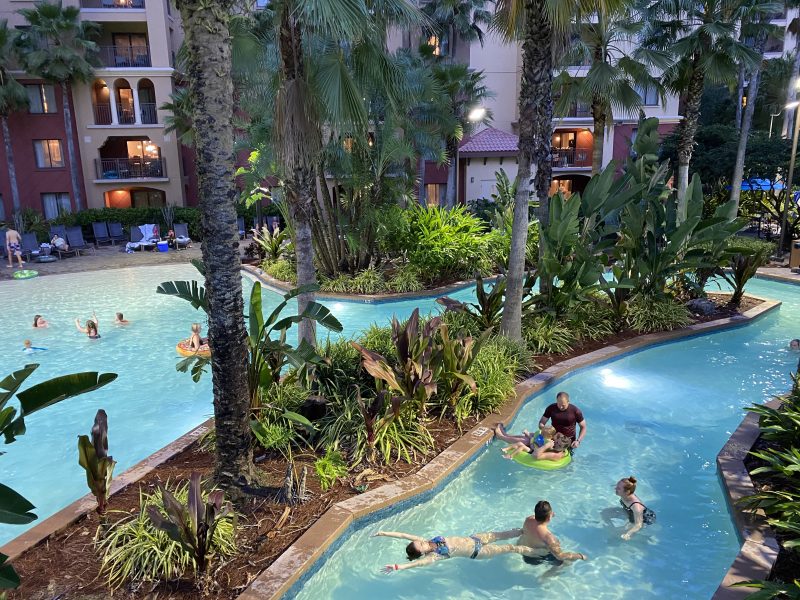 Transportation to the Parks
Another issue to consider with staying off-site is if they have transportation to and from the theme parks and Disney Springs. Many of the off-site hotels do have theme park transportation, but there are issues with it- one, it is not free, and two, it is scheduled, which means it may not be convenient to take. At my recent off-site stay, the transportation was $5 per person round trip, which is inexpensive, but it was scheduled for times which were inconvenient to us (9:30 am and the latest time back was 4:30 pm). We did not like that it limited us so much, so we opted to drive the car instead of taking the hotel transportation.
And remember, when you drive to the theme parks if you're staying off-site, you must pay $25 per day to park. The Disney hotels charge just about that much to park in their Deluxe hotels anyway, so this isn't really something that is a game changer for me. But it is another added cost if you do have a rental car or your personal car.
Another downside is if you need a midday break and not everyone in your party feels the same way. It's a lot harder to get back to your hotel if you're relying on one car. Sure you could take a taxi or ride share, but those are not as easy to come by in the middle of the day. It's just not as easy as grabbing a bus or boat or skyliner back to your resort.
Price
By far the biggest perk to staying off-site is the cost of the hotel. It might even be the only true perk, because you do lose the Disney "magic" and the bubble of staying at a Walt Disney World Resort hotel. We all know that the Disney hotels are not inexpensive, and that can be a big factor in deciding where to stay when you are vacationing. With off-site suites you can get a kitchen and multiple bedrooms and bathrooms, living room, and laundry for less than the cost of a moderate Disney resort, so if you have a large family or are traveling with a group, this is a really big factor.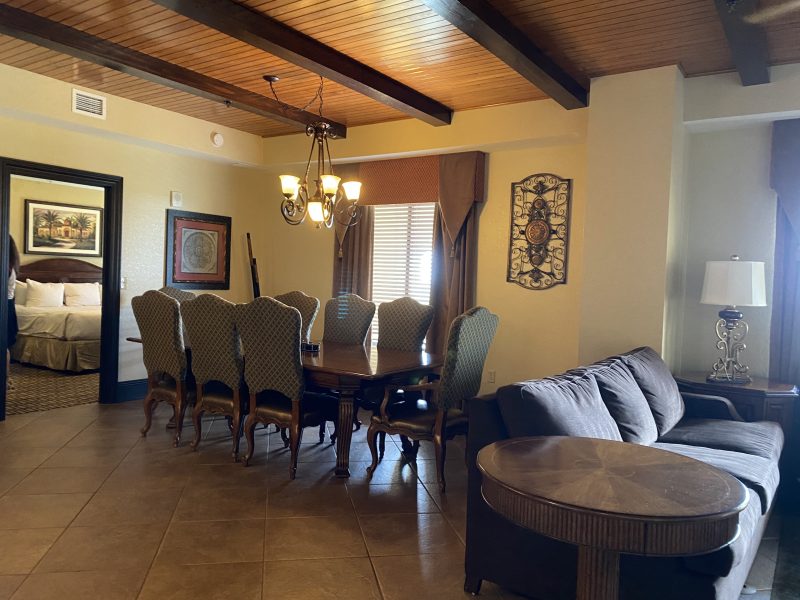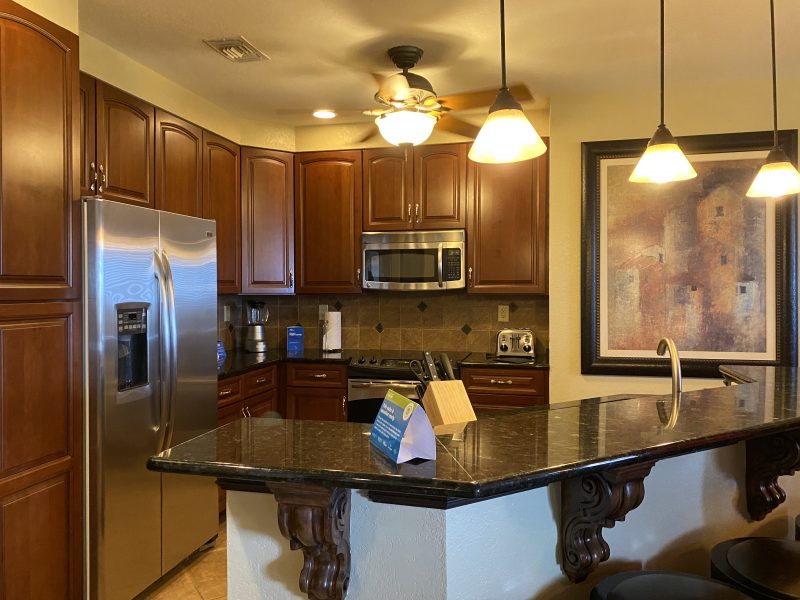 My Opinion
Overall I really did enjoy staying off-site recently, more than I thought I would. There were some things that I really missed, though. I missed charging food/ drinks/ merchandise to my Magic Band. I missed package delivery to my resort- I really had to think about when I would shop so I didn't have to carry things around all day. Overall I really missed just being in that Disney "bubble"- where everything is just Disney.
I will stay off-site again, and I will stay on-site again. There are a lot of really great things about some of the off-site hotels, but I did really miss some of my favorite Walt Disney World resort hotels. But if the hotel theming and that "bubble" isn't as important to you, then staying off-site is a really great way to vacation at Walt Disney World!
P.S. Now that you've found us, be sure to subscribe to our newsletter below or in the link on the side! You can also check us out on YouTube, Facebook, and Instagram!