Sunshine Flyer is a new transportation option for guests traveling to the Walt Disney World Resort. Is it worth the cost? I tried it out on my recent trip!

UPDATE July 14, 2023: Mears Connect has purchased Sunshine Flyer! From the announcement:
"Our team has some exciting news to share that will affect upcoming trips to Disney: today, Mears Connect and Sunshine Flyer announced that we are merging to provide exceptional guest transportation from Orlando International Airport to Walt Disney World® Resorts.
United under the new name, Mears Connect Driven by Sunshine, guests can enjoy the following:
24/7 service

Express service

Pickup from terminals A, B, and C
While Mears Connect Driven by Sunshine will no longer offer train-themed transportation, guests can anticipate enhanced operations including shorter wait times at the airport/resorts and faster transportation."
With the demise of Magical Express at the end of 2022 (RIP free airport transfers!), guests were left scrambling to find affordable transportation to Walt Disney World from Orlando International Airport (MCO). Enter Sunshine Flyer!
What is Sunshine Flyer?
From the Sunshine Flyer website: "The Sunshine Flyer brings the era of 1920's rail travel to the start of your vacation. The Sunshine Flyer's buses will bring you and your family from Orlando Airport to Walt Disney World® Resorts on a premium motorcoach with a theme centered around old-fashioned passenger cars and train locomotives. From the bus designs to drivers and staff dressed as 1920's rail conductors and engineers, the Sunshine Flyer experience starts shortly after you step off the plane."
Guests can book Sunshine Flyer transportation online either one-way or round-trip on their website up to four days prior to check in. In my case, it was a last minute decision to try this so I had to call in to book! The number is 866-353-5937 to book less than four days in advance, or to make any changes to your reservation.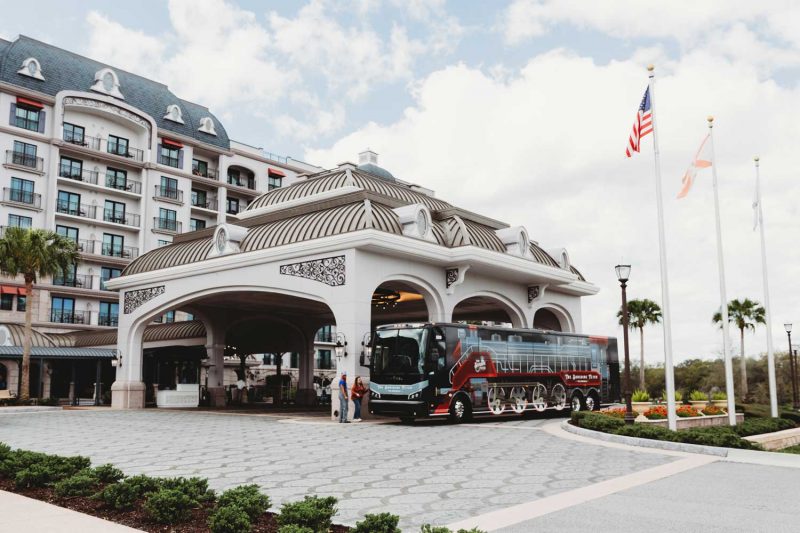 Photo Courtesy of Sunshine Flyer
How much does Sunshine Flyer cost?
Prices are very reasonable compared to other transportation options! Adults are $32 per person round-trip ($16 one-way), kids ages 3 – 12 are $20 per person round-trip ($10 one-way), and children under the age of two ride for free on the lap of an adult.
How does this compare with other options? For our time frame, a one-way Uber would have been almost $50. A town car from Happy Limo would have been $118 one-way. Mears Connect is the same pricing as Sunshine Flyer at $16 per adult one-way, but without some of the perks!
What is the Sunshine Flyer experience like?
We received an email confirmation after booking with the details of our trip.
"Once you land at Orlando International Airport, and have your luggage in hand, please continue to Terminal B, Level 1, and proceed outside towards bus bay B3. Please check in with a member of our staff at bus bay B3 at our podium before boarding the shuttle. If you're arriving into Terminal A, please note that the only way to get from one terminal to another is on Level 3. Please see our map for help: https://sunshineflyer.com/map.pdf"
Here is where I messed up – I didn't read that part carefully! I mindlessly headed ALL THE WAY down the Level 1 terminal to where Disney's Magical Express used to be, my poor husband taking on faith that I knew where I was going. Sunshine Flyer is located at the OPPOSITE end from where Magical Express was! This was completely my fault as the email was very clear.
Once I found the podium, located outside at B3, I was promptly greeted by a uniformed employee and instructed where to wait. While we did not have any kids with us this trip, all kids received an adorable paper conductor's hat of their own.
Within minutes, we were greeted with a cheerful, "All aboard!" and handed our luggage off to the representative to be loaded under the bus.
The busses are adorable with the exteriors painted to look like old-fashioned locomotives. Each one has a different Florida-centric name – ours was The Manatee!
I have to admit to a feeling of disappointment and an internal "whomp whomp" when we boarded to find… just a typical motorcoach. No theming at all! Our driver was very cheerful, offering mild commentary and pointing out some things on our drive to Walt Disney World.
Sunshine Flyer promotes that they will get you to your resort in less than 65 minutes. This was very appealing to me as my experience with Magical Express typically took much longer than that! And sure enough, with our resort the second stop on our route, we were checking in less than an hour from landing. We waited on the bus until the driver had unloaded the luggage for our resort, tipped her $2 per bag, and headed off to check in!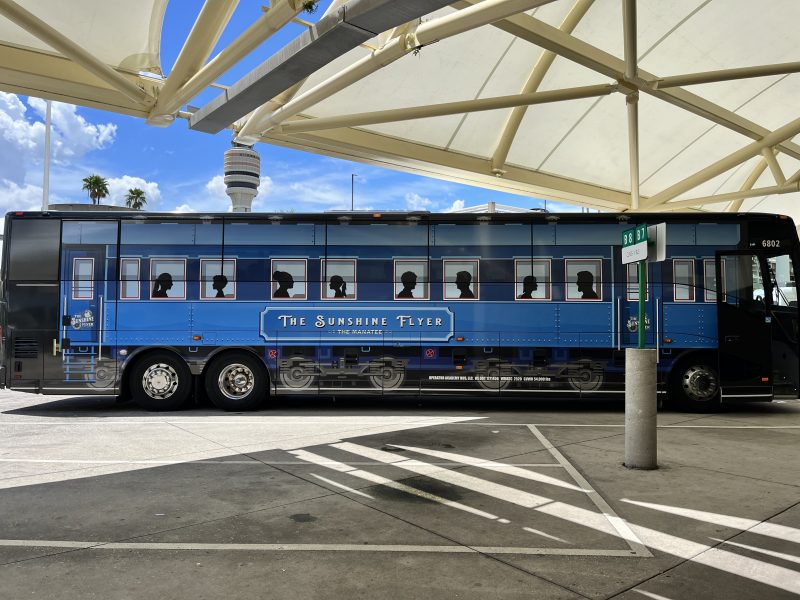 This was our bus!
Would we use Sunshine Flyer again?
In a word – yes! We enjoyed our experience. And for $16 per person, we found it to be a really good value.
While I wished there had been some theming on the interior of the bus or possibly a video to watch during the ride, overall we had a great experience. I would recommend this option for families without reservation!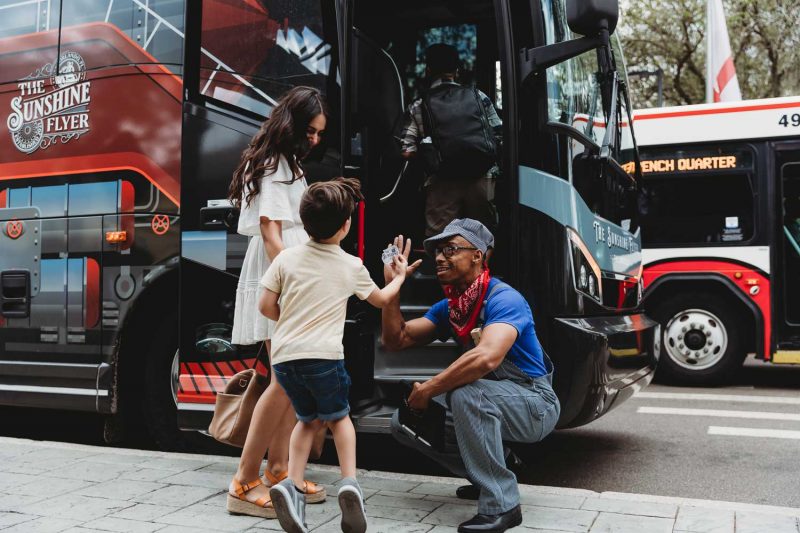 P.S. Now that you've found us, be sure to subscribe to our newsletter below or in the link on the side! You can also check us out on YouTube, Facebook, and Instagram!