This post contains affiliate links. Disney Park Princess may receive a small percentage of the proceeds for items purchased through these links. For more information, please visit our disclosure page. 
If I have one distinct feature, it is my curly hair! Ask anyone to describe me and the first thing they say is , "She has VERY curly hair…" And while I have embraced my curls, there is one place where my curls can still be the bane of my existence – Walt Disney World.
The humidity, the water, and the rides at Walt Disney World all combine to make me look like Mia Thermopolis before her Princess Makeover. Which is not ideal when I plan on posing for ALL the Memory Maker photos!
Curly hair is finally getting some love from Disney animators (see Merida from Brave, Mother Gothel from Tangled, etc.) which means it is time to rock our curls proudly in the Disney Parks! So what's a curly girl to do?
(NOTE: I have 3C curls. If you have a different curl pattern, your mileage may vary! If anyone has a link to tips for Disney hair tips for black or BIPOC people, please let me know in the comments! I would love to share it in this post. #inclusivitymatters)
Curly Hair Prep Before Your Walt Disney World Trip
It all starts before your trip. Amazing curls start with healthy hair! Two weeks prior to your trip schedule an appointment to get at least a trim or to freshen up those layers. Get rid of all those split ends that contribute to frizz! (Now is NOT the time for a drastic change! Resist the urge to chop inches off or do a dramatic color change. If you hate it, you will reminded of your bad choice in Facebook Memories or TimeHop photos for years to come!)
Then at least a few days prior to your trip, find time for a deep conditioning treatment. Florida water is no joke and it is really important that your hair is hydrated! The water dries my hair out like crazy so this is a good way to be ready. I like this deep conditioner!
DevaCurl Heaven-in Hair Moisture Treatment, 16 oz
Curly Hair Products to Pack for Walt Disney World
Ok so let's get to the nitty gritty of curly hair care. What products are worth packing? And what can you get away with using from the Walt Disney World amenities? Here are my "must haves" for Walt Disney World!
Use Disney's amenities:
Shampoo – Most curly girls only wash their hair once or twice a week. Go ahead and use the shampoo provided in your room! The H20 Plus shampoo is fine and I love the smell.
Towels – While normally I use an old cotton t-shirt to dry my hair, when I'm at Walt Disney World, I use their towels. I just wrap it lightly around my hair and DO NOT scrunch.
Pack:
Leave In Conditioner – This is the first product I apply to my hair after washing and conditioning. I apply it when my hair is still very wet!
Shea Moisture Strengthen & Restore Leave-In Conditioner 16 Ounce (Pack of 1)
Curl Cream – This is the next step in my process! I have been using this curl cream for YEARS and it never lets me down. The best part? It is super affordable!
Marc Anthony Strictly Curls Envy Perfect Curl Cream, Yellow, 6 Ounce
Hair Gel – Full disclosure! This is NOT part of my daily curl routine but it IS part of my Walt Disney World routine! This will help "cast" your curls. Put it on, scrunch, and then DO NOT TOUCH  your curls until they are completely dry.
John Frieda Frizz-Ease Gel Clearly Defined 5 Ounce (145ml) (2 Pack)
Spray Bottle / Refreshing Spray – If you do not already own a spray bottle, do you even HAVE curly hair? But just in case you don't have a continuous mist spray bottle yet, this one is a game changer!
Beautify Beauties Flairosol Hair Spray Bottle – Ultra Fine Continuous Water Mister for Hairstyling, Cleaning, Plants, Misting & Skin Care (5 Ounce, Clear)
Sometimes I am feeling a bit lazy and can't be bothered to fill my spray bottle or forgot it at home. I just discovered this spray and I really like it! It is perfect for refreshing between wash days.
John Frieda Frizz Ease Dream Curls Spray, 6.7 Ounce Daily Styling Spray, Magnesium-enriched Formula, Revitalizes Natural Curls
Tips For Maintaining Curly Hair During Your Walt Disney World Trip
Everyone knows the curly hair progression, right? Day 1 curls down, Day 2, curls down and refreshed, Day 3 some type of cute ponytail or twisted look…. and so on. But with curly hair at Walt Disney World, after your first ride on Space Mountain, you may find yourself fast forwarding to Day 3! What's a girl to do?
Here are a few of my favorite tips and tricks for how to maintain your curls in the parks!
Pack a clip in your day bag! Before boarding "windy" attractions like a roller coaster, twist those curls up and clip them in place. Once the ride is over, unclip and shake out your curls!
Consider putting a small spray bottle in your day bag loaded with water and a bit of conditioner. Spray on your curls later in the day to refresh and hyrdrate!
Even if you don't normally use gel on your curls, now may be the time. Start your day with your curls pretty crunchy! The stiffer the curls are at the beginning of the day, the longer they will last!
Keep a curl-friendly hair elastic or scrunchie in your bag. Even the best laid plans (Ummm curls) can become cute pigtails by the 3:00 parade!

When All Else Fails…
And when all else fails, Minnie Ears to the rescue!
Are you a curly girl? Share your tips (or struggles) on how you tame your tresses in the comments!
P.S. Now that you've found us, be sure to subscribe to our newsletter by taking our quiz or in the link on the side! You can also check us out on YouTube, Facebook, and Instagram!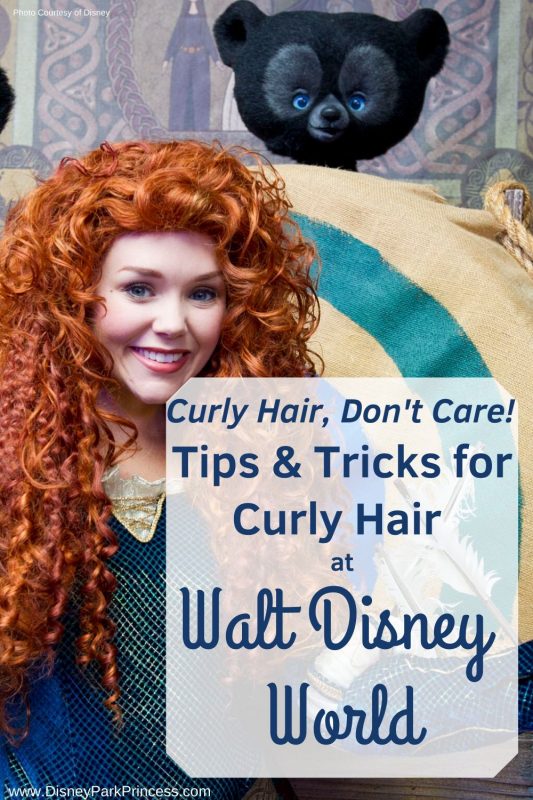 Enjoy this article? Post it on Pinterest to share it with others!