Besides Mickey Mouse, the Disney Princesses likely rank high on your list of what to see at Walt Disney World. Cinderella's Castle is nothing without its resident princess, right?! Cinderella's Royal Table inside the castle is by far the most popular character meal at Walt Disney World. So clients are often surprised when I try to talk them out of making a reservation. Especially given that I consider myself an honorary Disney Princess! And have even been known to wear a tiara from time to time…
It isn't that I don't enjoy Cinderella's Royal Table – I do. It's just that there are so many other places to meet the Princesses that don't involve a difficult-to-get dining reservation in a restaurant with decent food and poor lighting. (There. I said it. It is dark in there. And what is the point of meeting a Princess if you can't get a good Instagram pic?!)
Here are my "Top Three Favorite Places to Meet the Princesses" (That Aren't Cinderella's Royal Table)
Epcot's World Showcase
The Disney Princesses can be found in so many places in the World Showcase! Whether you want a princess meal, or a casual meet and greet, the World Showcase is the place to make it happen. Akershus in the Norway pavilion is home to my favorite princess meal. Guests can see the princesses at breakfast, lunch, and dinner while enjoying a delicious buffet of Scandinavian foods. A rotating pantheon of princesses appears and you are not guaranteed to see any one specific princess. But frequent guests include Belle, Jasmine, Merida, Snow White, and more.
Also located in the Norway pavilion is the Royal Sommerhus, home to Frozen's Anna and Elsa. No FastPass required, the line for this popular meet and greet moves quickly. You get to meet each princess individually but they will happily pose for a photo together as well. Anna even managed to coax a reluctant half grin out of my teenager on our last trip. And you thought Elsa was the only one with powers!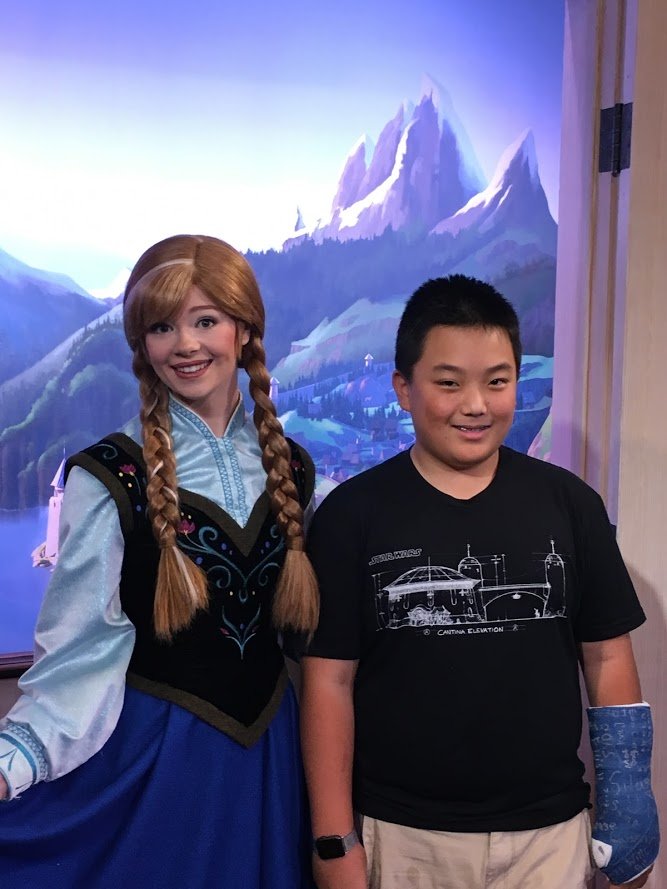 Princesses can also often be found in their native lands throughout the World Showcase. Keep an eye out for Belle in France, Snow White in Germany, or Mulan in China.
1900 Park Fare at Disney's Grand Floridian
1900 Park Fare at Disney's Grand Floridian Resort & Spa is an overlooked opportunity to meet some fantastic Disney characters. And at dinner, you can meet Cinderella! But the best part? Also at dinner, you can meet Cinderella's Step-Mother and Step-Sisters. Hold on to your sons and husbands ladies because Druzella and Anastasia are looking for their Prince Charmings! At breakfast, no official Disney princesses appear. But Mary Poppins is practically perfect in every way, the Mad Hatter keeps things interesting to say the least, and you never know who else may make an appearance!
Princess Fairytale Hall at the Magic Kingdom
Located in the Castle Courtyard of the Magic Kingdom, Princess Fairytale Hall hosts character greets with Cinderella, Rapunzel, and their princess friends. The line-up changes but you can you can see who will be appearing each day in the My Disney Experience app. FastPass+ is available for this character experience!
Other places to meet the Princesses include Trattoria al Forno at Disney's Boardwalk, Artist Point at Disney's Wilderness Lodge, and more. But these are my top three for both convenience and character interactions. What are your favorite places to meet the Princesses? Did I get it right? Let me know in the comments!