Disney's Hollywood Studios may have its issues but not having good food isn't one of them! In fact, some of my favorite things to eat in all of Walt Disney World can be found at Disney's Hollywood Studios. Stay tuned to read all about my Top 5 Favorite Things to Eat at Disney's Hollywood Studios!
The relationship between Hollywood Studios and myself can best be described as "It's complicated." But in one area, we are in complete agreement. Disney's Hollywood Studios has some delicious food! From Hollywood to a Galaxy Far, Far Away, there is something for everyone to enjoy.
Here are my top 5 favorite things to eat at Disney's Hollywood Studios!
My Favorite Thing to Eat at Lunch at Disney's Hollywood Studios
ABC Commissary is an often overlooked quick service location located in a side street between Mickey & Minnie's Runaway Railway and Star Tours. The theming is leftover from when Hollywood Studios was supposed to be just that – a working studio!
My favorite lunch at Disney's Hollywood Studios is the Chicken Club Sandwich. A grilled chicken breast topped with Bacon, Cheese, Avocado, lettuce, tomato, and ranch dressing on a toasted brioche bun. Real talk? I am not typically a fan of a brioche bun but in this case it is the perfect buttery accompaniment to the crisp lettuce, warm chicken, and herby ranch dressing.
On a hot day, it is the ideal combination of cool and crunchy. Add some salty fries and it is lunchtime perfection!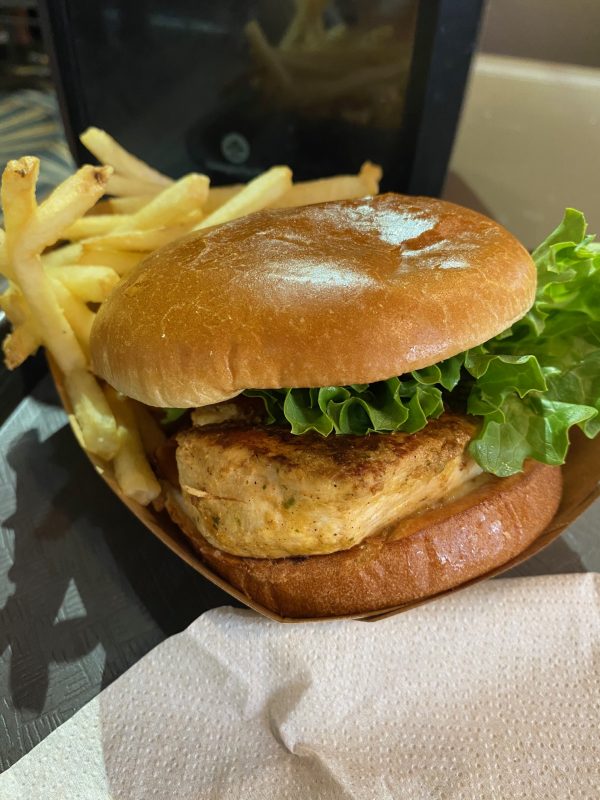 My Absolute Favorite Thing to Eat at Disney's Hollywood Studios
I am not even going to pretend not to have a favorite on this list. The Cobb Salad from the Hollywood Brown Derby Lounge is my absolute top of my list of favorite things to eat at Disney's Hollywood Studios! And yes, I said the lounge, not the restaurant itself.
There is something about sitting under an umbrella, listening to the white noise of the crowds passing by, that is so relaxing. Add a margarita or martini flight and I can literally spend hours watching the "World" pass by! Legend has it the Cobb Salad was created at the original Brown Derby in Hollywood from leftovers. I make a couple substitutions, swapping out the turkey for grilled shrimp and the French dressing for ranch. Sacrilege, I know. But I like what I like!
My Favorite Salty Thing to Eat at Disney's Hollywood Studios
Some people prefer sweet snacks, some people prefer salty. Me? I like them all! There is nothing like a good hot pretzel. When it is a Mickey Pretzel with Cheese Sauce from the Pretzel Palooza Cart? ::chef's kiss::
And don't judge me for my love of fake cheese. That "cheddar cheese flavored" dip is the perfect accompaniment to my pretzel!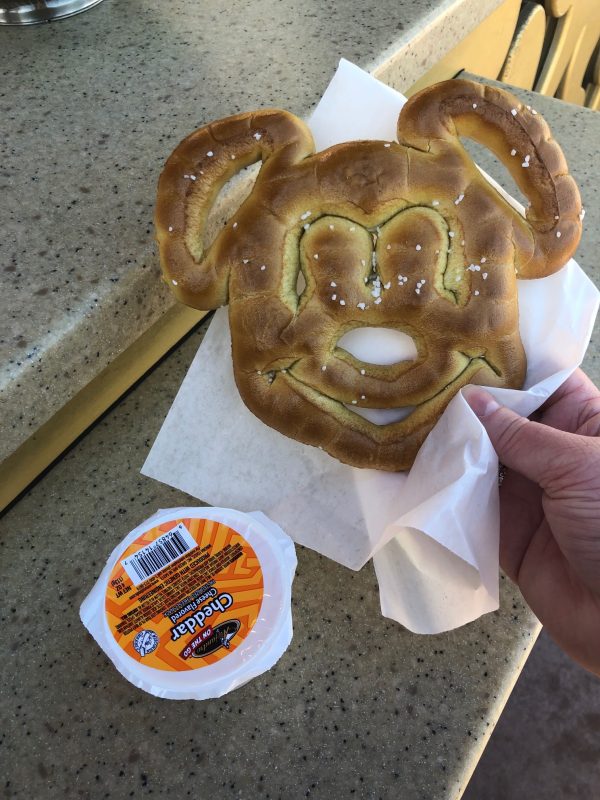 My Favorite Sweet Things at Disney's Hollywood Studios
Like I said… I can never choose between salty and sweet! When I am craving something sweet at Disney's Hollywood Studios (or Disney's California Adventure) my go-to is the Num num Cookie from Neighborhood Bakery. It is right across from Toy Story Midway Mania! Which means that I can get a cookie before hopping in the line for Toy Story Midway Mania. Or better yet, since I normally skip Toy Story Midway Mania, I can enjoy my cookie in peace while my family rides!
This cookie is served warm which means ooey gooey chocolate chips. Be sure to grab napkins!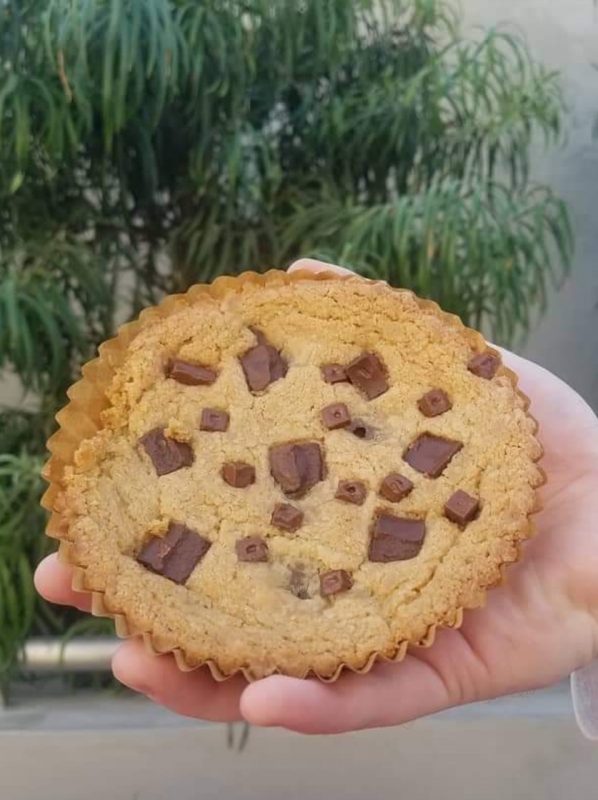 My Favorite "Fancy" Thing to Eat at Disney's Hollywood Studios
Admittedly I am not a huge Star Wars fan but I AM a fan of Oga's Cantina in Galaxy's Edge! You know what else I am a fan of? Charcuterie boards! I love to graze and have been known to make a charcuterie board for dinner on nights when I am feeling lazy or would just rather graze than sit down for a meal. There is just something that feels a bit fancy about pulling together so many ingredients in a visually pleasing way!
Originally a secret menu item it became popular enough to move to the regular menu and is listed as the Happabore Sampler. It includes a variety of cured meats (including roasted SPAM – yum!!) and a variety of cheeses. There are also some pork cracklings for crunch!
This is the perfect thing to pair with a cocktail like my favorite, the Outer Rim. So sit back, enjoy a drink and a nosh, and groove to the beats provided by DJ R-3X!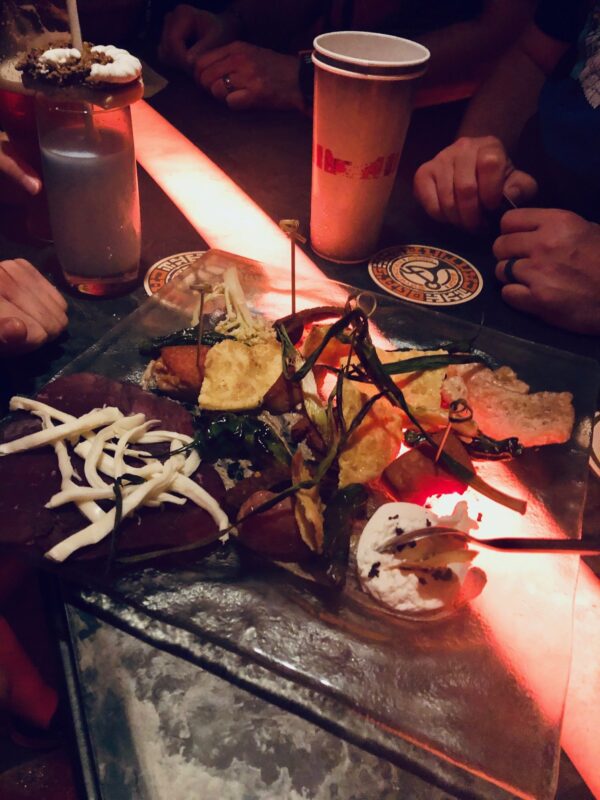 Now do you understand why I would rather spend my time at Disney's Hollywood Studios eating rather than riding the rides? When I'm focused on the food I forget to be annoyed at the lack of cohesive storyline in Disney's Hollywood Studios! What are your favorite things to eat at Disney's Hollywood Studios? Let us know in the comments!
P.S. Now that you've found us, be sure to subscribe to our newsletter below or in the link on the side! You can also check us out on YouTube, Facebook, and Instagram!
LOVE DISNEY VACATIONS?
Don't miss any of our DPP vacation tips. Plus get a free gift instantly!