Epcot is my favorite park for a lot of reasons, but the fact that it is home to many of my favorite things to eat is a huge factor! On more than one occasion I have whisked my family off to Epcot for the weekend for the sole purpose of eating. Here are my Top 5 Favorite Things to Eat at Epcot! 
This was by far the most most difficult post to write in this series so far. Narrowing it down to only my Top 5 Favorite Things to eat at Epcot was almost impossible! After all, Epcot is where the good food lives.
So many yummy items did not make the cut. The Carne Asada at San Angel, the Shrimp Tempura Udon at Katsura Grill, the Cheddar Cheese Soup at Le Cellier… these were all contenders for the list that I had to let go of! So what beat them out? Here is my list of my Top 5 Favorite Things to Eat at Epcot!
My Favorite Asian Things to Eat in Epcot
We established my love for dumplings/pot stickers in the Animal Kingdom post. (And yes, I know I am using the same photo. Usually I am too busy stuffing my face with dumplings to take a picture!) And it's not just at Epcot. Bao, Mandu, Gyoza or a dumpling by any other name may be my favorite thing to eat, period. You do not want to see my usual order at Nom Wah in Chinatown.
Are the pork potstickers at Lotus Blossom Cafe in the China pavilion the best I have ever had? Of course not. But for quick service theme park food, they are a very decent interpretation! And the combination of the moist pork filling and the chewy dough makes it the perfect snack.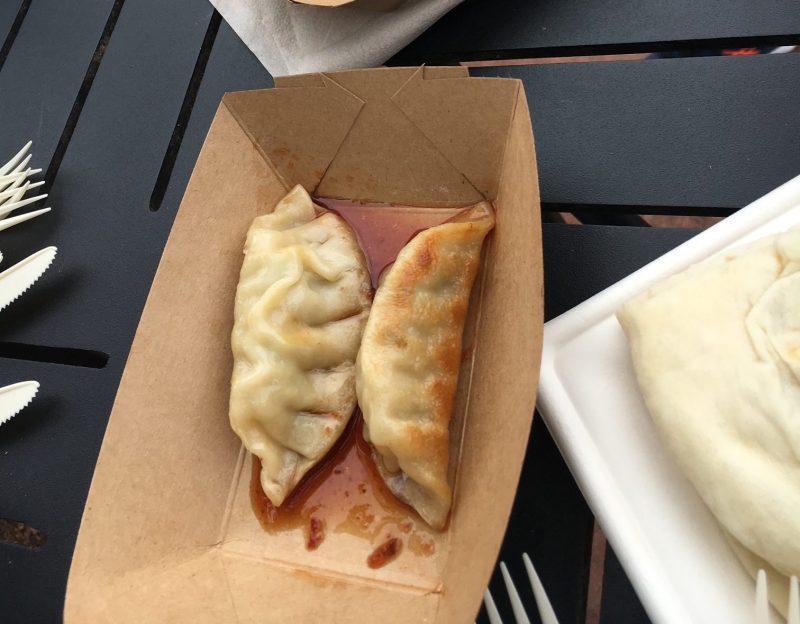 My Favorite Cold Thing to Eat at Epcot
Much like in Hollywood Studios, I am not even going to pretend not to have a favorite item in Epcot. The Macaron Ice Cream Sandwich at L'Artisans des Glaces in the France pavilion is perfection as far as I am concerned!
You bite through the over-sized Macaron which is simultaneously chewy and crunchy, and then comes the sweet, creamy ice cream. Eat quickly as these do tend to melt fast! The chocolate is my favorite flavor but L'Artisan also offers seasonal flavors which are very popular.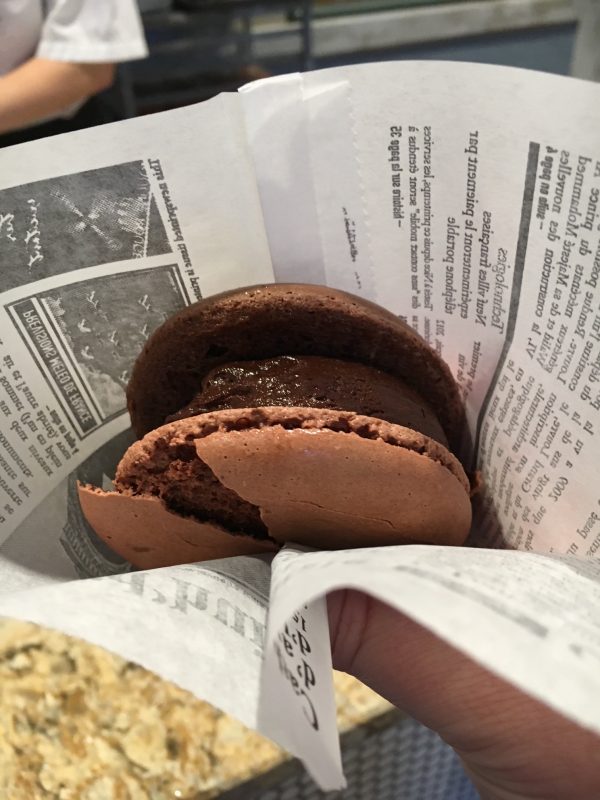 My Favorite Pizza Thing to Eat in Epcot 
When I was little there was a small restaurant in my hometown called Edelweiss. It was a "fancy" restaurant where your parents would go for a date night, or take you for a special occasion. On one such occasion, I ordered the prosciutto and melon appetizer. I had never tried it before but was instantly hooked on the salty/sweet pairing!
So when I saw the Prosciutto e Melone Pizza at Via Napoli, I HAD to order it! And man oh man does it live up to the hype. Salty prosciutto, sweet melon, peppery arugula on a perfectly crisp yet chewy pizza crust?! Sheer perfection. Sadly this pizza is usually a seasonal item so I cannot guarantee availability but if it is offered when you are there – GET IT.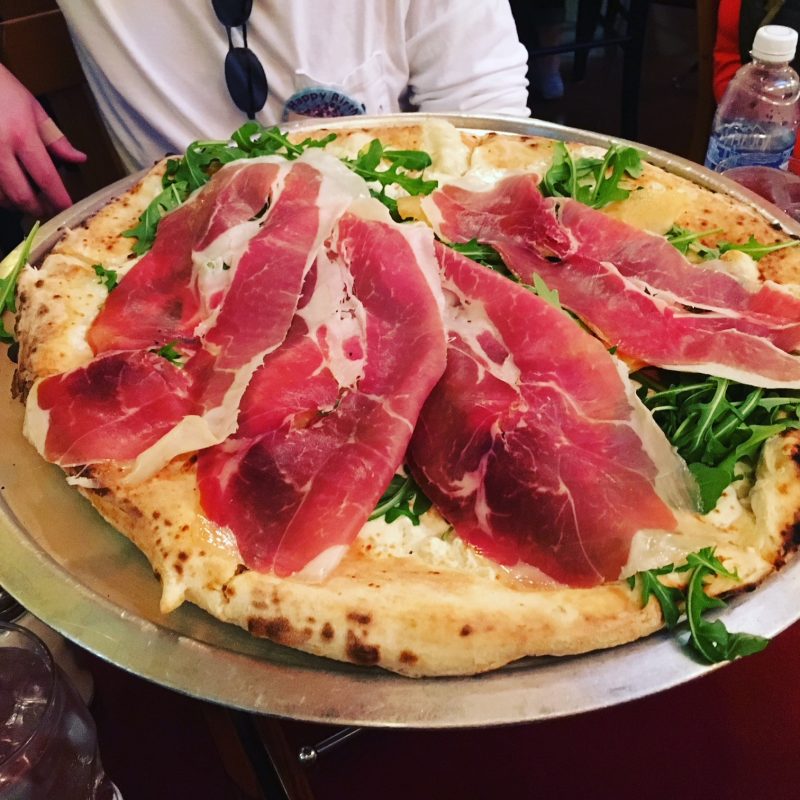 My Favorite Meatball Thing to Eat in Epcot
As long as I am in the Italy pavilion, obviously we have to talk about the Meatballs Parmigiana at Tutto Gusto. What's that you say? You haven't been to Tutto Gusto? You, my friends, have been missing out.
Tucked in between Tutto Italia and Via Napoli, Tutto Gusto is the perfect Italian wine cellar complete with dim lighting, rustic decor, and a working fireplace. It is the ultimate spot to take a break from the hustle and bustle of Epcot. If Italian food is your comfort food, then you have come to the right spot.
And the Meatballs Parmigiana? Just like Nonna makes. Share them with friends or eat the entire dish by yourself. I won't judge.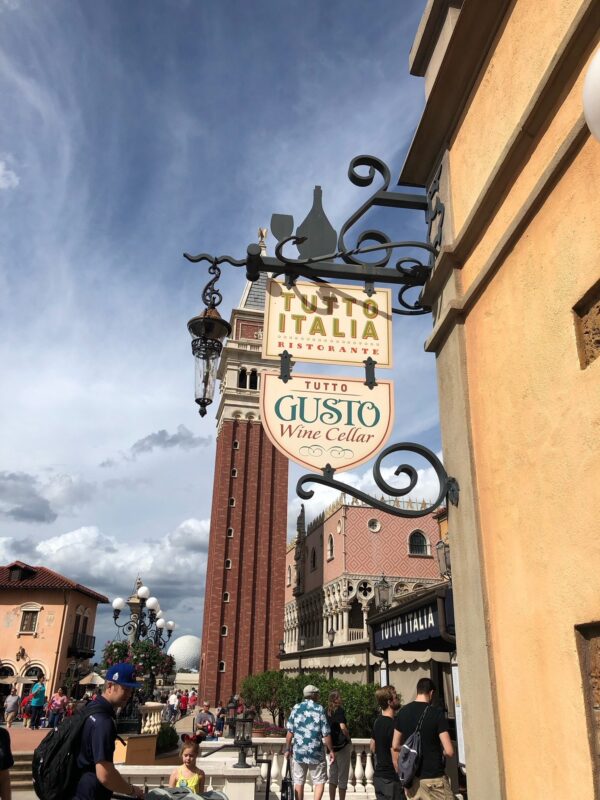 My Favorite Things to Eat with A Margarita in Epcot
Is there anything more satisfying than a cold margarita and salty tortilla chip? No, no there is not. Especially on a hot Florida Day! Add queso and guacamole and you have the perfect way to while away an hour or two at Epcot.
The Chips, Guacamole, and Queso at La Cava del Tequila in the Mexico pavilion are so popular that the line starts forming even before the bar opens! No, that's not the line for a ride. That's for the tequila! (Sorry Jose Carioca! We love you but not as much as this queso.)
If you order one of the margarita flights, then ordering the Chips, Guacamole, and Queso is mandatory. You will thank me later!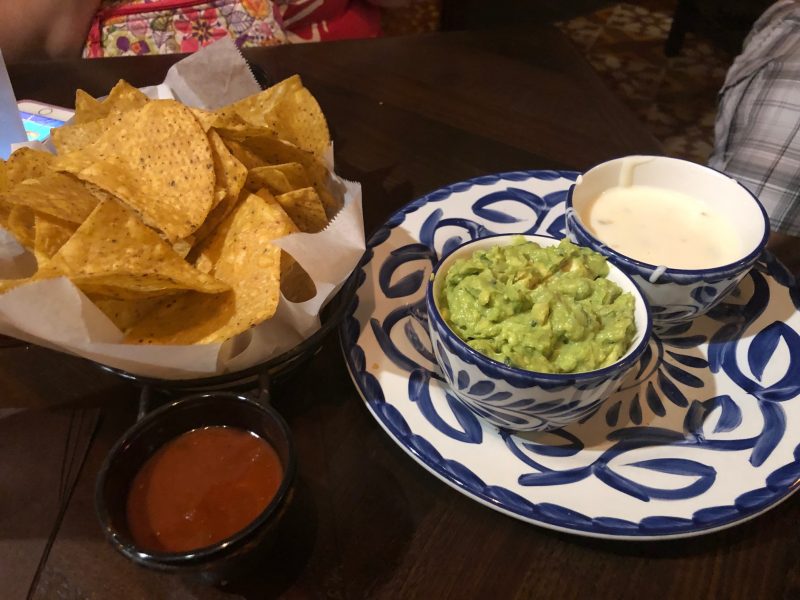 Did we forget one of your favorites? Let us know in the comments!
Up next? Our Top 5 Favorite Things to Eat at the Walt Disney World Resorts!
P.S. Now that you've found us, be sure to subscribe to our newsletter below or in the link on the side! You can also check us out on YouTube, Facebook, and Instagram!