Now that I have covered my favorite things to eat in the theme parks, it's on to the Walt Disney World resorts. And believe it or not, I actually like some of these items MORE than anything in the previous lists! 
Everyone knows how I feel about a "Do Less, Enjoy More" style of traveling at Walt Disney World. As part of that philosophy, I tend to spend more time at my resort than the average commando Disney tourist. I love a mid-day break, or an early evening that involves ordering room service.
The Walt Disney World Resorts are an often overlooked source for some really delicious food. Is a resort food crawl a thing? If not, it should be! And it is not just the Deluxe Resorts! The Value and Moderate Resorts have some fantastic options as well.
Ok now that I am STARVING, let's take a look at my favorite things to eat at the Walt Disney World resorts! (And yes, this is a carb heavy list. My apologies in advance to those who cannot indulge in gluten.)
My Favorite Things to Eat at Disney's Yacht Club at Walt Disney World
After a long day in the theme parks, Heather and I needed food STAT, but didn't have a dining reservation. We wanted somewhere that would included "adult" beverages and preferably someone to serve them to us. Thank goodness for the lounges at Walt Disney World, refuge of weary travelers. No dining reservation required, plus usually a small plates menu and the aforementioned adult beverages!
The Ale & Compass Lounge is located in the lobby of Disney's Yacht Club. Ad while I really enjoyed many of the items we ordered, it is the Parker House Rolls that have really stuck with me. Fluffy and slightly sweet with the perfect amount of salt on top, these rolls are simply yummy. Add a selection of spreads and frankly this could be the only thing I eat for my meal.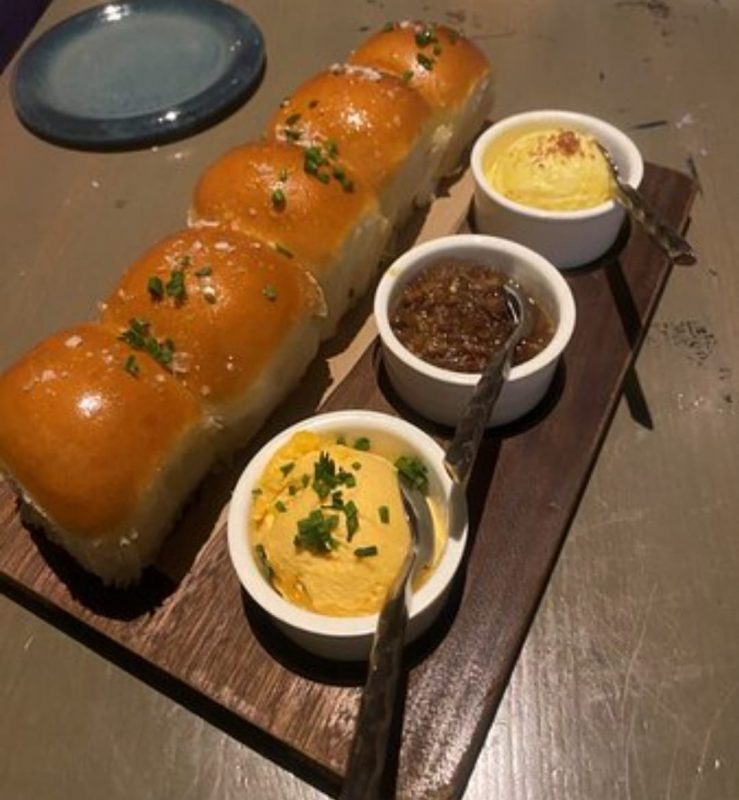 My Favorite Thing to Eat at Disney's Animal Kingdom Lodge Kidani Village at Walt Disney World
I have never actually stayed at Disney's Animal Kingdom Lodge Kidani Village. (I have stayed at the main resort!) But I will make a special trip over to Kidani Village to eat at Sanaa, even I am staying in the furthest regions of Walt Disney World. Trust me, it is worth the bus/uber/Lyft ride to get here!
But the one thing you must order here, is the Indian-style bread service. It comes with your choice of Five Breads – Traditional Naan, Garlic-Ginger Naan, Spiced Naan, Onion Kulcha, or Paneer Paratha, and with Nine Accompaniments – Cucumber Raita, Roasted Red Pepper Hummus, Mango Chutney, Tomato-Date Jam, Tamarind Chutney, Coriander Chutney, Garlic Pickle, Red Chile Sambal, or Spicy Jalapeño-Lime Pickle.
At $19.00 it is pretty pricey for an appetizer but trust me, it is worth every penny. Again, you could make this your entire meal!
My Favorite Thing to Eat at Disney's Pop Century Resort
We've established that I am not really a Value Resort girl. That said, the Tie-Dyed Cheesecake at Disney's Pop Century is absolutely worth the trip, even if you are not staying at this resort! Aside from the fact that it is a delicious cheesecake, it is just SO COLORFUL!
Before cheesecake purists come for me, is it the best, most perfect cheesecake? No. Does it have slightly play-doh-esque appearance and texture? Yes. But it is absolutely yummy. And I am a sucker for an individual sized dessert. No sharing!
Since it is individually packaged it is the perfect thing to grab on your way back to your room after a long day. Or to stash in your room fridge for late night snack! Or breakfast. Or any time. I won't judge!
My Favorite Thing to Eat at Disney's Port Orleans French Quarter
Long before Tiana became a Disney Princess, Disney's Port Orleans French Quarter has been serving up these New Orleans-style beignets at their food court. Pillows of fried dough covered in mountains of powdered sugar, you eat these at the risk of being covered in sugar. (Pro tip – don't eat these wearing a black or navy blue tee shirt. Trust me.)
Port Orleans French Quarter is my favorite of the moderate resorts, and honestly these beignets might be a big reason why! There is just something about waking up, walking past the gorgeous wrought iron railings of the buildings, and ordering beignets for breakfast. (Or lunch. Or a snack.)
And a while back, they added dipping sauces for your beignets! Caramel, Strawberry, or Chicory Coffee Ganache are options should you choose to dip your beignets. I'm a purist so I skip these but many people rave about them.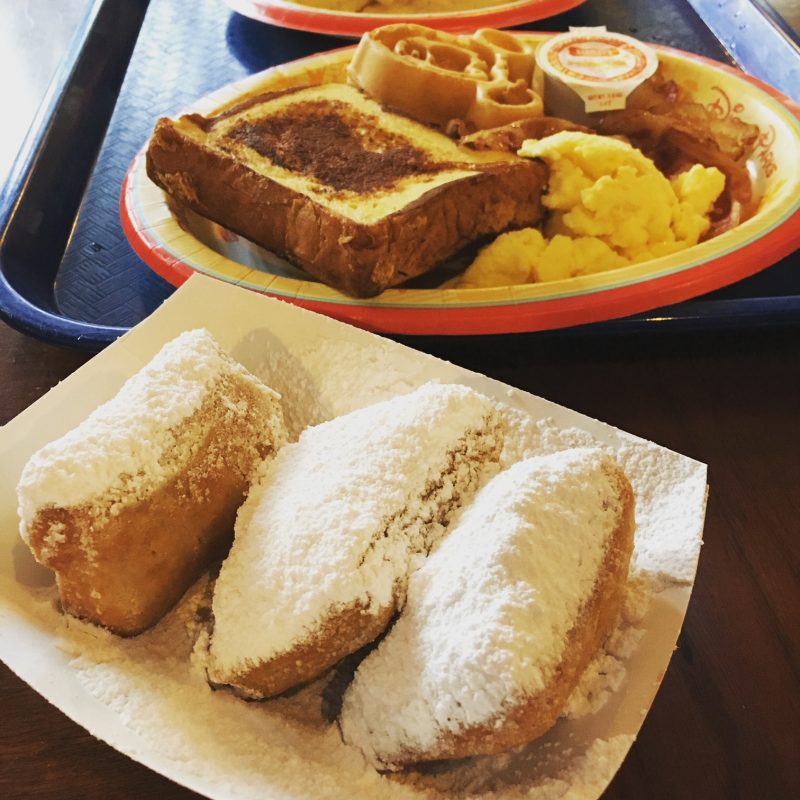 My Favorite Things to Eat at Disney's Beach Club
Oh, how I love Disney's Beach Club. The location, the theming, the rooms, and perhaps most of all – the food! There are so many options to choose from.
This one should have been a tough choice for me. After all, I can and have waxed rhapsodic about the breakfast potato casserole in The Beach Club Marketplace. I am a huge fan of the Cape May Cafe breakfast buffet. But there is one thing I ordered one time that then became a "must have" lunch.
It was a cold, rainy day at Walt Disney World. We returned to our resort in search of sustenance and dry clothing. Beaches & Cream is one of our favorite places to grab a burger and chocolate shake so we headed there for lunch.
But upon reading the menu, mainly to kill time while we waited to order our burgers, I spotted the Grilled Cheese with Tomato Soup. Perfect for the cold rainy weather!
When I tell you this is the PERFECT duo, I am not using that word lightly. The sandwich is straight out of Central Casting for the ideal grilled cheese sandwich. Crispy, salty, and ooey gooey melted cheese just begging to be dipped in the creamy tomato soup with just the right amount of acid to cut through all that cream and cheese. And a pickle on the side to add the perfect fermented pop of flavor!
This is the perfect rainy day food, but don't let a little sunshine stop you from ordering this any time you need a little comfort food.
Given the vast number of dining options at the Walt Disney World resorts, it was really tough to narrow this down to just five items. So which of your favorite things to eat at Walt Disney World resorts didn't make the list? Let us know in the comments!
P.S. Now that you've found us, be sure to subscribe to our newsletter below or in the link on the side! You can also check us out on YouTube, Facebook, and Instagram!