Can we talk about ice cream? Because I love it. No matter what time of year it is, I crave it at least once a week. It's still hot here in Southern California and I haven't eaten lunch yet, so my mind has wandered to all of the things I'll be eating when I visit Walt Disney World next month. Not surprisingly, the top two things on my list were ice cream!
That got me thinking – what are the best places to grab some ice cream? Read below for my Top 5 Places to Get Ice Cream in Walt Disney World!
AMPLE HILLS CREAMERY
This is 100% my favorite ice cream spot at Walt Disney World, and luckily for me, I'm staying at the Boardwalk Inn, which is where this baby is located. Ample Hills is a company originally from Brooklyn, NY and Disney's location is the first outside of New York.
You'll find crazy flavors such as Ooey Gooey Butter Cake (my fave!), PB Wins the Cup and Baked/Unbaked. They're all super rich. And what I love is that each location of Ample Hills has an exclusive flavor you can't get anywhere else. At Disney, it's called Sally Sells Seashells (to go with the Boardwalk theme) which is orange marshmallow ice cream with salty dark chocolate seashells. Come on!
They also do ice cream 'samplers' where you can pick 12 different flavors and get tiny mini scoops of them. It's perfect for the indecisive among us. But what I like most about Ample Hills is that when I tell them I want a 'million rainbow sprinkles' on my ice cream, they happily oblige and cover every inch of my scoop until only sprinkles can be seen! So, if you haven't visited Ample Hills yet, what are you waiting for!? It's totally worth the trek over to Disney's Boardwalk!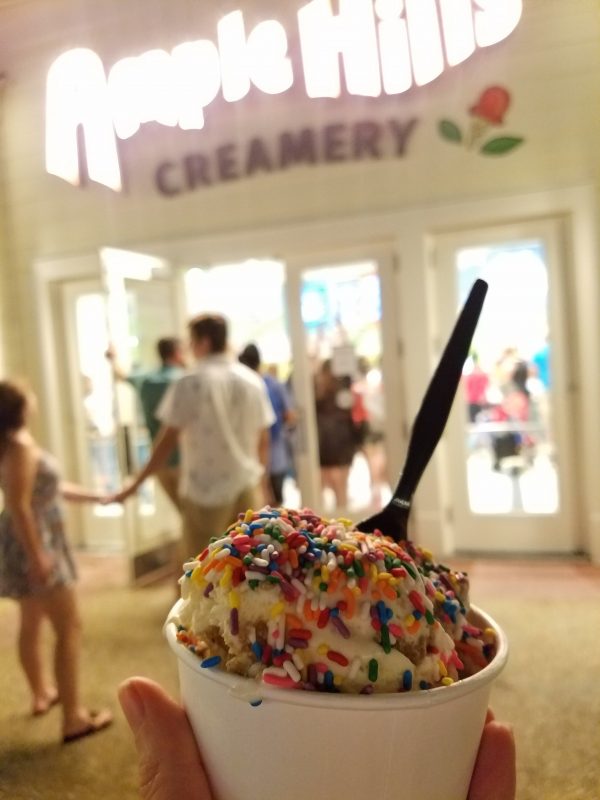 BEACHES & CREAM
Full disclosure: Beaches & Cream used to be my favorite place to grab an ice cream before Ample Hills opened up. Located just across Crescent Lake from the Boardwalk, it's housed in Disney's Beach Club resort. This is an adorable 1950's themed soda shop, and they have a full lunch/dinner menu as well as ice cream (my go to's are a cheeseburger and a vanilla coke. Seriously. I'm so hungry right now.) so it's easy to make a meal of it!
In addition to standard scoops, there is a full-on sundae menu. They're most famous for their 'Kitchen Sink' sundae, which literally comes in a sink shaped bowl. This thing is so big that it's recommended for 4 people to share. It's basically 10 scoops of different flavored ice cream, smothered in every topping they have AND a whole can of whipped cream (a whole can!? You know you were saying it, too), and is brought out to flashing lights and sirens. And, hey, if you can eat the entire thing by yourself in an hour, it's free!
That sounds great and all, but I go for the No Way Jose. My mouth is watering just thinking about it. This is chocolate and vanilla ice cream, with peanut butter and chocolate sauces and topped with peanut butter and chocolate chips. Just imagine a giant peanut butter cup. Enough said.
Beaches & Cream is crazy popular these days, so reservations are highly recommended. There is a walk-up ice cream window, but that's ONLY to grab simple scoops and you can't get any of the fun sundaes from there. So, make sure you plan ahead and grab an advanced dining reservation!
PLAZA ICE CREAM PARLOR
This is a Disney classic, and it's so hard not to visit the Magic Kingdom without grabbing a treat from here. They sell just basic Edy's ice cream, so there's nothing crazy going on, but there's just something about walking down Main Street with a cone that makes me happy.
They also have a few sundaes and their milk shakes are AMAZING. But the most popular item is the ice cream cookie sandwich. I'm not talking one of those tiny frozen things, either. These are MASSIVE freshly baked chocolate chip cookies, and you get to choose the flavor of ice cream you want. They are messy, but delicious. Well worth the stack of napkins needed.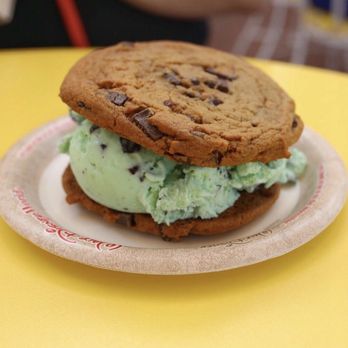 L'ARTISAN DES GLACES
Tucked way back in the corner of the France pavilion at Epcot, it's easy to miss L'Artisan des Glaces. That is, unless it's 100 degrees out and the line is out the door! This ice cream is made in the traditional 'French' way, so it's super creamy. Flavors change seasonally (shout out to the pumpkin flavor in the fall!), but you'll usually find sea salt caramel, mint-chocolate (with REAL mint, no artificial flavors around here!), chocolate and vanilla, as well as several different sorbets.
What stands out here are two items. First, the Croque Glace – one scoop of your choice of ice cream and sauce pressed warm in a homemade Brioche bun. Yes, please. Second is the ice cream macaron sandwich. Who does not love a macaron? Literally my first stop in Paris was to the house that invented the macaron hundreds of years ago. So I am definitely not turning down one that's filled with ice cream. There is a chocolate macaron ice cream sandwich, or a seasonal one. In the past I've had strawberries and cream in the spring and pumpkin in the fall, and both were incredible.
GHIRARDELLI SODA FOUNTAIN
Okay, so this is an old standard. And honestly, I was never a huge fan of the ice cream at Ghirardelli's. I'd go in for my free chocolate square like everyone else, and then just keep walking, despite the intoxicating smell of freshly baked waffle cones wafting out onto the walkway of Disney Springs.
That is, until they introduced the Crissy Fields Cookie Bits Sundae (fun fact: all of their sundaes are named after San Francisco landmarks because that's where the company was founded!). This piece of heaven has vanilla and cookies 'n cream ice cream, hot fudge, whipped cream, chocolate chip cookie crumbles, and two Ghirardelli milk chocolate caramel minis. But the cookies are not just cookie crumbles. They are ooey, gooey soft bits of heaven and my mouth is watering just thinking about this. Seriously. I want to fly over to Orlando right now just for this.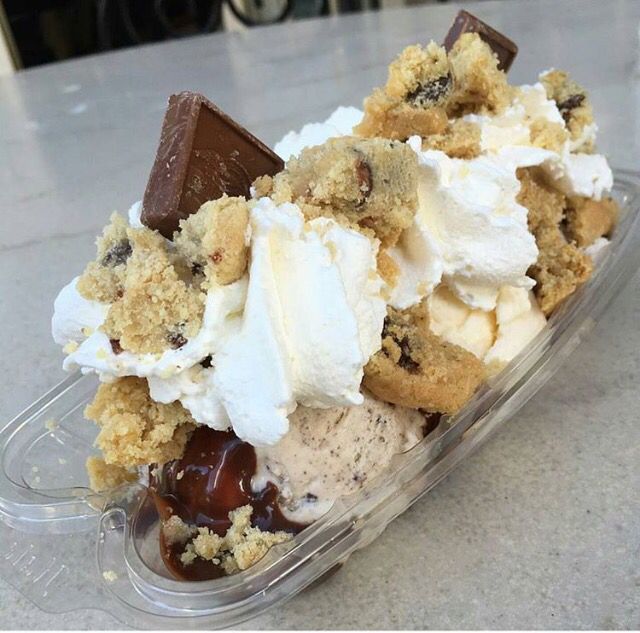 So, what do you think? Have you tried any of these? Did I hit your favorite? Or did I miss one? I'd love to hear where your favorite ice cream is so I can try it on my next trip!