Quick Service restaurants at Disneyland are the perfect place to grab food and get back to the rides! Read about our top 5 favorite Quick Service restaurants at Disneyland! 
Raise your hand if you love food. Okay, now raise it if you love Disney Food. Right now I have both hands and probably a foot in the air, because my favorite thing about a Disney vacation is the food! And while I adore the sit-down restaurants and will spend months planning my dining reservations carefully, there's something to be said about a quick meal.
Maybe I'm in the parks and just want to grab a fast lunch so I can be back on the next attraction. Or maybe I'm so exhausted at the end of a long day that I just want to grab something fast and eat it in my room. And I know most days I want a super quick breakfast so I can be on my way to the parks!
So this week I'm going to tell you all about my favorite quick service restaurants at Disneyland. These are the places you will usually find me when I'm craving something delicious, but quick. And don't worry – in the next few weeks I'll do one for Walt Disney World, too!
My 5th Favorite Quick Service Restaurant at Disneyland: PLAZA INN
This is hands down my very favorite place to eat at Disneyland park. I don't care if it's lunch or dinner, as long as I am eating my alfredo pasta I am a happy girl! A lot of Walt Disney World veterans assume this restaurant requires reservations because it resembles the Crystal Palace in Magic Kingdom, but do not be fooled! This is a walk-up counter service restaurant and even though there are usually lines wrapped around outside, it is completely worth it.
The restaurant is decorated like an opulent Victorian home, with stained glass everywhere. It actually opened with the park back in 1955! It's a great place to sit on the outdoor patio on a beautiful day and watch the parade go by. But the food is the real star here. Like I mentioned above, the chicken alfredo pasta is so delightful, and so filling, my mouth is watering just thinking about it. It's always my go to.
Sometimes, though, I need change. And that's when I go for either the Specialty Fried chicken or the pot roast. The fried chicken is what the Plaza is known for – it's so golden and crispy and not at all oily. And it comes with mashed potatoes and gravy, veggies and a buttermilk biscuit, which makes it comforting. Definitely not your typical fast food! The pot roast is melt-in-your-mouth tender and also comes with those mashed potatoes, veggies and gravy.
If you're feeling something lighter, there are a variety of salads and fish. Plus, there's always three or four different cakes to choose from for dessert!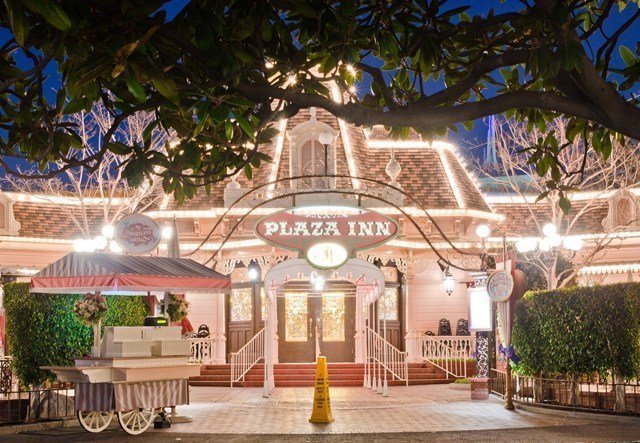 My 4th Favorite Quick Service Restaurant at Disneyland: EARL OF SANDWICH
If you listen to the podcast at all, you know I'm obsessed with Earl of Sandwich. A trip to Disneyland will never pass without me stopping here at least once. Whether I'm eating it right then or grabbing sandwiches to eat at home later that day, I am ALWAYS visiting the Earl for a quick bite.
Obviously, the Holiday Turkey sandwich is my favorite. This is like Thanksgiving all wrapped up in a neat little package. There's the turkey, stuffing, cranberry sauce, mayo – all tucked between Earl's freshly baked bread and served warm. What is not to love!?
But recently I've acquired a second favorite: The Veggie Sandwich. It sounds so boring, right? How exciting can a vegetable sandwich be? I thought the same thing, but I was so very wrong. There's cucumbers, red peppers, onions, lettuce and tomato with feta cheese and this delicious creamy balsamic vinaigrette. The flavors all mesh together and I cannot stop ordering it.
Another favorite is the Earl's Club, which is a club sandwich with Swiss cheese and their special sandwich sauce. If I'm craving bacon, this is the one I go for! Their breakfast sandwiches and oatmeal are also great. And of course, you MUST order a brownie and the Earl Grey lemonade or you are doing it all wrong!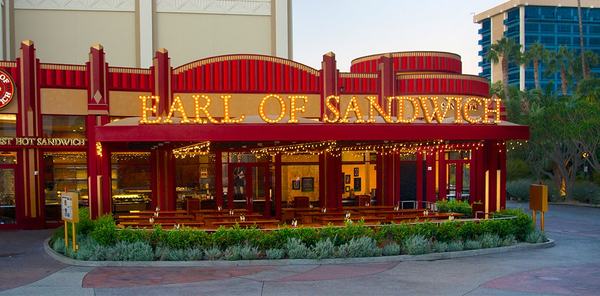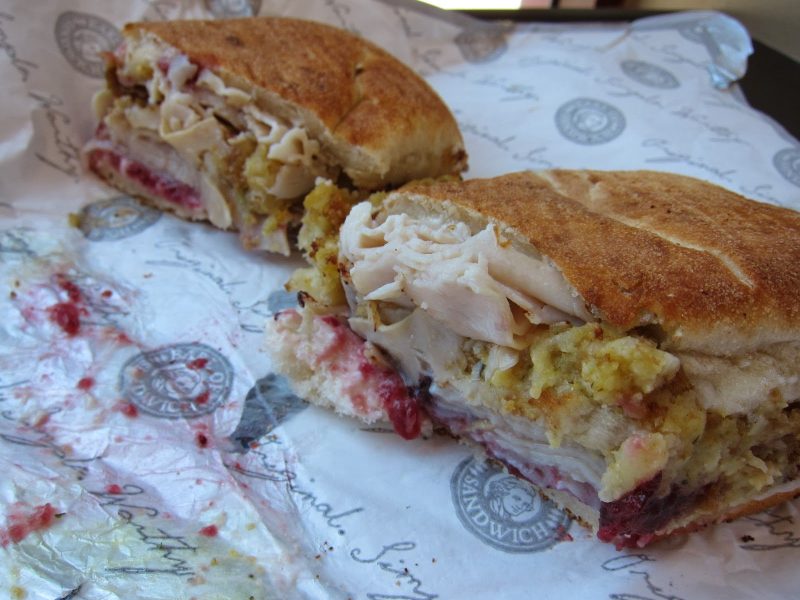 My 3rd Favorite Quick Service Restaurant at Disneyland: PARADISE GARDEN GRILL
This is my go-to quick service when I'm in Disney's California Adventure park. It's located at the very end of Pixar Pier and the seating is all outdoor in a gorgeous garden. Plus, if you're lucky, there will be a musical act playing on the gazebo stage so you have some entertainment while you dine.
For the majority of the year the menu here is all Mediterranean. There's this delicious Mediterranean salad that has olives and feta and pita bread. Basically three of my favorite things. If it came with hummus on the side, I'd be over the moon! But my favorite is actually the gyro pita. It's so flavorful and so massive it's the perfect lunch to fill you up, but not weigh you down. I never leave here feeling uncomfortable, which is a plus in the hot California summers.
Paradise Garden Grill DOES have seasonal menus, though, so make sure you check before you go. For example, around Día des Los Muertos and the Christmas holiday season, the menu changes to feature Latin and Mexican foods, which are delicious. You absolutely MUST get some of the tamales here when they have them! There are also burritos and tortas and tacos – all the staples!
My 2nd Favorite Quick Service Restaurant at Disneyland: CRAFTSMAN BAR AND GRILL
Located at the Grand Californian hotel, out near the pool, this has only recently become one of my favorite spots. The menu has been completely revamped and oh my goodness is it incredible. Start your day here for breakfast – you will not regret it! They make fancy coffees (aka lattes) without the crazy wait around the corner at Starbucks.
And the avocado toast is out of this world! It comes on this giant piece of grilled sourdough bread with poached eggs and pomegranate seeds and a pomegranate drizzle. I thought it sounded odd having this sweet stuff on top of avocado, but it blew my mind and now I have it every morning of my trip! There's also a breakfast burrito that I hear is excellent, but I can't break away from my toast!
Lunch and dinner here are as equally good – they even put the avocado toast on these menus because it's that brilliant! But my favorite for later in the day is the Poke Bowl. You can choose salmon, tuna or tofu that's marinated in poke sauce and comes with rice, lettuce, pickled cucumber, edamame, avocado, and a sriracha aioli. It is so good that I have waited 35 minutes for a mobile order just because I couldn't NOT have it.
They also have a cheeseburger with a hollandaise sauce and artichoke aioli I grabbed a bite of and my taste buds exploded. It was phenomenal.
They even do sandwiches, skewers and pizzas from their pizza oven. I'm partial to the Margherita, but if you're a meat lover, the Charcuterie Pizza with various hams, salamis and sausages is right up your alley!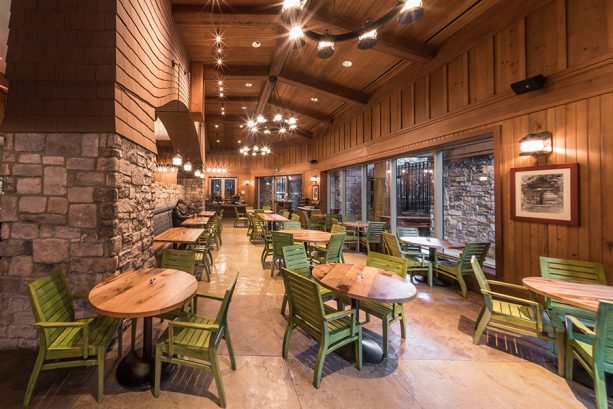 My Favorite Quick Service Restaurant at Disneyland: JOLLY HOLIDAY BAKERY
Not only is the Jolly Holiday a great place to grab a snack, it's one of my favorites for a quick bite in Disneyland park. Plus, it's themed after Mary Poppins, so how can it be bad? This is usually where I'll grab a fast breakfast if I'm already in the parks. Their breakfast croissant with eggs, cheese and bacon hits the spot. Last week I had the mushroom quiche and it was delicious. But they also have plain and chocolate croissants and fresh baked muffins if you want something lighter. Plus, their iced caramel macchiato is a thing of dreams.
For lunch I'm almost always going to grab their creamy turkey soup, but a popular choice is the grilled cheese and tomato bisque combo. Their Jolly Holiday salad with spiced pecans, feta, dried cranberries and raspberry vinaigrette is great when I'm craving something light. But their Caprese sandwich on focaccia is a must. It's so chewy and flavorful!
There's always special seasonal options, too! In addition to different desserts, they'll usually have a seasonal soup and/or sandwich. Right now they have a Thanksgiving type sandwich and a butternut squash soup that make me want to run down there and try them out!
And don't forget to get a sweet treat for dessert! There are various pastries and cookies that always look incredible, but the star here is the famous Matterhorn Macaroon. You can read my post about how much I love that little creature!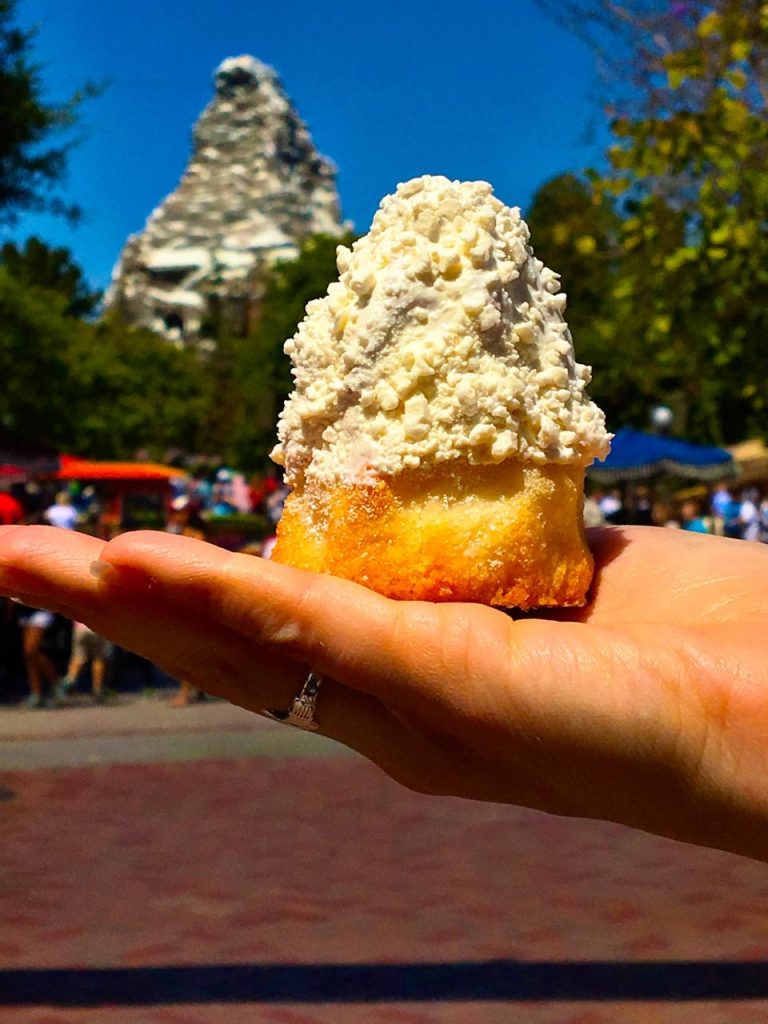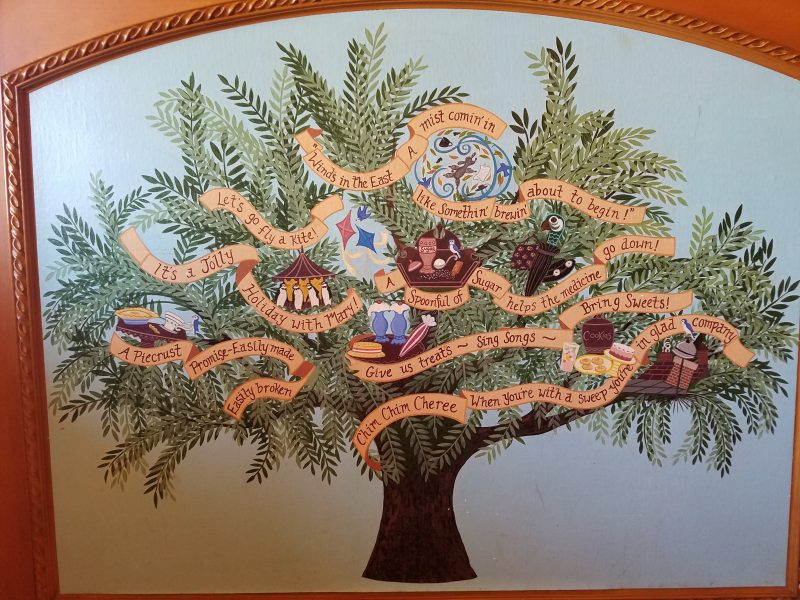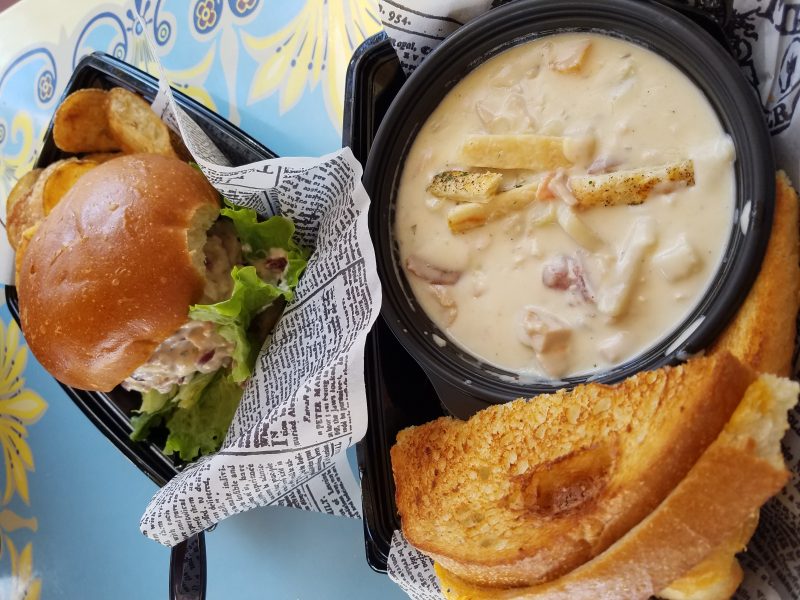 So that's it! My very favorite quick service restaurants at the Disneyland Resort. What about yours? Did I miss it? I'd love to hear what your favorite place to grab a quick bite is! I also should not have written this before I had lunch… I'm starving now.