Disney Cruise Line's much anticipated new ship, the Disney Wish, will set sail on July 14, 2022. Disney Cruise Line unveiled some of the details on YouTube recently and I admit it – I cried! Cruising is my absolute favorite way to travel and Disney Cruise Line is my favorite cruise line. So needless to say, I am VERY excited about this new ship!
This week was supposed to be a continuation of my "Which Attractions to Skip" series. But once I saw what Disney Cruise Line has planned for the Wish, I dropped everything to write about this new ship. It is just SO PRETTY.
This is not going to be unbiased reporting by any stretch of the imagination. I am a hard-core Disney Cruise Line fan girl. They had me the instant they released the artist rendering of what the atrium would look like – all blue and sparkly with a gorgeous statue of Cinderella. I mean, just look at it…
The Disney Wish will set sail on June 9, 2022 with a 5-night Bahamas Cruise. UPDATE: The Maiden Voyage of the Disney Wish has been postponed to July 14, 2022! If you haven't taken a Disney Cruise yet, I recommend checking out our series on planning a Disney Cruise, starting with "How to Choose the Perfect Disney Cruise Line Itinerary." The Disney Wish would be a fantastic option for a first time Disney Cruise!
Here are the top 5 reasons I am so excited about the new Disney Cruise ship, Disney Wish.
Newly Designed Staterooms and Suites on Disney Cruise Line's Disney Wish
The staterooms on Disney Cruise Line are the stuff of legends. On average, they are 25% larger than most other cruise lines! On the other Disney ships (Magic, Wonder, Dream, and Fantasy) the rooms are decorated with a nautical theme and warm reds and navy blues. On the Disney Wish, the designers have waved their magic wands and transformed the staterooms into magical hideaways in gorgeous blues, creams, and pale golds.
And in the bathroom – no more shower curtains!! Glass shower enclosures replace the bane of my existence on the other ships. The split bathrooms (one of Disney Cruise Line's most genius design choices in my opinion) are staying, of course. But not having to wrestle with a shower curtain is fantastic news!
But the most exciting new staterooms may be the two Royal Suites! Featuring Disney Cruise Line's first ever two-level suites, everyone can feel like royalty when descending the gorgeous spiral staircase. Stunning murals can be found in the living area and master bedrooms (each Suite has two!). Relax at the end of the day in the private hot tub out on the HUGE verandah.

Image Courtesy of Disney Cruise Line
Three New Dining Rooms on Disney Wish
Disney Cruise Line features rotational dining on their ships. Guests rotate through the three main dining rooms each night, accompanied by the same server team. This is one of my favorite parts of cruising with Disney! I love getting to experience a new menu every night, but still have the servers who know me to help with my food allergies.
On the Disney Wish we are getting three brand new dining rooms – 1923, Arendelle, and Worlds of Marvel. These are not your typical cruise ship dining rooms!
Arendelle is a musical celebration featuring Elsa, Anna, Kristoff and Olaf. The menu will have a bit of Nordic flair!
1923 is a Classic Hollywood-inspired dining room inspired by the time period when Walt Disney Studios was founded. The food will celebrate California cuisine.
And while we don't have many details about Worlds of Marvel, Disney Cruise Line describes it as a "cinematic dining adventure." Sign me up!!
Adult Exclusive Quiet Cove Infinity Pool on Disney Wish
One thing that Disney Cruise Line does so well is define specific areas of the ship exclusively for adults. The Quiet Cove pool area is always one of my favorite places to hang out because it is so peaceful compared to the high energy family pools!
The Disney Wish is taking it up a notch by adding an infinity pool to the Quiet Cove. Based on the artist rendering it looks like the pool will be located at the far aft of the ship, giving you a perfect uninterrupted ocean view as you relax. Anyone looking for me will probably find me here!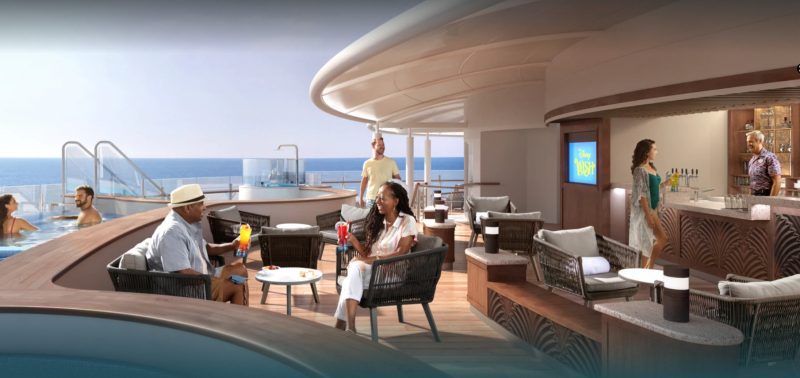 Image Courtesy of Disney Cruise Line
New Lounges and Entertainment Areas on Disney Wish
Just in case the Star Wars fans were feeling a bit jealous after seeing the Marvel dining room, hold on to your light sabers! Star Wars Hyperspace Lounge will be a popular watering hole onboard the Disney Wish. The "view" will change from Tatooine to Batuu to other places across the Galaxy.
The Walt Disney Theater onboard the Disney Wish has been transformed to be a magical forest. The popular "Aladdin – The Musical" will return along with two new shows, details TBA. And families will have even more spaces to play together with Luna, an entertainment space that transforms from day to night, and the active play area Hero Zone.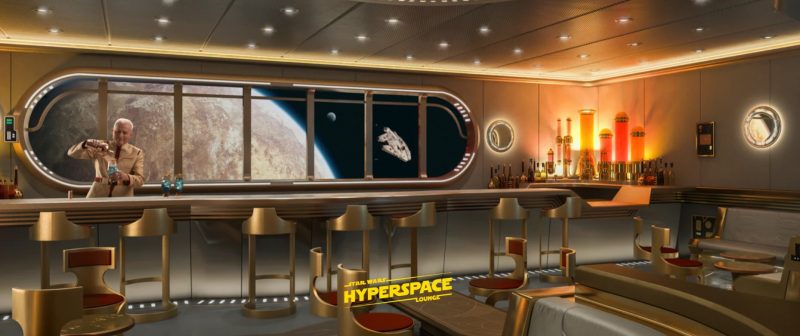 Image Courtesy of Disney Cruise Line
Kids Clubs on Disney Wish
I have never wanted to be a kid again as badly as I did when they announced a secret entrance to the Oceaneer's Club! What?! That's right, kids will have an exclusive secret entrance directly from the Atrium into the Oceaneer's Club. A slide no less!! Which means that the Clubs have been relocated from Deck 5, down to Deck 2. (Don't worry – there is a plain old boring entrance as well for adults and less intrepid kids.)
And in the Oceaneer's areas, kids will be able to choose from the Marvel Super Hero Academy, Fairytale Hall, and… wait for it… the Walt Disney Imagineering Lab! Kids get the chance to see what it is like to design audio-animatronics and rides for Disney. Kids can even design and "ride" their own virtual roller coaster!

Image Courtesy of Disney Cruise Line
Ready to Book A Cruise?
I don't know about you but I am ready to book a cruise on the Disney Wish ASAP! The Disney Wish will set sail on its maiden voyage on June 9, 2022. Bookings open to the general public on May 27, 2021. Castaway Club Members (previous guests) get early access depending on how many times you have sailed with Disney Cruise Line. Contact your Travel Agent to find out when you can book! (And don't forget – our very own Sharla and Heather are travel agents!)
Are you planning to book a cruise on the Disney Wish? Let us know in the comments!
P.S. Now that you've found us, be sure to subscribe to our newsletter below or in the link on the side! You can also check us out on YouTube, Facebook, and Instagram!