Disney Cruise Line does one thing better than almost any other cruise line- it caters to families! Yes, other cruise lines do have kid's programming and plenty of other activities, but Disney Cruise Line is by far the best for kids! On Disney Cruise Line kids can really let loose and be themselves onboard the ships. The Cast Members, specifically the ones in the kids' clubs and the entertainment staff really go above and beyond to help every single child feel special while onboard.
Here are just a few fun things that kids can do on Disney Cruise Line that they may not be able to do elsewhere.
Character Meetings
Another thing that sets Disney Cruise Line apart is the abundance of character meet and greets that they have. And I'll admit, this isn't just for kids, because I love meeting characters! Characters are always available before dinner all over the main atrium, but there are other times that characters just appear. Even on Castaway Cay you can meet characters in their best beach wear! Kids love this aspect of a cruise, especially when they are dressed for dinner and the characters compliment them on their outfits! Character meets are truly some of the best things about cruising with Disney.
Tip- if you want to meet Princesses or Anna/Elsa, you will need to make a reservation. All other character meetings don't require a reservation.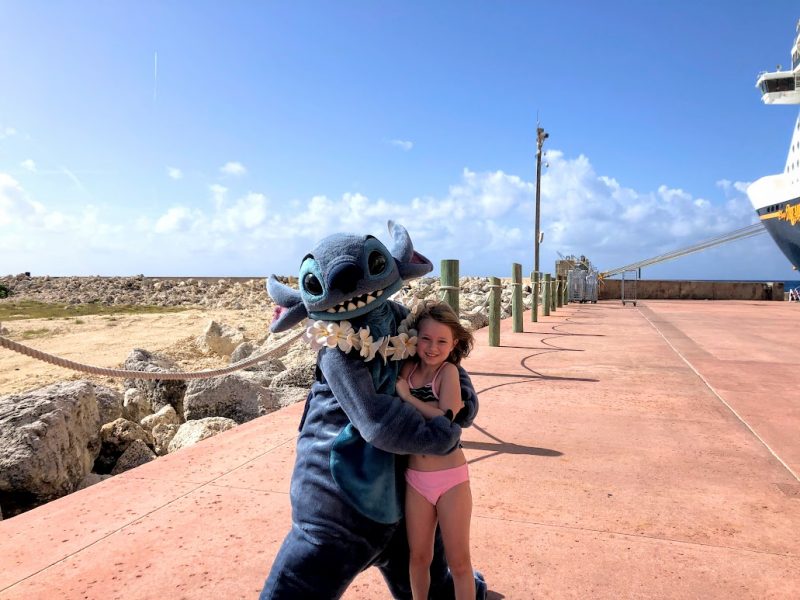 Bingo
Bingo is fun for everyone on Disney Cruise Line! Disney chose not to build casinos on their ships, so there is no other way to gamble onboard. But in Bingo, kids can play too! (The only caveat is that an adult must be present to claim the prize.) Multiple Bingo games are held throughout each cruise, and the prizes get bigger each day. There are paper Bingo cards as well as electronic Bingo cards. Kids on Disney Cruise Line might enjoy the more traditional paper cards because with the electronic cards you don't have to do anything at all except watch!
While I have never won at Bingo I have come away with some fun DCL swag such as hats, bags, and keychains, so you never know what kind of prizes you will win. Bingo is such a fun way to spend an hour while onboard the ship!
Theater Shows
In the Walt Disney Theater, kids can see their favorite movies and characters come to life every night! From Broadway-style shows like Beauty and the Beast and Frozen to Disney Cruise Line originals like The Golden Mickeys and Disney Dreams and Disney's Believe, the entertainment on Disney Cruise Line is better than any other! Kids (of all ages) love these shows! It's so fun to see their faces light up when their favorite characters come on stage. And with two shows per night it's easy to catch your favorite, even if that means skipping dinner.
Kids' Clubs
Disney Cruise Line has kids' clubs for every age up through 18! The It's a Small World Nursery accommodates kids from 6 months-3 years old. This is the only club that has a fee, but it is choc full of age-appropriate entertainment and includes cribs for bed and nap time. For kids ages 3-12, the Oceaneer Club and Lab have more activities and entertainment than anywhere else on the ship. From pajama parties to character parties, to real, actual learning in the science lab, you'll be hard-pressed to get your kids away from their clubs! Tweens and teens have Edge and Vibe, clubs that have more video games and are a little more grown-up for exactly what teens are looking for!
(Bonus- on a cruise that includes Castaway Cay, Scuttle's Cove and Hideout are the kids' clubs on the island. They are a fantastic alternative to the ship's versions of the clubs).
Dinner in the Main Dining Rooms
Now I know this one might sound a little weird- Kids in a fancy restaurant? Well on Disney Cruise Line things work a little differently! All of the restaurants in rotational dining are very much geared towards kids! First off, the wait staff is amazing! From Mickey-shaped ketchup to folded napkin hats, they can do it all. They also find out your kids' beverage choice (usually chocolate milk here!) and have it sitting at the table waiting for dinner time. Most of the wait staff knows silly jokes and magic tricks too!
Besides the food, the entertainment in each dining room is great! In Rapunzel's Royal Table for example, characters such as Flynn Rider and the Thugs roam about when they are not on stage. When they are on stage they are performing songs from Tangled. In Animator's Palate there is a show every night. In Tiana's Place you'll also get characters combined with a show. Each ship has different offerings, but each one is perfectly geared toward kids!
Tip- Try for early dining if you have young children. It will be a more enjoyable experience if they are used to eating and/or going to bed early.
That's it for my list! Does your kid love something different?