We LOVE Disney's Aulani Resort & Spa in Hawaii. So much so we tend to go back frequently and when we're not there, we miss it. But if you've never been, there are a lot of questions that come up, some more frequently than others. Here are some of the more popular questions we get about Aulani and what you can expect when you visit this Hawaiian paradise.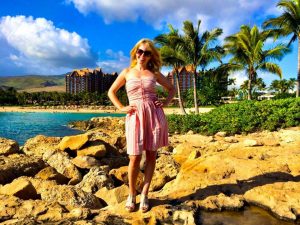 1. Aulani is expensive! What's included?
It's true – Aulani is a bit pricey, but that's because it's a high end, 5 star resort (probably one of the best we've ever stayed at!). So the adage 'you get what you pay for' rings true here. There are several things included at Aulani that aren't included in other Hawaiian resorts that are really beneficial. For starters, and most importantly, there is NO resort fee here! If you've ever been to Hawaii, you know this is a huge deal. Most Hawaiian hotels charge around $35/day to use the amenities, but that's not so at Aulani. Included in your room rate you'll get newspapers, night time entertainment, fitness classes (think yoga on the beach, bootcamp, TRX, core, etc.), character greetings, art tours, ukulele and lei making lessons, story telling, and even a fun interactive scavenger hunt!
On top of that, there is a kid's club called Aunty's Beach House that is completely complimentary for kids ages 3 – 12. Your keikei (Hawaiian for children) can join in with Disney character dance parties, learn about Hawaiian culture and wild life with interactive science experiments, or even cupcake building races!
Not to mention ALL of the pools, water slides and the lazy river you could easily spend all day laying around. When it's super hot you'll even find Disney cast members handing out ice pops to guests lounging on the pool deck, just to keep you cool!
2. We're not traveling with children – will Aulani still work for us?
YES!!! As with all things Disney, adults will love it just as much as children. Why not spend a day at the spa? The Laniwai Spa is a haven for adults. Why not get a couples massage or a facial? But beyond your treatment, you can easily spend an entire day relaxing in the Kula Wai Hydrotherapy gardens. This is an outdoor oasis where you can soak in eucalyptus baths, rejuvenate in various dip pools and try out different showers. There's also a reflexology path (super good for tired feet!), a sauna and steam room, and an indoor relaxation room with a variety of delicious spa food.
Beyond the spa there's also an adult's only pool area, the Wailana Pool. Here you can lounge in the sun, luxuriate in the tranquility, and enjoy a cocktail from the bar.
And at night be sure to visit the 'Olelo Room for some traditional live music  while eating the most wonderful tapas. Oh, and I guess, have a few cocktails! There's also the Off The Hook bar, with full ocean views and sports on the TV. The perfect place to grab lunch and catch your favorite team!
3. What if I want to see more of Oahu – Is Aulani in a good location?
When you think of Oahu, your first thought has to be Waikiki, and for good reason! It's one of the most beautiful beaches in the world and there's so much action! But you don't have to stay on Waikiki Beach to enjoy your time on Oahu. Aulani is actually in the perfect location on the island. You are only 25 minutes out of Waikiki so it's easy to head over and experience the excitement and culture of Honolulu and then retreat to Aulani for some quiet and relaxation.
Aulani is also 10 minutes from Pearl Harbor, 25 minutes from the Dole Plantation, and only 30 minutes from the North Shore. Being centrally located gives you the best access to all the major tourist sites – a total bonus to fit in everything you want to see and still have plenty of time to lounge by the pool.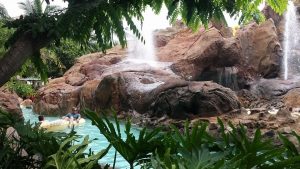 4. If it's so quiet at night, what activities are there to do? 
It's true, Aulani tends to be a bit quiet at night. But fear not! There are some options for those night owls. You can visit the aforementioned lounges for a light bite, delicious cocktails, and some authentic Hawaiian music. But there's so much more!
You can listen to a story from 'Uncle', a master story teller, as he tells you about Hawaiian lore around the fire pit. Take a star gazing tour with a local expert and learn how stars played a roll in early navigation. There are Disney movie nights under the stars. And the best part – the Ka Wa'a Luau, where you can enjoy a lavish feast and the ancient legends of Hawaii brought to life.
If you take time to explore you'll find there is so much Aulani has to offer for your Hawaiian vacation. Let us know in the comments below if you have any unanswered questions!