Our beloved Disney Park Princess Facebook Group Moderator, Kyle Davis, is in Walt Disney World doing his College Program right now! (We are so proud of him!) Kyle recently had the chance to do a Cast Member Preview of TRON Lightcycle / Run. 
*Disclaimer – TRON Lightcycle / Run has yet to be opened to the general public, these photos and experiences are coming from a cast member preview, all elements of this attraction may not be available at the time. Kyle Davis and Disney Park Princess are not sponsored or Speak for the Brand or Company of The Walt Disney Company.*
TRON Lightcycle / Run Cast Member Preview
While I'm down at Walt Disney World working on my Disney College Program, I got to attend Cast Member previews for TRON Lightcycle / Run. One for being a Magic Kingdom Cast Member and another one for being just a Cast Member in general, and I wanted to give my honest opinion of this attraction. In total, I've ridden this attraction four times, and it is definitely the COOLEST ride at Walt Disney World. Now is it a better rollercoaster than Guardians of the Galaxy Cosmic Rewind over at Epcot? No, and I will get into that.
TRON Lightcycle / Run is scheduled to open on April 4th, 2023. You can find it at Tomorrowland, next to Space Mountain.
TRON is a rollercoaster that is, I would say, one step higher in intensity than Seven Dwarfs Mine Train, but not as intense as Cosmic Rewind or Expedition Everest. My reason for saying this is because, while yes this is the fastest ride at Walt Disney World, there are no loops, there are no big drops and the ride does not go backward. This ride is also very short, I'm not sure it's even over a minute long. However the launch sequence is AMAZING, it's like Rockin' Rollercoaster but better, and that is mainly because of the ride vehicle itself.
The ride vehicle has you basically are riding on your stomach, not completely flat, and I wouldn't say it's uncomfortable for my body type, but there are plenty of people who can not fit the original vehicle because of the leg restraints. The back restraint is more for comfort, what locks you in is the leg restraints.
Now if you find yourself not being able to fit in the original seat, this ride does offer accessible seating that is a lap bar and seatbelt restraint in the very back of some fleets of cars. Your wait time may be affected by this since they are not on every single one, just talk to a cast member and they will help you out. They do have test seats for you to try out so you can ask ahead of time for the accessible seats before you get in line.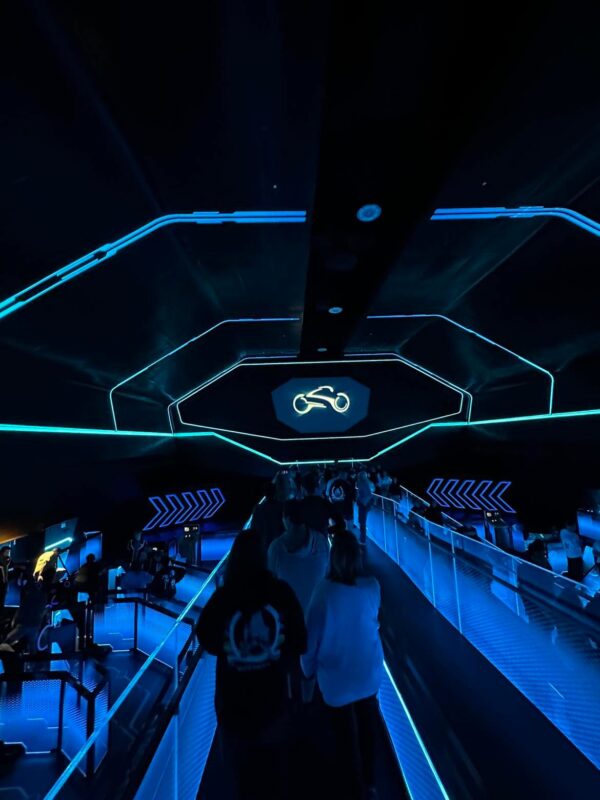 Another thing I want to touch on is the lockers. If you have a bag, hat, or any loose items, you must use TRON's lockers. These lockers are free and they look small but I was able to fit an entire book bag, and a smaller bag in my locker. All you do is tap your magic band or key card to the touch point to unlock it. Put your stuff in and when you get off you go to your same locker (they are numbered so remember your locker number) and tap again and get your stuff and exit the ride. They are double sided lockers so the locker area is not crowded and there are a lot of them – over 700 lockers!
My final note about this attraction is, ride it at night! The lit-up canopy makes this ride 10 times better and that's saying a lot on an amazing ride.  Also if you want a little more of a thrill see if you can get the back row and sit on the right-hand side. The TRON area is an amazing place, they have very nice and cool bathrooms and they have all kinds of photo opportunities. The most popular photo op which I have not done is the one where you get to hold a light-up Identity Disc. So far there is no on-ride picture for TRON, however, that may change once the ride is open to the general public.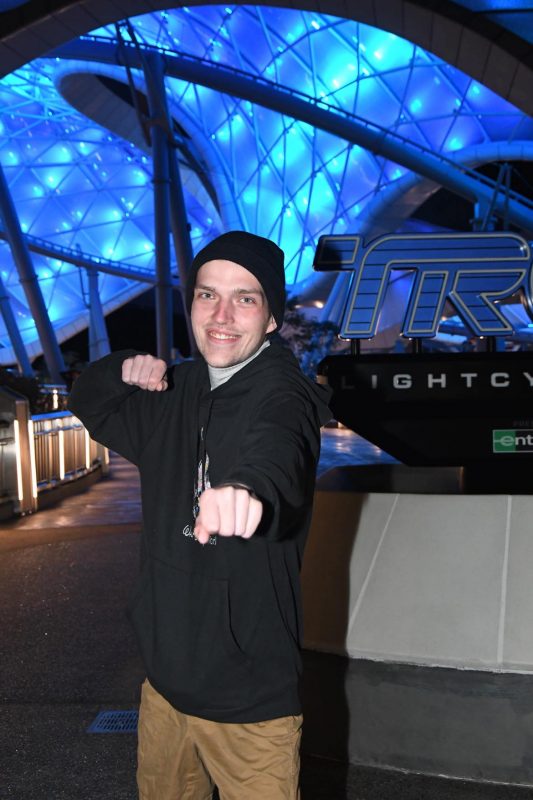 In conclusion, TRON Lightcycle / Run is an amazing ride. do I wish it was longer? Yes, 100%. However this version of it is still amazing, and I definitely think that everyone should ride it once.
P.S. Now that you've found us, be sure to subscribe to our newsletter below or in the link on the side! You can also check us out on YouTube, Facebook, and Instagram!