One thing I truly love about Walt Disney World is the option to meet characters in so many different ways! You can stand in line, get a Fastpass+ reservation, or you can reserve a character meal. On a recent trip, Sara learned that I had never been to Tusker House at Animal Kingdom, and she declared this unacceptable! So we made a reservation. Originally we made the reservation for lunch, but once we got a boarding pass for Rise of the Resistance we were worried our number might be called at the time of our lunch reservation (it wasn't!). We went to the check-in podium at Tusker House and asked if they could accommodate us early, and voila we were there eating breakfast within a few minutes!
Decor
The theming at Tusker House is a safari camp. It's very fun and has a lot of whimsical touches. Really it just looks like a giant mess hall, with Disney's theming making it look magical! What is really surprising is how big the restaurant actually is! There is one room for the buffet and then quite a few rooms for seating.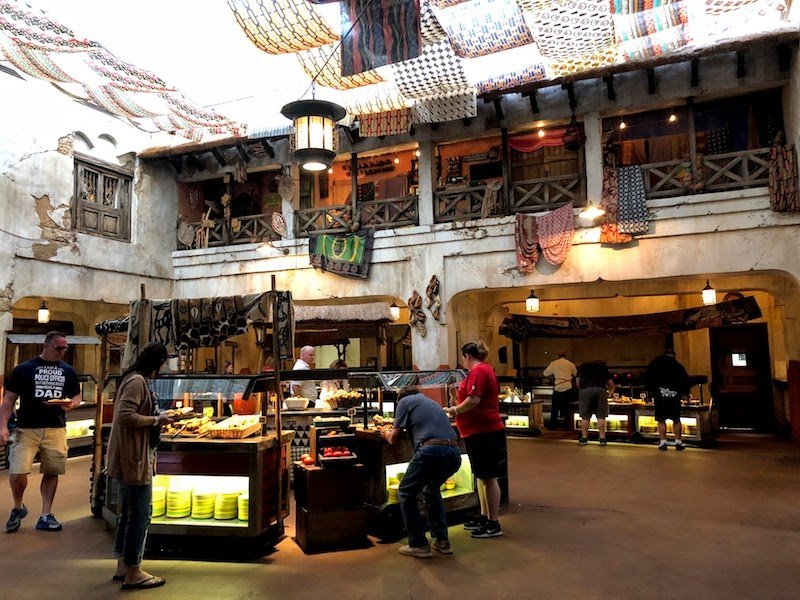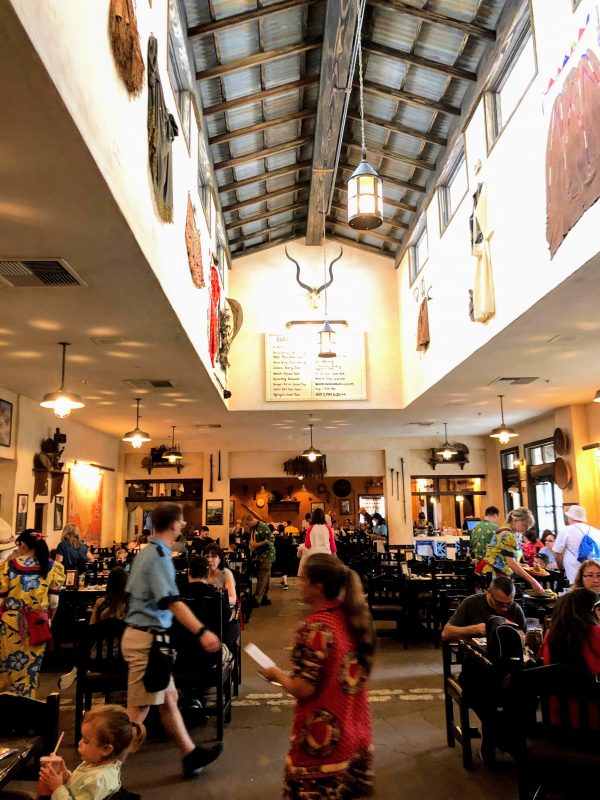 Food
Wow, the food was scrumptious! Tusker House has a wide variety of food and drink options (POG, anyone?). Food and non-alcoholic beverages are included in the price, but they do have cocktails and specialty mocktails if you want to pay a little extra. Because we were eating breakfast I thought that maybe we wouldn't have as many options as lunch or dinner, but I was wrong!
There was of course the typical scrambled eggs, bacon, Mickey waffles, and potatoes. But there was so much more! There was fresh bread with assorted fruit chutneys, beef bobotie (a South African Shepherd's Pie), curry chicken, quiches, fresh fruit, and carved meats. And of course the new plant-based options were available as well.
The amount of food was crazy! We loved it! In general when I eat at a buffet I feel like I don't eat enough to justify the price, but this wasn't true at Tusker House! I can't wait to go back for lunch or dinner!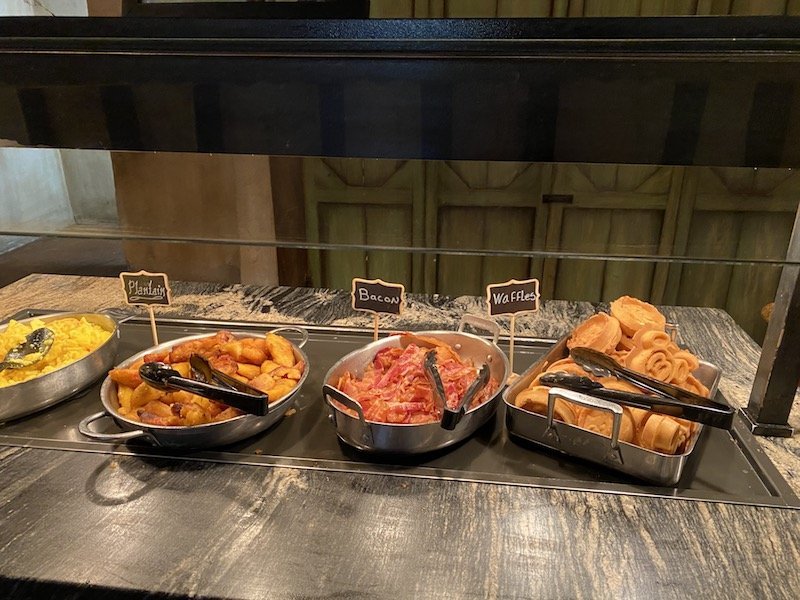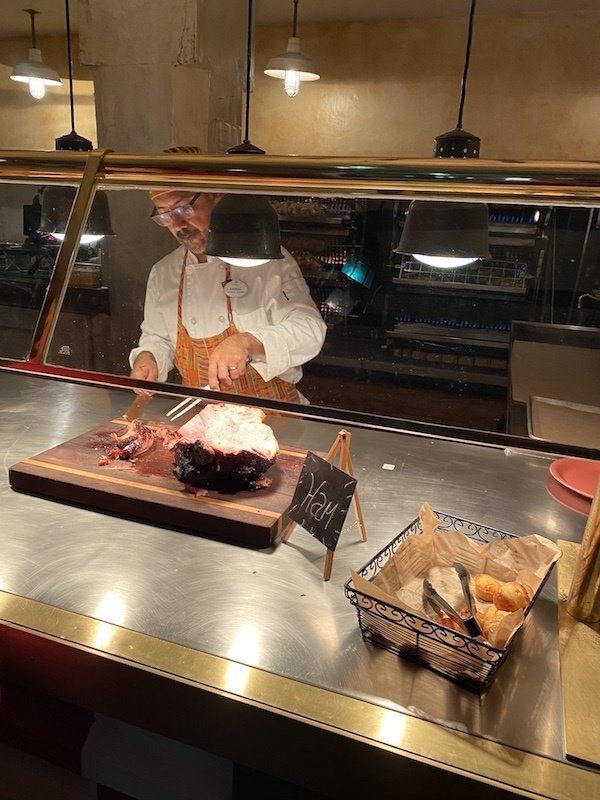 Characters
I admit it- I love meeting characters! There's just something about it that makes my heart happy! I love it the most when I have a meaningful interaction with the characters, like the time when I was very pregnant and met Winnie the Pooh and he gestured that we looked similar with our round bellies. Or the time when my daughter was about three years old and Rapunzel played hide and seek with her with the curtains in Princess Fairytale Hall.
Because Tusker House is labeled as "Donald's Safari Dining" many people don't realize that Mickey Mouse appears here! The characters we met included Mickey, Donald, Goofy, and Daisy! Once you see a character enter the room you're eating in, the others will soon follow. Your server will explain that each character will make the rounds and visit with you once. This was the only real negative part of our experience- Sara and I were basically done eating before we saw a single character! But after a few minutes they started coming in and it didn't take long to meet them all.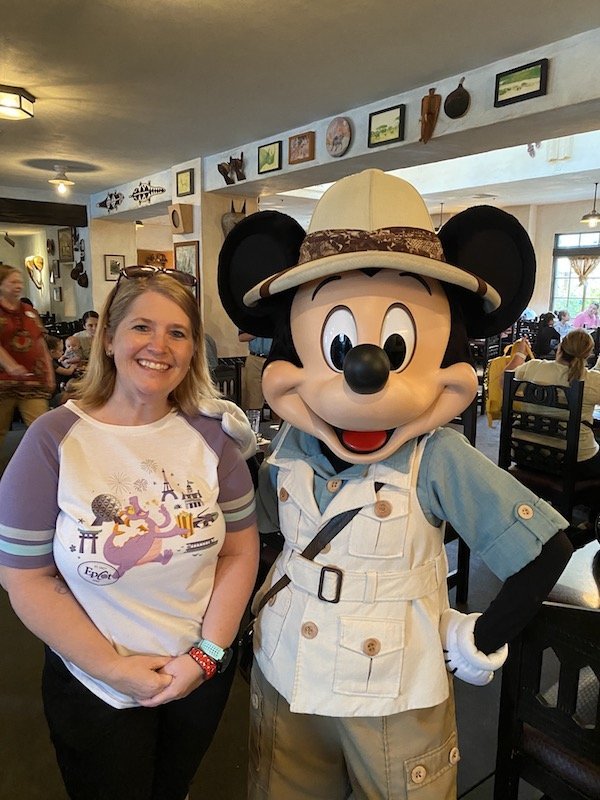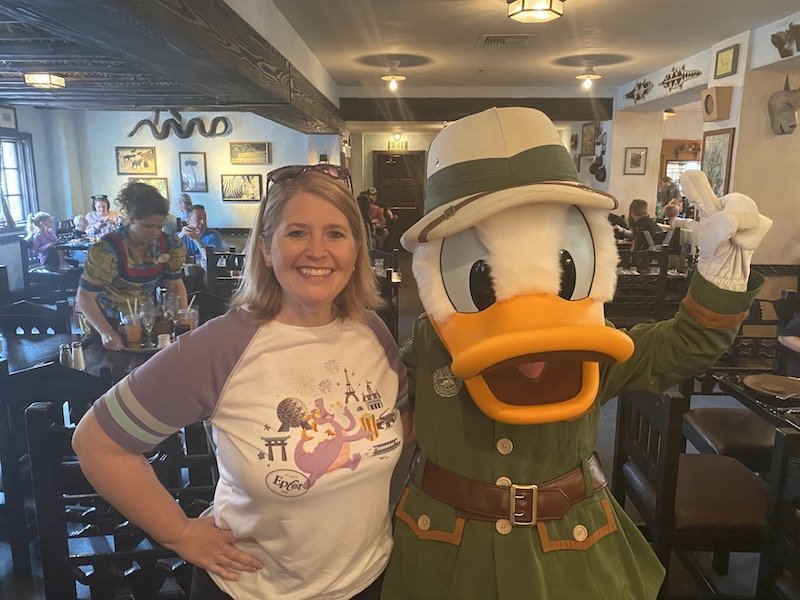 At the time of this publishing, Tusker House is one table service credit if you're using one of the Disney Dining Plans. If you're not using a dining plan, the adult price is $42; the child (ages 3-9) price  is $27. Tax is included; gratuity is not included.
Bottom line- Tusker House is a fantastic venue with great food and characters. I would eat there again and again! Thanks, Sara for making me try it!
If you've had the opportunity to dine here, I'd love to hear your thoughts. Did your experience line up with ours? Let me know in the comments below!
P.S. Now that you've found us, be sure to subscribe to our newsletter below or in the link on the side! You can also check us out on YouTube, Facebook, and Instagram!