If you're thinking of traveling to Walt Disney World during the COVID-19 Pandemic, here is my experience with it! 
I just returned from a fabulous trip to Walt Disney World and I could not have had a better time. It had been almost a year since I was able to return to the Florida parks and that's just too long! When I was finally able to return I had so many questions about what the parks are like right now, what to expect, what the experience is like and I'm sure many of you have those same questions. Here's what I learned while spending a week at the Florida parks.
UPDATE: Walt Disney World has continued to update health and safety protocols as more people have gained access to the COVID-19 vaccine. For the latest information, please visit Walt Disney World's "Know Before You Go" page. 
CROWDS & LINES AT WALT DISNEY WORLD DURING THE PANDEMIC
This was the biggest question I had, and I'm sure it's yours, too! We've all heard that Walt Disney World is limiting capacity, but what does that mean? Have my dreams come true and there are no wait times and I can walk on most rides?
Sadly, no, it's still pretty crowded. While I was there the majority of wait times for the bigger rides was between 45 minutes and an hour and a half. That's pretty frustrating for someone who doesn't like to wait in line longer than 15 minutes! Plus, there are currently no FastPasses available, so there's no way to skip those lines. You just have to get in there and wait.
The good news is those lines that look really long are only that way because of physical distancing. You'll be walking most of the time in line, so don't get overwhelmed when you see the super long lines that spill out into the walkways. Plus, I found that the wait times listed tend to be slightly exaggerated, so you won't be waiting quite as long as they say. For example, when I went to ride Splash Mountain the wait time was listed as 90 minutes, but I only waited an hour. Still, that IS an hour, so be sure to pack your patience!
I noticed that crowds were heaviest over the weekends, which is nothing new! But if you'd like to avoid as many lines as possible, I'd suggest planning your parks days during the week and that will help cut down slightly.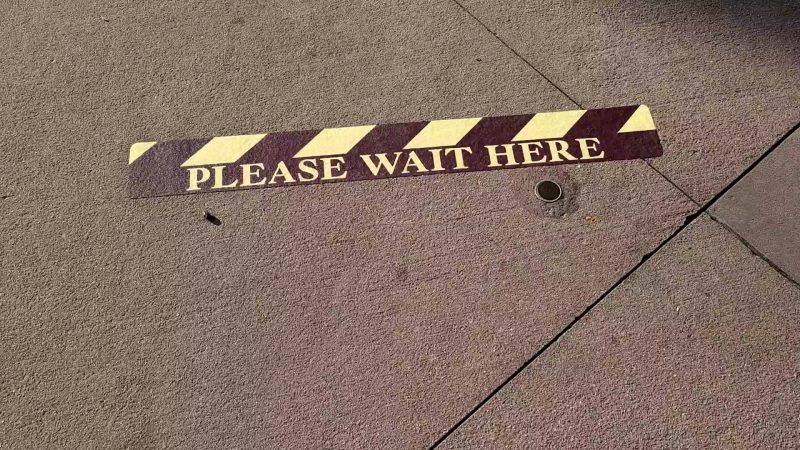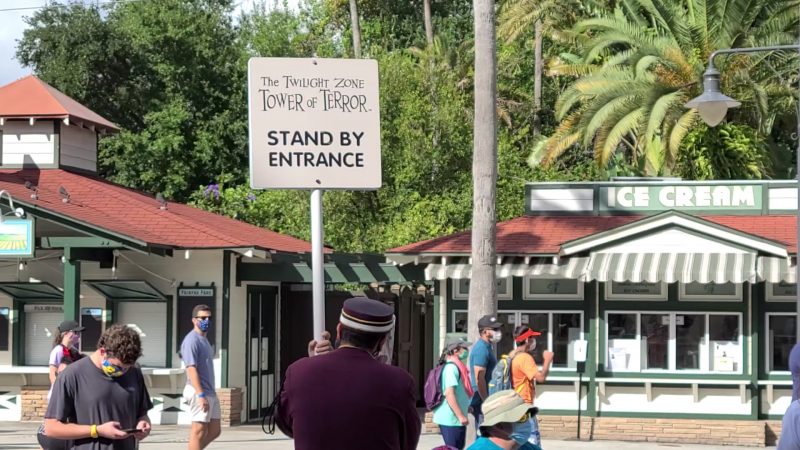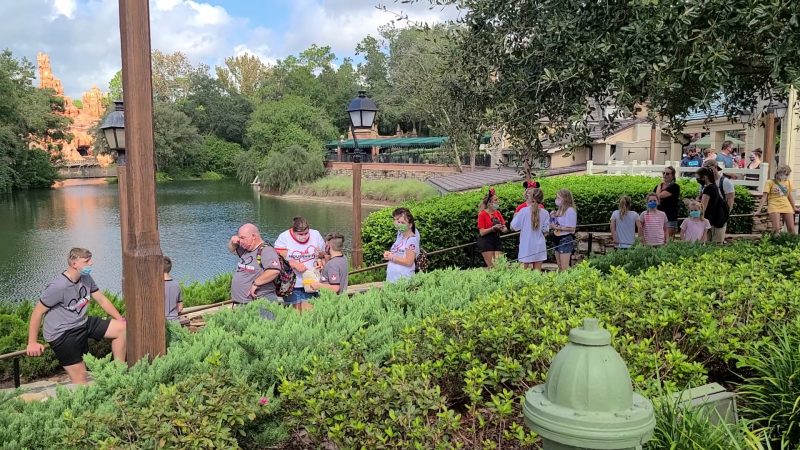 MASKS AT WALT DISNEY WORLD DURING THE PANDEMIC
Effective May 15, 2021, Walt Disney World has updated their mask policy. Guests are no longer required to wear masks in most outdoor locations. Guests 2 and up are still required to wear masks in and on attractions, in line for attractions, when entering and exiting attractions and theaters, and indoors. To view the updated policy, visit Walt Disney World's Know Before You Go page. 
This is the elephant in the room, isn't it. Nobody actually WANTS to wear a mask (especially in the Florida humidity), but we need to wear masks to keep each other safe. Plus, it's Disney policy. So what was it like being there in a mask constantly?
Honestly? Not that bad! I found myself getting used to it and forgetting I had one on after about 20 minutes. After all, who really cares about what's on your face when you're walking down Main Street, USA? Not this girl! That being said, there were times in the afternoons that were really sticky and I was wishing I could take my mask off. In those situations, I headed to one of the relaxation stations (there are several in each park) where guests are allowed to be seated outside and take their masks off. Getting to sit for a bit with no mask and sipping some water really relieved my discomfort.
You will see there are signs everywhere reminding you that you must wear a mask and how to properly wear one. There are announcements in the parks every 10 minutes or so reminding guests to wear their masks. If cast members see you without a mask they will remind you to put it back on. If you do not put it back on, they will remove you from the parks.
Disney is very serious about this, so please don't try to skirt around the rules – follow them and we'll all stay safe! The good news is, though I did see several guests wearing their masks around their chins, they were NOT the majority of guests. Most people are following the rules and are very respectful of them.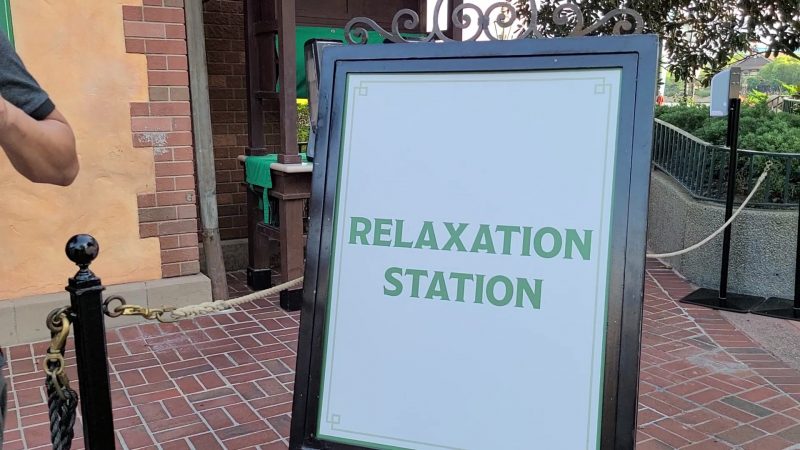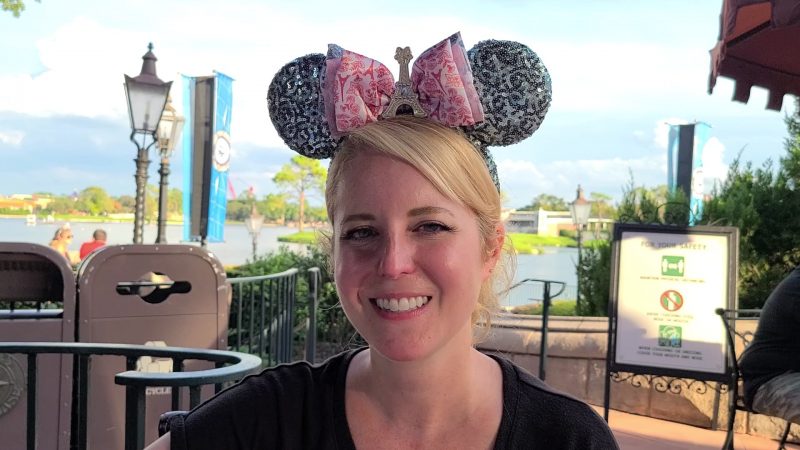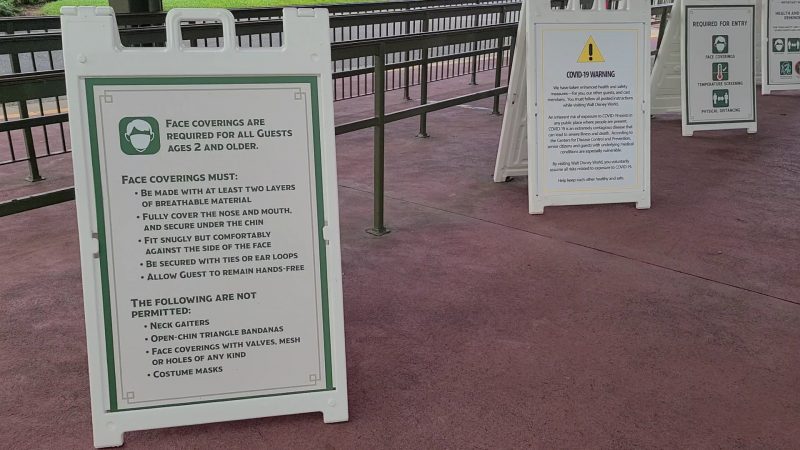 OPERATING HOURS AT WALT DISNEY WORLD DURING THE PANDEMIC
This was the hardest one for me. Disney has limited the number of hours the parks and Disney Springs are open. They're opening later and closing earlier than what you may be used to. For example, while I was there Epcot was only open from 11 am until 7 pm. This is frustrating when you're waiting in lines all day because you may find that you can't get to all the attractions you were hoping to.
There were many days I was frustrated that I didn't have a park to spend the evenings in or that I simply didn't have time to get on all the rides I wanted to. It led to me having to be very flexible in my plans. I highly suggest scaling back your plans by half. That way, you'll be able to get to the few things that are very important to you, and then if there's time you can do the things that had to come off your list.
On the weekends, the park hours were extended slightly. Epcot still opened at 11, but they stayed open until 9 pm, just like 'normal'. On those days it was fantastic to be able to take a break in the mid-day heat by heading back to the resort for a swim, and then still having time to get back into the parks at night. Definitely pay attention to the park hours for your trip – I noticed mine were changing for the next day or two while I was there, which allowed me to get into the park earlier than I was expecting or to stay an extra hour or two in the evenings.
And speaking of earlier park times – here's the biggest lesson I learned while I was there. Plan to arrive at the parks at least 45 minutes to one hour before the official park opening time. So if the park opens at 10 am, you'll want to be there between 9 and 9:15 am. This will give you time to get through security screening and into the park and then into line for your first attraction. I was able to get in line for Mickey & Minnie's Runaway Railway an hour before the park was even supposed to open! It really gives a boost to your day and cuts down slightly on all of the lines.
TRANSPORTATION
This was the one thing I found really stressful during my trip. I found the wait times for buses and other forms of transportation to be exponentially longer than in the past. This is due absolutely in part to distancing measures, but also because Disney has cut back on the number of transportation options. If the hotels aren't full to capacity, they simply do not have to run as many buses or boats.
Now, the good news is that distancing is in place and it's fantastic. On every bus, boat, monorail and Skyliner parties are separated from each other either by barriers or several rows. Parties will each get their own compartment on the Skyliner. On the buses only 20 guests are allowed per coach, and the driver will tell each party where to sit. The Magical Express to/from the airport also has assigned seating.
It feels really nice to know that Disney is doing everything they can to keep us safe on their transportation systems and I felt completely at ease with it. But there is a flip side to this. All of these measures mean there is going to be a much longer wait than you're used to when boarding transportation. Twice I had to wait an hour to get a bus to Disney Springs. In the mornings or when the parks close, the line for the Skyliner is at least a 30 minute wait.
So what can you do? Plan accordingly! Give yourself at least 90 minutes to get anywhere. If you know you need to be at a dining reservation at 5 pm, plan to leave by 3:30. Try to leave extra early in the morning to get to the parks for opening. Or, attempt to leave the parks an hour or so before they close so you're not stuck waiting for many buses to pick up everyone in your resort line. And the most important thing – be patient and relax! You're on vacation – you'll get there eventually!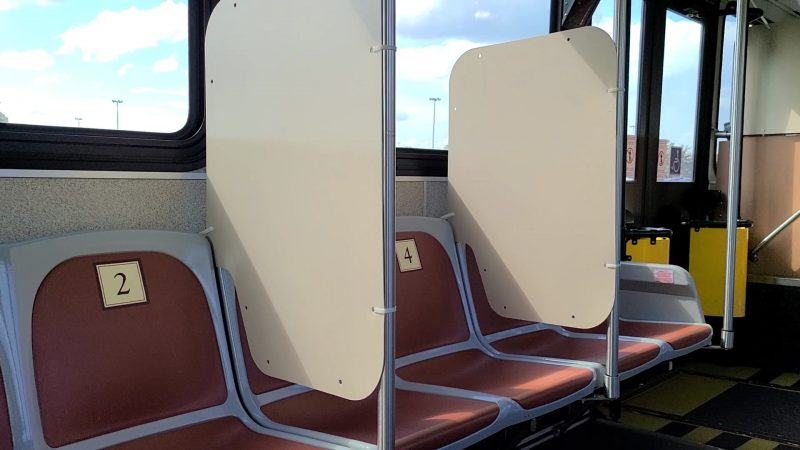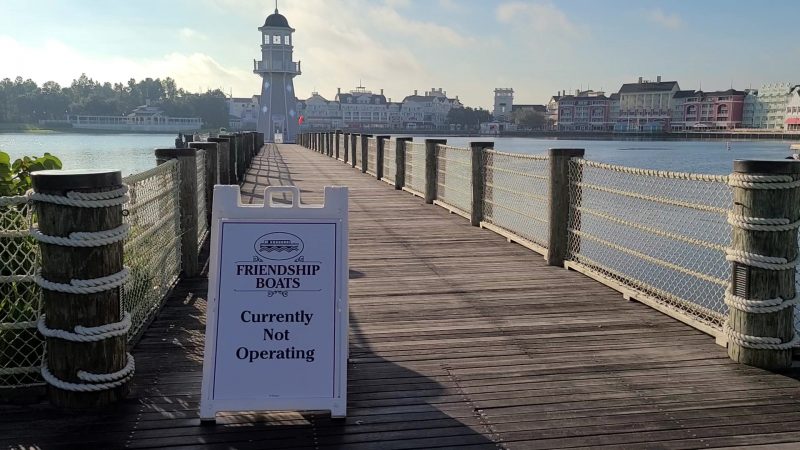 DINING
I hadn't given much thought to this aspect of my trip as I was planning to enjoy the Epcot International Food & Wine Festival on most days of my trip. I did have several Advanced Dining Reservations (ADR's) which I made ahead of time. Currently you can book these 60 days in advance of your trip. But for quick meals while I was in the park I didn't give much thought to dining at Walt Disney World during the pandemic.
However, I learned this is definitely something you need to at least be aware of when visiting Walt Disney World during the pandemic. For example, Hollywood Studios was only offering counter service restaurants via Mobile Order on the My Disney Experience app. You couldn't walk up to a counter service restaurant and purchase food – you had to schedule a pick up time via the app and only then would you be allowed into a restaurant to get your food when your time frame came. That's fine – but if you weren't aware of this ahead of time and had a toddler with a meltdown that needed to eat right then, you'd be in trouble. I ran into a situation where my app just wasn't working and wouldn't put through my order for ANY restaurant and it turned pretty serious (you can hear all about it on our podcast which goes further into detail about my trip!).
So just be prepared. Ask Cast Members if there are any counter service restaurants doing walk up (all three other parks besides Hollywood Studios had most of their counter service restaurants available for walk up) orders. Or, know where you're going to want to eat ahead of time and place your mobile orders early. Make your dining reservations 60 days out and treat yourself to some sit down meals!
When I did sit down to eat – at both counter service and table service restaurants – I made sure to pay attention to all of the safety measures in place. At each location tables were spaced six feet apart and there were signs clearly placed on tables Disney did not want you seated at. Cast Members were walking around wiping down tables in between guests using them. At California Grill table linens were changed in between guests – even when one party asked to change tables and they only sat down for 15 seconds; those linens were still changed.
Every restaurant is utilizing QR codes to pull up digital menus on your phone. There are disposable menus if you ask, but they are really preferring you to use your phone to pull up menus. Be sure you have your cell phones charged enough that you'll be able to do this!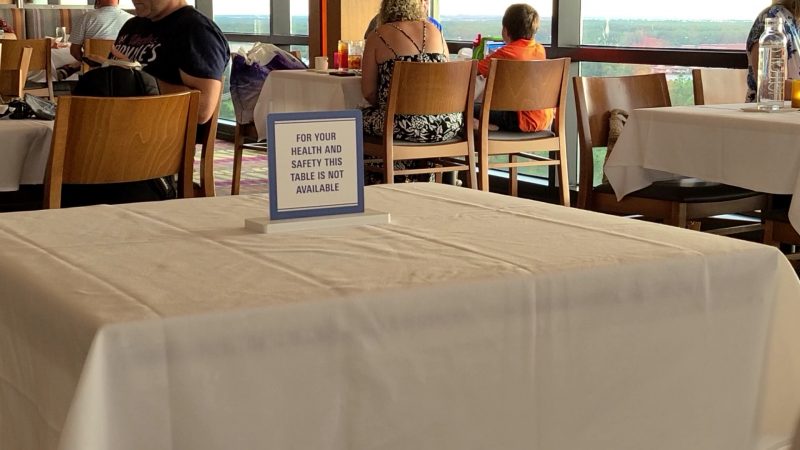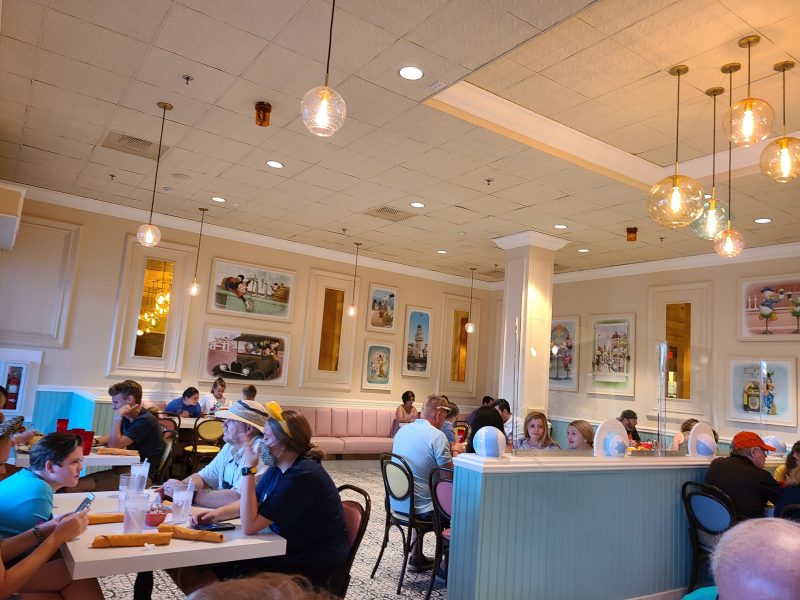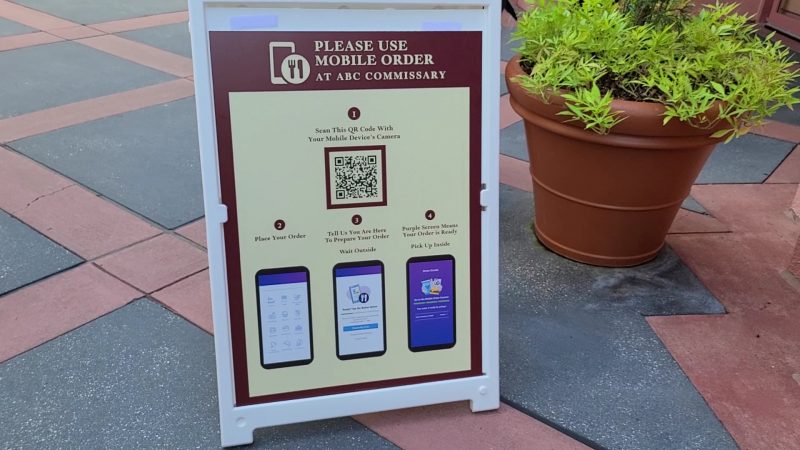 IS IT STILL MAGICAL?
Absolutely! Like I mentioned at the beginning of this article, I had a fantastic time and it felt SO good to be back. It is different visiting Walt Disney World during the pandemic, though. I know a lot of people are concerned about the lack of parades and fireworks and character greetings, but I can honestly say I didn't miss those in the least.
Disney has done such an incredible job doing mini cavalcades every 10 minutes or so at all the parks. These are little mini parades that spring up seemingly out of nowhere and it's so fun to hear music start up and look around to see who's coming down the street now.
Characters were EVERYWHERE. I saw about 300% more characters than I have over my last 10 trips. No, you can't run and give Mickey a hug, but I do know you're going to see him all over the place ready to wave to your camera. There were rare characters, too. I saw Joy playing pretend with a crowd of guests at Epcot, Launchpad McQuack going for a boat ride around Animal Kingdom, and Bowler Hat Guy marching in the villains cavalcade at Magic Kingdom. I almost preferred the parks like this. There was no need to wait in line to see your favorite character – you just looked up at any given time and there they were! It was so incredibly magical and it brought a smile to my face every time. I was like a kid all over again when someone would pop up across the walkway like a very special surprise.
Disney hasn't forgotten about those fireworks, either. They know they're the way most of us like to end their evenings in the parks. That's why they have made the Happily Ever After fireworks available at ALL of their resort hotels in the evenings (during my trip it was nightly between 6 pm and 10 pm). The resort TV channel will let you know what time and channel to tune to and all you have to do is put on your television and there are the fireworks – on a non-stop loop – for you to watch in PJ's before bed. No, it's not the same, but not having to fight your way through a crowd and onto a bus at the end of the night is pretty fantastic.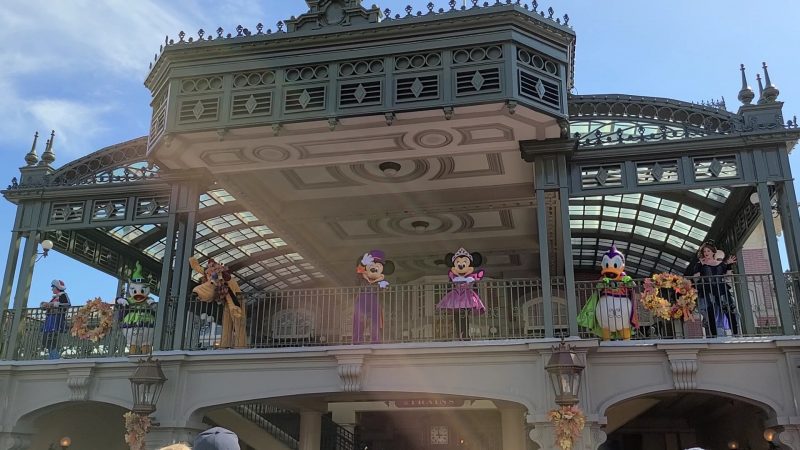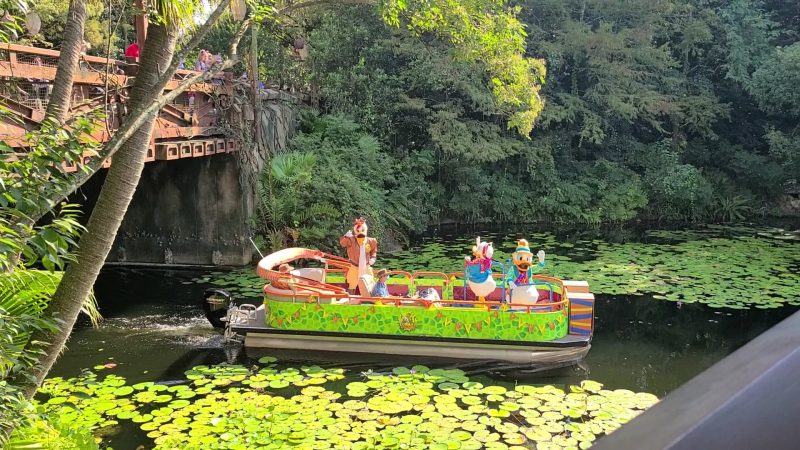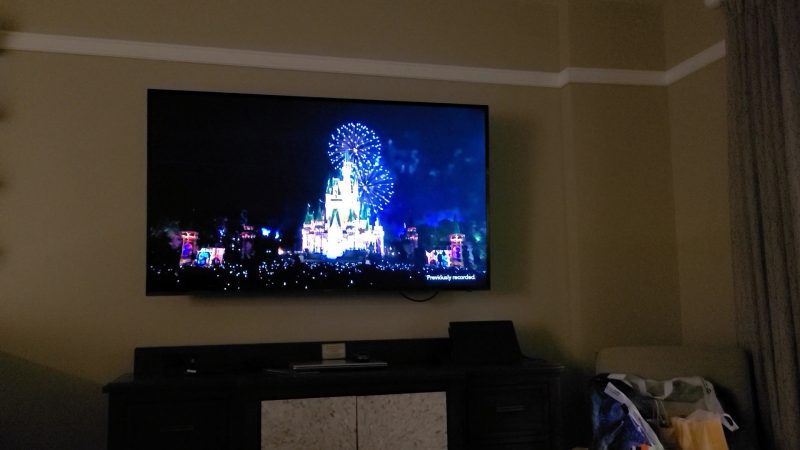 So there you have it! That's my experience of visiting Walt Disney World during the pandemic. It's definitely different, and there were things I missed (Food & Wine special events, international cast members, FastPass), but boy did I have a great time. Just remember to be flexible and you'll enjoy every minute of your trip!
P.S. Now that you've found us, be sure to subscribe to our newsletter below or in the link on the side! You can also check us out on YouTube, Facebook, and Instagram!