I don't know about you, but I love a cupcake. REALLY love a cupcake. They're easily my favorite dessert, and the more frosting they have, the better. So, I've been paying a lot of attention to all the fancy new cupcakes coming out of Walt Disney World. It seems like every day a photo of a new cupcake pops up. I'm getting so excited to try them that I proposed a Cupcake Crawl to the other Disney Park Princesses, which thankfully they jumped right on board. Hopefully we'll get to our crawl sometime this summer, and these are the cupcakes I'm looking forward to most:
Tangled Cupcake
This is the newest of the designer cupcakes and I am in love! It's a simple yellow cake filled with raspberry cream, but the real perfection of this cupcake is the buttercream. It's raspberry lemon flavor, but tinted purple and there's yellow piping down one side to resemble Rapunzel's hair. And if that's not enough, there are sprinkles up and down the braid to look like her flowers and a white chocolate tile with her sun logo on top! You can find this over at All Star Music resort in the food court.
Rose Gold Cupcake
This might be the cupcake that started this whole trend. It's so pretty it's easy to see why Disney started making more 'designer' cupcakes. Found at Sunshine Seasons in Epcot, it's a chocolate and vanilla marble cake and is piled high with SO MUCH vanilla butter cream it makes me giddy just thinking about it. Plus, it's just pretty. It's shimmery rose gold colored with a Minnie bow on top. Just think of all the Instagram pictures you can take of this!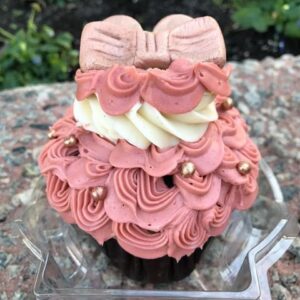 Monorail Cupcake
This one is so simple in concept, but it makes me giggle every time I see it. Located at the Contempo Café at the Contemporary Resort, it's a chocolate cake topped with cookies and cream frosting. But on top you'll find an Oreo cookie and an adorable white chocolate monorail placed so it looks like it's driving right through the cupcake and coming out the frosting.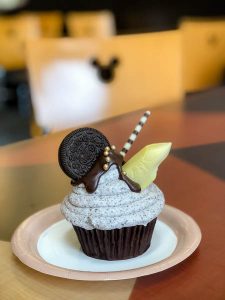 Mermaid Cupcake
This is THE cupcake that sparked my idea of the cupcake crawl. It's so pretty and sparkly and I couldn't contain my excitement! You can find this over at the Art of Animation resort, and it's a vanilla cupcake filled with pineapple compote and topped with coconut whipped cream (so tropical!). Then that whipped cream is covered with little pearls and graham cracker crumbs and edible glitter (!!!) and topped with the most adorable white chocolate mermaid tail. I need this in my life stat!
Princess Aurora Cupcake
This one is so pretty! It's reminiscent of Sleeping Beauty's final scene when Flora and Merryweather are fighting over Aurora's dress – Make it Pink! Make it Blue! It's a vanilla cupcake topped with heaps of cotton candy frosting, and a pretty white chocolate crown. Tell me this isn't perfect for the Disney Park Princesses. You can find it at All Star Music Resort in their food court.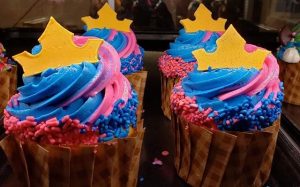 The (good?) thing is that Disney is constantly getting creative and changing out the cupcakes. So you never know if these will still be available on your next trip. But even if they're not, I know it'll be okay because there's something equally as yummy in its place. And let's face it – there is no such thing as a bad cupcake! Which one are you looking forward to trying most?