In the final installment of the "Worth It – Walt Disney World Resorts" series, we finally get to my favorite category. The Walt Disney World Deluxe Resorts! I will admit that I am completely biased here as I am a HUGE fan of these resorts. Are they an indulgence for may guests? Yes. Are they 'worth it' for their price? Read on to find out!
I use five different metrics for each resort category. Location – how close are they to the theme parks and what transportation is available? Rooms – how large are the rooms and how are they laid out? Amenities – what does the resort offer for pools, entertainment, etc? Dining – how many different dining options are available and how is the food? And the elusive X-Factor – what sets this category apart from all the others?
Location of Deluxe Resorts at Walt Disney World
This is where the Deluxe Resorts truly shine. If location is everything, then the Walt Disney World Deluxe Resorts are winning! Many Deluxe Resorts are located mere minutes from the theme parks. In some cases, within walking distance!
And with the addition of Skyliner service, guests have even more transportation options. Deluxe Resorts offer multiple transportation options to to parks. Depending on the resort, guests can choose between walking, taking a boat, taking a monorail, riding the Skyliner, or taking a bus to the parks!
Look at this map to see how close Disney's Wilderness Lodge, Disney's Contemporary Resort, Disney's Polynesian Village Resort, and Disney's Grand Floridian Resort & Spa are to the Magic Kingdom!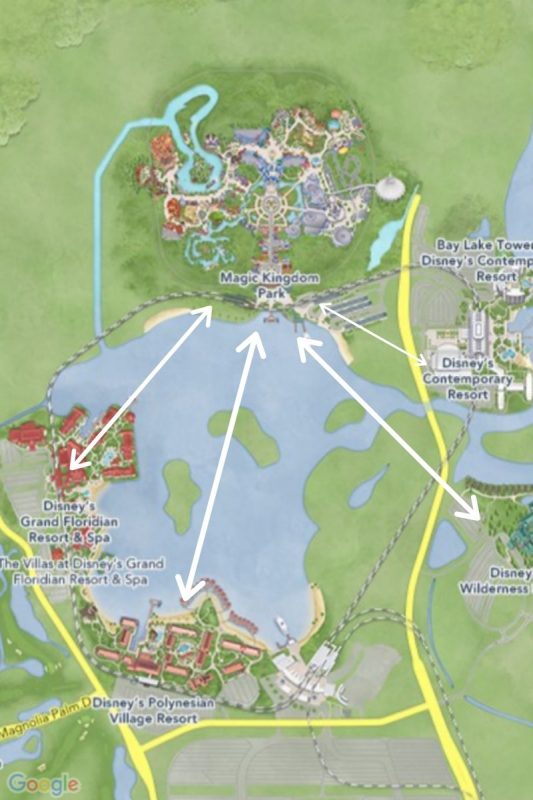 Deluxe Resort Rooms
The Deluxe Resorts offer the largest standard rooms on property. Most have two queen beds, and a day bed. (The exceptions to this are Disney's Animal Kingdom Lodge and Disney's Wilderness Lodge, which only sleep four people in standard rooms.) In addition to the standard rooms, guests have the option to upgrade to Deluxe Rooms, Club Level rooms, or Suites!
The bathrooms in most resorts have a vanity with double sinks and a lit make-up mirror, then a separate room with the toiler and shower. This allows one person to be showering while the other gets ready! (Disney's Polynesian and Contemporary have an older configuration with the sink and shower in one room, and the toilet in its own small room)
Check out our review of our recent stay at Disney's Boardwalk Inn, with a tour of our room!
Amenities
The Deluxe Resorts at Walt Disney World offer almost endless ways to spend your day! The pools are always a highlight especially at resorts like the Beach Club where it is more water park than pool. Deluxe Resort usually offer multiple pools – one with a slide and other attractions, and other "quiet" pools that do not have slides.
Sitting by the pool not your thing? What about a spa treatment? Two of the Deluxe Resorts have full spas – Grand Floridian and Saratoga Springs. But most resorts offer at least a salon or massage options!
Want to keep your mind and body active? The Deluxe Resorts offer fitness centers, Yoga classes, even Paint & Sip events! Check your daily resort schedule for times and information. (Some classes have a small fee.)
And of course there is my favorite activity – SHOPPING! The Deluxe Resorts offer multiple shops with everything from from artwork, to outfits. And of course Dooney & Bourke bags!
Dining at Walt Disney World Deluxe Resorts
Walt Disney World Deluxe Resorts all offer multiple dining options, both quick service and table service. (Not to mention some of our favorite lounges!) But where the Deluxe Resorts really set themselves apart is with the Signature Dining Restaurants. These represent the best in Fine Dining at Walt Disney World. All  of the Deluxe Resorts has a Signature Dining Restaurant or Show, and these should be a must do for your Disney vacation! Our favorite is California Grill at Disney's Contemporary Resort.
Not in the mood for fine dining? Not to worry! The Deluxe Resorts also offer plenty of options from bites at the pool bar, grab & go options at the food court (We like Gasparilla Grill at the Grand Floridian), or a table service meal like Sanaa at Animal Kingdom Lodge!
X-Factor
In this case, X is really the combination of all of the above factors! X= Location + Rooms + Amenities + Dining
The Deluxe Resorts are the best of the best at Walt Disney World. They truly have something for everyone!
Are The Deluxe Resorts 'Worth It'?
So Are the Deluxe Resorts 'worth it' at their price point? Absolutely! Whether you are a park commando who wants to maximize your time on rides (in which case the location really helps) or a "Do Less, Enjoy More" kind of guest, the Deluxe Resorts are the perfect combination for an incredible vacation.
So there you have it! Check out our posts on Disney's Value Resorts, and Disney's Moderate Resorts as well to see which one is 'Worth It' for your vacation! Let us know in the comments which your favorite category is. Why is that one worth it for you?
P.S. Now that you've found us, be sure to subscribe to our newsletter by taking our quiz or in the link on the side! You can also check us out on YouTube, Facebook, and Instagram!