I recently visited Universal Orlando and Walt Disney World on the same week, so I was able to directly compare Universal's Express Pass to Walt Disney World's Genie+. 
Genie+ has gotten a lot of criticism over the past few months since it launched, but I wanted to save my personal opinion until I used it for myself. Now that I have, I have a much better feel of the entire system and how it works.
What is Universal's Express Pass?
The Express Pass is Universal's front-of-the-line pass, good for almost every attraction in each park. There are two versions of Express Pass- the Express Pass which gets you one ride on each attraction, or the Unlimited Express Pass, which gets you unlimited rides on each attraction. You get the Unlimited Express Pass for free if you stay in one of Universal's deluxe resorts. The way Express Pass works is that you just show up at an attraction with it. No pre-planning, no time you have to show up. You just show up.
What is Disney's Genie+?
Disney's Genie+ plan is their new skip the line pass. This is the system that replaced their Fastpass+ system, but it's quite similar to the old system if you're used to using that. I was worried before I went on the trip how it compared to Fastpass+, and really it's quite similar.  However, the confusing part is their individual Lightning Lane option- there are two attractions in each park that don't work with the regular Genie+, you need to buy those.
Ease of Use
This is where Universal's Express Pass wins out, no question. It is so incredibly easy to use, no planning needed, no app, nothing. You just show up and they scan your card at each attraction. There is no waking up at 7 am stressing over your Genie+ selections, or wondering which attraction will be the best to go to next, or anything like that. You just go.
Universal's Express Pass wins this category hands down. Disney Genie+ is confusing, mainly due to the app, and if you are not tech-savvy or don't even have a smart phone you're limited to talking to the Guest Experience Team for every single attraction where you'd like to get the Genie+.
Also, Universal's Express Pass gets you pretty much to the very front of the line each time, whereas Genie+ often has a merge point that is further away from the ride entry.
Cost vs value?
The cost is (mostly) where Genie+ wins out. At $15 per person per day, it's not really very expensive. From now on I will look at the Genie+ as just part of the whole cost of the trip when I plan. The individual Lighting Lane purchases can add up, though, so you do have to be mindful of that. For example, my family of 3 paid $45 each day (plus tax) for 4 days. That's $180 plus tax added on to our park tickets. Then we also paid about $45 plus tax twice for Rise of the Resistance, $38 twice for Mickey and Minnie's Runaway Railway, and $38 once for Ratatouille. That's just over $200 in Lightning Lane alone. I may not do that every time, but that's what we did on this particular trip.
Now for Universal's Express Pass, the price starts at $80 per person per day. The Unlimited Express Pass starts at $110 per person per day. And it's more if you have a park-to-park ticket, and more if you go during a peak time. Our cost would have gone way up if we had purchased this for our trip.
The reason I say Genie+ mostly wins is because if you're staying at one of Universal's Deluxe Resorts (Hard Rock Hotel, Lowes Portofino Bay, or Lowes Royal Pacific), you get the Unlimited Express Pass for FREE! It's one of the perks to staying on-site, and it's completely worth staying on-site to get the Unlimited Express Pass.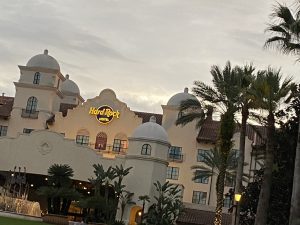 Conclusion
As I had predicted, Universal's Express Pass is superior to the Disney Genie+. I don't see a way to go to the parks without either one (because I don't like lines!), so I'll pay for them each time (or stay at the Hard Rock again). It's definitely worth the extra cost!
P.S. Now that you've found us, be sure to subscribe to our newsletter below or in the link on the side! You can also check us out on YouTube, Facebook, and Instagram!