Walt Disney World is always magical at the holidays! Learn what you can look forward to in 2020!
The smell of gingerbread, snow on Main Street USA, Mickey in his holiday best… I LOVE the holidays at Walt Disney World! Mid to late November is my favorite time to visit. The holidays at Walt Disney World are always a magical time of year. 2020 will bring some changes to the holidays at Walt Disney World, but still plenty of magic!
Beginning November 6 and going through December 30, 2020, the holidays will be reimagined this year. While some of our favorite holiday events are on hiatus, there are plenty of incredible new things to love!
What WILL Still Be Happening During the Holidays at Walt Disney World
The International Festival of Holidays (Kind of)
The Epcot International Festival of Holidays is a fan favorite. This year, Epcot will host "highlights" from this Festival with the Holiday Kitchens offering seasonal dishes from around the world.
Holiday Decorations at Walt Disney World
The parks and resorts will be decorated with holiday swag! One of my favorite activities is a resort tour to view the different decorations at each resort. The designers do an incredible job of customizing the decor at each resort to reflect the theme!
In particular I recommend checking out Disney's Beach Club and Disney's Animal Kingdom Lodge. The decorations are wonderfully themed to the resorts!
Castle Projections
One of my recent favorite show elements at Walt Disney World are the projections on Cinderella Castle! A huge part of the Happily Ever After show (currently on hiatus), these projections transform the Castle and will take your breath away. So I was VERY excited to see that Cinderella Castle will be getting special holiday projections this year. Even a Christmas Sweater look! (Mental note – add ugly Christmas Sweater to my mental packing list, just in case I get a chance to go this year!)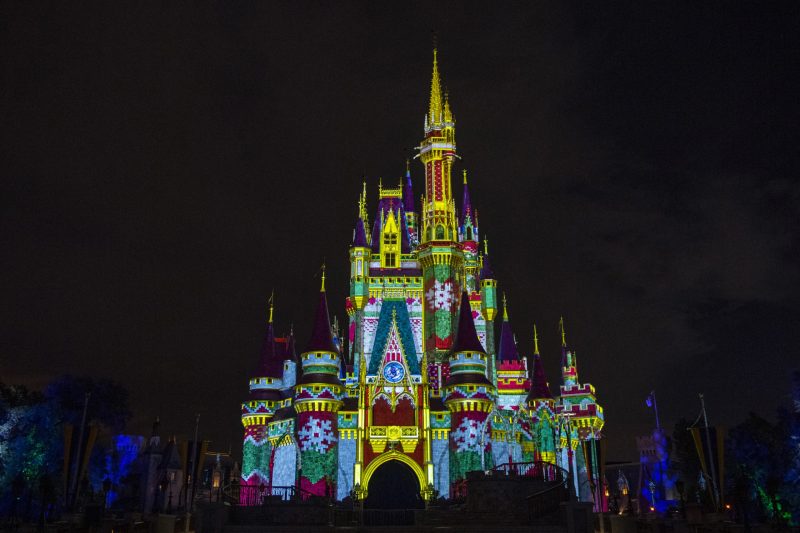 Walt Disney World Resort in Lake Buena Vista, Fla., will reimagine its holiday celebration this year. From Nov. 6 to Dec. 30, when night falls at Magic Kingdom Park, projection effects will transform Cinderella Castle with a kaleidoscope of holiday-themed designs. (David Roark, photographer)
Holiday Characters and Character Dining at Walt Disney World
The Disney characters will appear in cavalcades at the four theme parks including holiday favorites such as the Toy Soldiers and Gingerbread Men. And in an exciting return to Character Dining, Minnie Mouse Minnie Mouse will host a holiday dining experience at Hollywood & Vine in Disney's Hollywood Studios. Keep an eye out for her pals, including Santa Goofy!
Christmas Trees (And MORE!) at Disney Springs
Elaborately decorated Christmas Trees will appear throughout Disney Springs. But even more exciting is that it will SNOW in select parts of Disney Springs! Jock Lindsay's Hangar Bar will become Jock Lindsay's Holiday Bar with fun holiday decor and a new seasonal menu.
Santa Claus at Walt Disney World
While you won't be able to sit on Santa's lap this year, Santa will be making pop-up appearances at the theme parks.
What Will NOT Be Happening This Year
Mickey's Very Merry Christmas Party at Walt Disney World
Mickey's Very Merry Christmas Party is on hiatus this year. I will miss seeing the snow on Main Street USA, but am looking forward to seeing it at Disney Springs!
Castle Dream Lights
Normally at the holidays, Cinderella Castle is draped in thousands of white lights. Elsa's Snow Palace had nothing on this! This year, the lights are being replaced with the new Castle projections.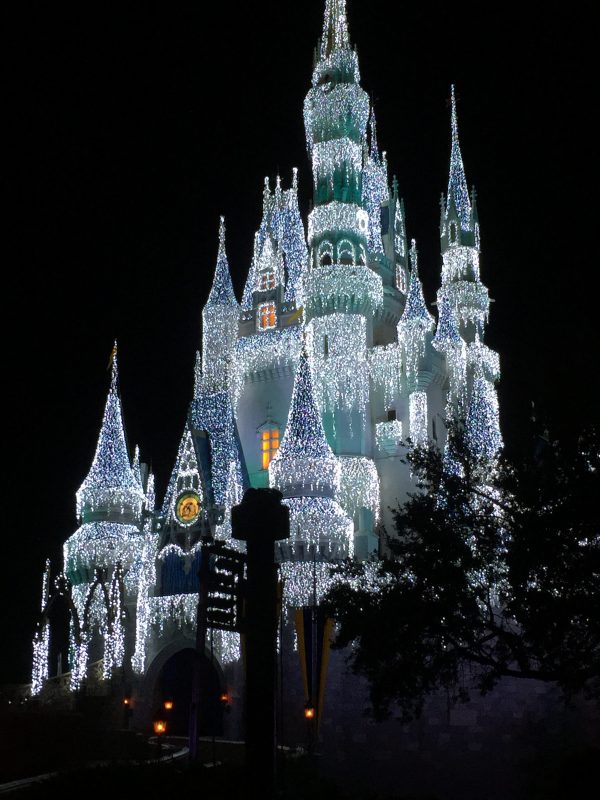 Gingerbread Décor at Walt Disney World Resorts
I'm not going to lie – this one stings. The Gingerbread décor at the Deluxe Resorts is one of my favorite parts of the holidays at Walt Disney World! From the Gingerbread Carousel at Disney's Beach Club to the life-sized Gingerbread shop in the lobby of Disney's Grand Floridian, I love it all. (And I don't even LIKE Gingerbread!)
The good news is that there will still be amazing holiday decorations. Hopefully the Gingerbread will make a return in 2021!
The Candlelight Processional at Walt Disney World
The Candlelight Processional at Epcot is one of my favorite holiday concerts. A full choir and orchestra made up of Cast Members and professional musicians, with a celebrity narrator, it is a must-do for me! Sadly, this year the Candlelight Processional will not be held. (Understandably!) But I am looking forward to JOYFUL! in the World Showplace, a musical group performing seasonal music, as well as performances from The Voices of Liberty.
For more information on the Holiday Magic at Walt Disney World, check out their official video below. What are you most excited about for the holidays this year? Share with us in the comments!
P.S. Now that you've found us, be sure to subscribe to our newsletter below or in the link on the side! You can also check us out on YouTube, Facebook, and Instagram!
LOVE DISNEY VACATIONS?
Don't miss any of our DPP vacation tips. Plus get a free gift instantly!