Walt Disney World is always a magical vacation. But there is just something about celebrating the holidays at Walt Disney World that is extra special! 
The smell of gingerbread wafting from the lobby of the Grand Floridian, snow on Main Street USA, Mickey in his holiday best… I LOVE the holidays at Walt Disney World! Mid to late November is my favorite time to visit. The holidays at Walt Disney World are always a magical time of year. While we are not quite back to pre-pandemic level holiday celebrations, 2021 is bringing back some beloved holiday favorites!
Beginning November 6 and going through December 30, 2021, the holidays will be reimagined this year. While some of our favorite holiday events are on hiatus, there are plenty of incredible new things to love!
Celebrating The Holidays at Walt Disney World in 2021
The Epcot International Festival of Holidays
The Epcot International Festival of Holidays is a fan favorite. This year, Epcot will host the Festival from November 26 – December 30, 2021. The Holiday Kitchens (food booths) and Holiday Cookie Stroll return as well as the Holiday Storytellers! These Storytellers in each country around the World Showcase share how their culture celebrates the season.
But most exciting for many Disney fans is the return of…
The Candlelight Processional at Walt Disney World
The Candlelight Processional at Epcot is one of my favorite holiday concerts. A full choir and 50-piece orchestra made up of Cast Members and professional musicians, with a celebrity narrator, it is a must-do for me! It was not held in 2020, but IS returning in 2021! Dining packages are available for reserved seating. I am not religious in the slightest but I simply adore this telling of the Christmas Story.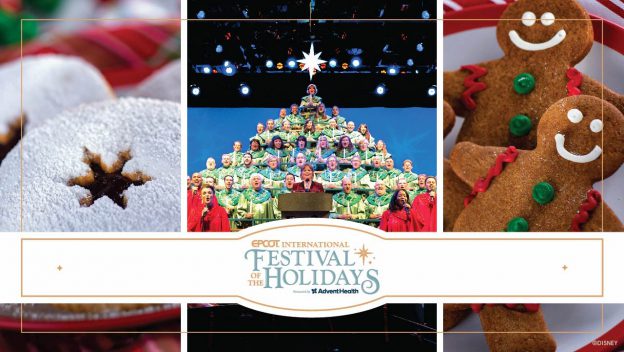 Holiday Decorations at Walt Disney World
The theme parks and resorts will be decorated with holiday swag! One of my favorite activities is a resort tour to view the different decorations at each resort. The designers do an incredible job of customizing the décor at each resort to reflect the theme! Check out the ornaments on each tree to see the level of detail involved in the design.
In particular I recommend checking out Disney's Beach Club and Disney's Animal Kingdom Lodge. The decorations are wonderfully themed to the resorts!
Gingerbread Décor at Walt Disney World Resorts
The Gingerbread décor at the Deluxe Resorts is one of my favorite parts of the holidays at Walt Disney World! From the Gingerbread Carousel at Disney's Beach Club to the life-sized Gingerbread shop in the lobby of Disney's Grand Floridian, I love it all. (And I don't even LIKE Gingerbread!)
And yes, I mentioned the resort decorations above but in 2020, Walt Disney World did holiday decorations at the resorts but did NOT do Gingerbread houses! So I consider them a separate category.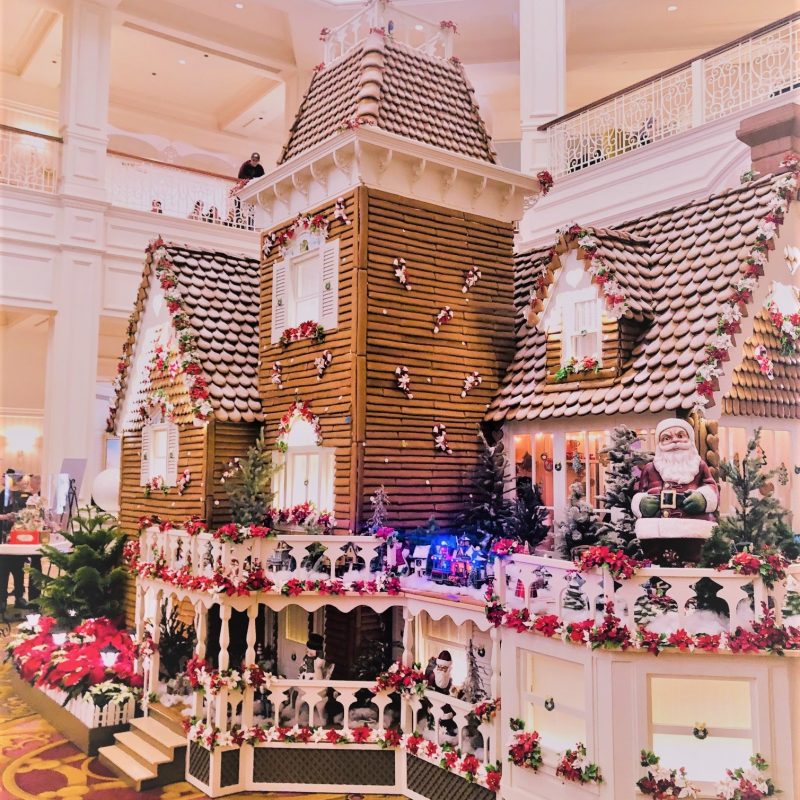 Castle Projections
One of my recent favorite show elements at Walt Disney World are the projections on Cinderella Castle! A huge part of Enchantment, the nighttime spectacular, (or as Sharla calls it, "Not Wishes") these projections transform the Castle and will take your breath away. So I was VERY excited to see that Cinderella Castle will be getting special holiday projections this year. Even a Christmas Sweater look! (Mental note – add ugly Christmas Sweater to my mental packing list, just in case I get a chance to go this year!)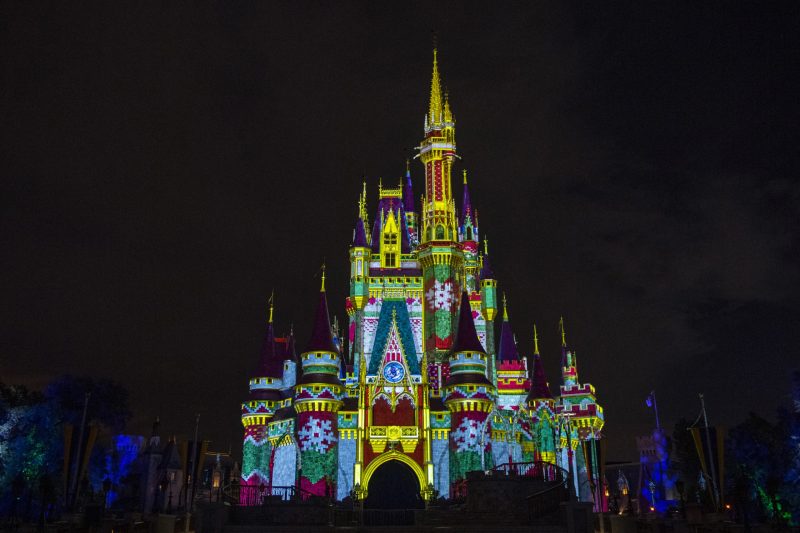 Walt Disney World Resort in Lake Buena Vista, Fla., will reimagine its holiday celebration this year. From Nov. 6 to Dec. 30, when night falls at Magic Kingdom Park, projection effects will transform Cinderella Castle with a kaleidoscope of holiday-themed designs. (David Roark, photographer)
Holiday After Hours Event at the Magic Kingdom
While sadly there is no Mickey's Very Merry Christmas Party in 2021, there IS the Disney Very Merriest After Hours event! Held on select nights from November 8 – December 21, 2021, after the park closes, this 4-hour event begins at 9:00 pm.
This event requires separate admission. Mickey's Once Upon a Christmastime Parade makes an exclusive return along with Minnie's Wonderful Christmastime Fireworks. Your admission includes select snacks and ice cream novelties!
Holiday Characters and Character Dining at Walt Disney World
The Disney characters will appear in cavalcades at the four theme parks including holiday favorites such as the Toy Soldiers and Gingerbread Men. For 2021 there will also be indoor character "sightings." This is a COVID safe character interaction that allows guests to get a photo and interact with a character, without physical contact.
And in an exciting return to Character Dining, Minnie Mouse Minnie Mouse will host a holiday dining experience at Hollywood & Vine in Disney's Hollywood Studios. Keep an eye out for her pals, including Santa Goofy!
Santa Claus at Walt Disney World
While you won't be able to sit on Santa's lap this year, Santa will be making pop-up appearances at the theme parks. We don't have official details yet but I think we can assume that Walt Disney World will be on Santa's nice list this year!
I admit to playing favorites – I am most excited about the return of the Candlelight Processional! What are you most excited to see while you celebrate the holidays at Walt Disney World in 2021? Let us know in the comments!
P.S. Now that you've found us, be sure to subscribe to our newsletter below or in the link on the side! You can also check us out on YouTube, Facebook, and Instagram!