There are several stops along the Walt Disney World Monorail, which makes for a perfect bar crawl!
Since I posted recently with my Ultimate Walt Disney World Skyliner Bar Crawl, I thought I'd continue my series with a bar crawl for the Monorail. The Monorail has two stops which I am leaving out- the Transportation and Ticket Center (TTC), and the Magic Kingdom. The TTC doesn't have a bar or a restaurant (though it does have a small coffee stand), and the Magic Kingdom doesn't have a place where you can sit and get an adult drink without also getting food. That doesn't mean you can't still enjoy a meal or beverage there, I'm just going to skip it for the purposes of this blog.
Stop One- Polynesian
The first stop on the Monorail bar crawl is Disney's Polynesian Village Resort. The Polynesian has quite a few restaurants and bars, but the most popular one is definitely Trader Sam's Grog Grotto. Trader Sam's is the epitome of a Tiki Bar with fruity beverages galore, completely with punny names such as Tiki Tiki Tiki Tiki Tiki Rum. They also have some pretty decent food such as dumplings and pork tacos.
If an outside bar is more your thing, there is also Trader Sam's Tiki Terrace, which is located right outside the Grog Grotto. Basically it's just outdoor seating for the bar. During the day this area is a nice place to sit while you dine at Captain Cook's (definitely get the pulled pork nachos).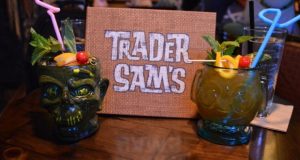 Stop Two- Grand Floridian
After your fill of nachos and/ or tiki drinks, hop on the Monorail (or walk, if you'd like) and stop at the next stop, Disney's Grand Floridian Resort & Spa. The newest place to grab a drink here is at Enchanted Rose, the newly reimagined lounge inspired by Beauty and the Beast. It looks lovely inside and beautifully themed, however it's quite expensive, and maybe that's not quite your jam here.
My alternative to Enchanted Rose is the Courtyard Pool Bar and Grill– it's located exactly where you'd think it is- right outside the main pool at the hotel. There you can get sandwiches and wraps, or a cocktail, beer, or wine. They also have several lemonades that look like a great option for kids or adults who don't want the alcohol.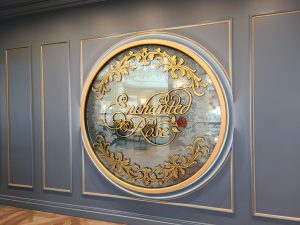 Stop Three- Contemporary
The next stop on the Monorail is the Magic Kingdom, and as I already mentioned we'll skip this one. So stay onboard and head to Disney's Contemporary Resort. I know that many a Contemporary fan will say that the California Grill is the place to go here- even if you're not grabbing dinner you can go to the bar and have plenty of drinks. There is even a spot over at Bay Lake Tower called the Top of the World that you can go to if you are (or are friends with) a DVC member.
But my favorite spot to grab a drink at the Contemporary is the Outer Rim Bar– which is just outside Chef Mickey's on the Grand Canyon Concourse. Here you can see a great view of Bay Lake as well as grab a fun cocktail or appetizer. It's a pretty neat bar, and even though it's right on the main concourse I feel like it's not often very crowded.
Stop Four- Epcot
Our final stop on the Monorail bar crawl is at Epcot, just like it was for the Skyliner crawl! But because the Monorail drops you off at the front of the park, rather than the back, we're going to focus on World Discovery (formerly known as Future World). The newest place at Epcot is Space 220, which is not only a restaurant but a lounge. Because you don't need a reservation for the lounge, it's probably your best bet for a cocktail there. They have my favorite wine, Kim Crawford Sauvignon Blanc, and some really delicious-looking food.
If you don't want to go out into space, then head into World Showcase and grab a drink from any of the many food kiosks that are out basically all year round now. The World is literally at your fingertips here because there are so many options from almost everywhere in the world.
Conclusion
There you have it, my Ultimate Monorail Bar Crawl. Did I miss your favorite spot? Let me know in the comments!
P.S. Now that you've found us, be sure to subscribe to our newsletter below or in the link on the side! You can also check us out on YouTube, Facebook, and Instagram!