With the addition of the Disney Skyliner at Walt Disney World, it's even easier to get to several Disney Resort hotels for a quick drink or bite to eat. 
I have always loved resort tours for food, drink, or even just walking around the grounds. Sometimes I purchase food, drink, or merchandise at the different resorts, sometimes I don't. But I always really enjoy looking around at the very least.
There are 5 Disney Skyliner stations in total, with stops at both resort hotels and theme parks. I've structured this crawl in order of the stops that make the most sense to me, but feel free to use your own order and choose your own menu items!
Stop One- Brown Derby Lounge at Disney's Hollywood Studios
The first stop on the Skyliner tour is the Brown Derby Lounge- Located just outside the Brown Derby restaurant in Disney's Hollywood Studios, this patio lounge is first come, first served. Once seated, you'll have a clear view to the walkway to watch people run to and from attractions (and maybe even get a glimpse of the Storm Troopers marching by).
The cocktail list here is fantastic – with highlights being the margarita, champagne and martini flights. Plus, you'd better come hungry because there is a serious food menu with things like sliders two ways, a mini Cobb salad and even pho. Even better? You can also order off the restaurant menu if you're craving something more! We almost always order the Cobb Salad and sliders.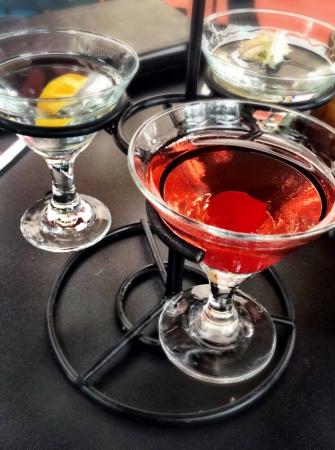 Stop Two- Disney's Caribbean Beach Resort
After your fill of Cobb Salad and martinis, hop on the Skyliner and head over to Disney's Caribbean Beach Resort. The Disney resorts offer many options in terms of food and drinks, and Caribbean Beach doesn't disappoint. There is a pool bar called Banana Cabana, which will be your best bet for a quick cocktail, or you can go to the Centertown Market if you want more of a fast food type option.
Stop Three- Disney's Art of Animation Resort and/or Disney's Pop Century Resort
You have a twofer with this one- I'll give you the option of Art of Animation or Pop Century. These two resorts are on the same Skyliner stop, so you can choose one or both resorts to make your Skyliner crawl complete. If you're looking for food, you really can't beat Landscape of Flavors at Art of Animation.  But, if you're looking for drinks only, then you really can't beat the Petals Pool Bar right outside the Hippy Dippy Pool at Pop Century. (And interestingly enough they have a drink called the Banana Cabana, just like the whole bar at Caribbean Beach.)
Stop Four- Disney's Riviera Resort
One of my new favorite places in all of Walt Disney World is the new Riviera Resort- it's nicely located on the Skyliner line and it has some beautiful artwork to boot. But, the outside bar, called Bar Riva, has a very extensive menu (yes, with food) including Beer, Hard Cider, Hard Seltzer, Sangria, Wine, and Specialty Cocktails. It's one of the most extensive bar menus I've seen at a Walt Disney World Resort.
If you'd like to walk off some of the calories you're getting on this Skyliner crawl, you can walk to the Riviera Resort from the Caribbean Beach Resort, too, and then hop onto the Skyliner to the Epcot station for the last few stops.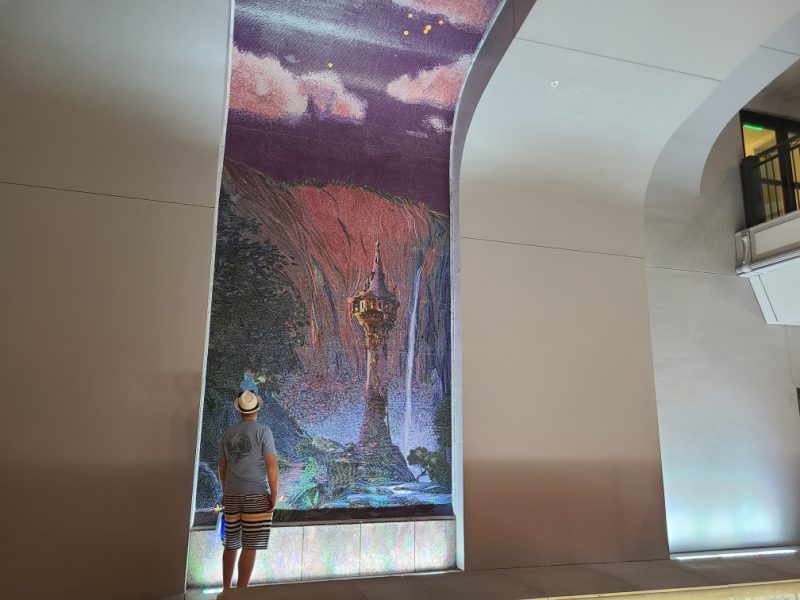 Stop Five- Disney's Boardwalk
There are many restaurants and bars along Disney's Boardwalk, including my favorite, the AbracadaBar. This place is really fun because it not only has great food and drinks, but it also has a lot of magic! Disney says "Formerly the stomping grounds for famous magicians, local illusionists and the loveliest of magician's assistants, AbracadaBar gives interested onlookers and aficionados of alcoholic beverages alike a glimpse—and perhaps a taste—of another time and place."
I feel like the magic and theming at Walt Disney World is often over looked, but there are enough overt decorations and tricks around you won't miss them!
Stop Six- Epcot
Our final stop on the Skyliner crawl is at Epcot, where the world is literally your oyster! You can head into my favorite spot pretty easily from the International Gateway- France! There is a lovely champagne bar tucked in the rear of the pavilion, just across the way from the Les Halles Boulangerie & Patisserie. And with the new creperie open as well you'll be able to have a great dessert of any type with your drink.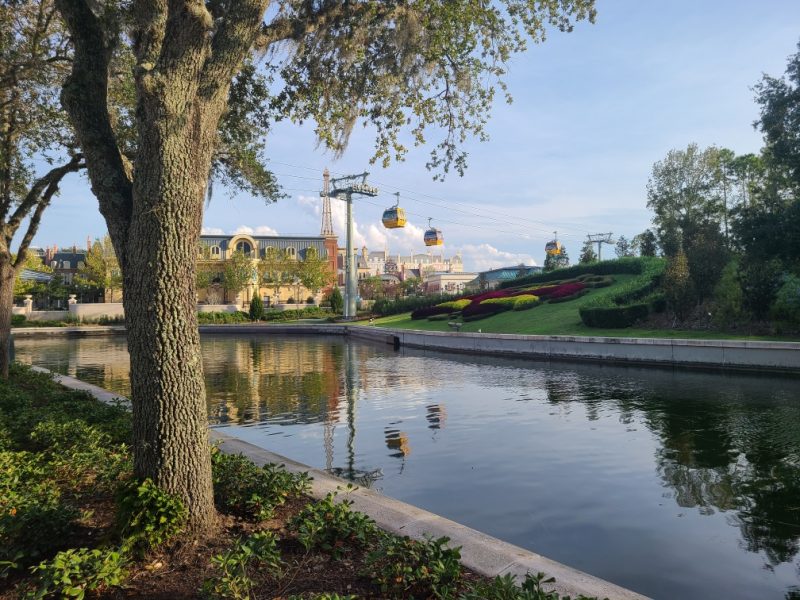 Conclusion
There you have it, my Ultimate Skyliner restaurant and bar crawl! I know I skipped the Yacht and Beach Clubs, but your liver will thank me, I assure you!
P.S. Now that you've found us, be sure to subscribe to our newsletter below or in the link on the side! You can also check us out on YouTube, Facebook, and Instagram!