Disneyland veterans are in for a bit of a shock when visiting Walt Disney World! Learn all of our favorite tips for Disneyland fans planning their first trip to Walt Disney World!
There are so many articles written for Walt Disney World veterans looking to visit Disneyland for the first time. About what to expect, what's different, what you can't miss. But in talking to my Southern California friends who were planning their first trips to Walt Disney World, I realized that there's not much out there for the opposite situation! Time and again they'd be planning their first visits and ask me all sorts of planning questions because they just didn't know what to expect.
So here it is – my tips for Disneyland veterans going to Walt Disney World. Maybe you're a Southern California local that visits Disneyland weekly. Or maybe you live in the Western U.S. and it's just easier to get to Disneyland. Whatever your reason, planning a trip to Walt Disney World is very different from what you're used to. Here are things to keep in mind!
YOU NEED TO STAY ON WALT DISNEY WORLD PROPERTY
At Disneyland you know there are the three resort hotels, but there are several dozen Good Neighbor Hotels within walking distance. Those Good Neighbor hotels are often less expensive and located just as close to the parks as the Disney resorts, so you might not feel like you need to stay on Disney property.
At Walt Disney World, however, the opposite couldn't be more true. Walt Disney World is massive, and even though there are plenty of Good Neighbor hotels available, they aren't exactly close to the parks. Even if they say they're only two miles away from the main gate, that could mean 30 minutes in travel time. It's just not as convenient to stay off property in Florida as it is in California.
Walt Disney World resorts also offer the Magical Express. This is a complimentary (read: FREE!) service for Disney resort guests. This will take you from the Orlando International Airport (MCO) to your Walt Disney World resort and then back again at the end of your trip. That's a great perk when you're not familiar with the surrounding area, plus you then don't need to pay the resort parking fees. (NOTE: Disney's Magical Express Airport Shuttle service is ending on December 31, 2021. It will not be offered in 2022.) 
The Magical Express also picks up your bag from the plane and delivers it to your hotel room so you never need to stop at the luggage carousel! Plus, you can check your luggage at the resort before you head home and the Magical Express will make sure your bags get on the plane and you don't have to take time waiting in line to check them at the airport. PLEASE NOTE: The luggage services are suspended currently due to Covid19. Please check with the Magical Express at the time of your trip to see if these services have been reinstated.
At Disneyland you know there are parking shuttles and buses that take you from the parking areas to the parks. At Walt Disney World they also have those parking shuttles, but when you stay on property you don't need them! All Disney resorts offer buses, boats, monorails or the Skyliner gondolas to take you from your resort to the parks and the Disney Springs shopping area (a much bigger version of Downtown Disney). They're complimentary and they run continuously from an hour before the first park opens to an hour after the last one closes.
Finally, another very important reason to stay on property are the Extra Magic Hours. Just like at Disneyland, every day a Walt Disney World resort will open up to one hour early for resort guests. BUT – unlike Disneyland – every day one park also stays open until two hours after park closing! That's a lot of extra time to get onto those attractions.
Plus, Good Neighbor hotels in Florida do NOT have Magic Mornings. Those just don't exist at Walt Disney World, so the only way to get extra time in the parks is to stay on property and take advantage of those Extra Magic Hours. PLEASE NOTE: Extra Magic Hours are currently suspended due to Covid19. Please be sure to check the park hours for your trip to see if they have been reinstated.
WALT DISNEY WORLD PLANNING CAN BE STRESSFUL – BUT IT'S ESSENTIAL
One thing I heard over and over again was that the planning process was incredibly stressful for Disneyland veterans. Let's face it – you don't need to do much advance planning to visit Disneyland, especially if you live locally and are just visiting for the day.
Walt Disney World, on the other hand, requires a ton of planning to have a successful trip. There's the need to make dining reservations 180 days in advance (currently because of Covid19 this has been changed to 60 days in advance), which Disneyland regulars can't wrap their head around. They don't normally make dining reservations, so having to do so is overwhelming – especially when you don't know what restaurants you'd actually like to eat in.
And now guests are required to make ParkPass reservations. Park Pass is a reservation for which theme park you plan to visit each day of your vacation!
FastPasses are available on both coasts, but at Disneyland you just get your FastPasses the day you're in the park. For Walt Disney World you can make your FastPasses 60 days in advance (this is currently suspended due to Covid19) by logging into the app.
Just know that even though it may seem overwhelming, taking some time to book your dining reservations and FastPasses in advance is going to help your trip go so much more smoothly. You don't want to show up to Walt Disney World without a plan, or you'll wind up missing a lot. So do research about restaurants you'd like to eat at so that you're prepared and ready to book those right at your deadline. Same for FastPasses – get those booked ahead of time and you'll go in knowing you'll be able to see the highlights of each park.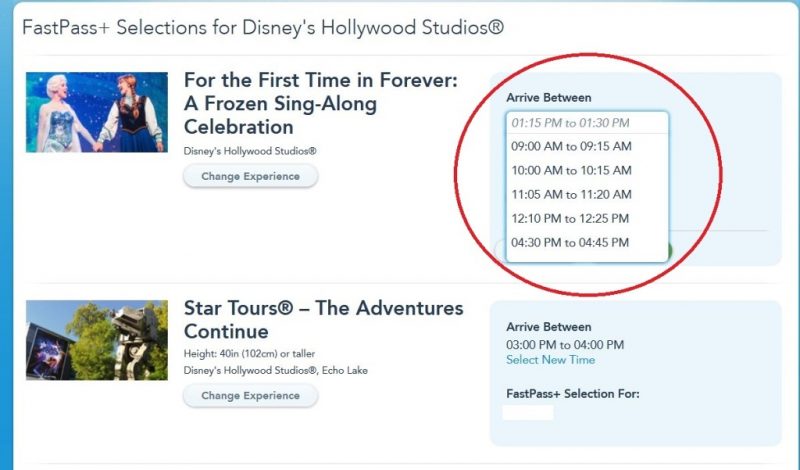 MAKE THE MY DISNEY EXPERIENCE APP YOUR FRIEND
Disneyland has an app you can use from your smart phone, but it's essentially for things like wait times and maps and other useful information while you're in the park. But don't wait to download the My Disney Experience app – Walt Disney World's version.
My Disney Experience does SO MUCH more than the Disneyland app, and it's your best friend when planning your trip and keeping track of the plans you've made. For example, you have the ability to link your hotel reservation and park tickets as soon as you book your reservation. It then starts to set up a daily schedule for you to track your plans on each day.
My Disney Experience is where you can make and change your dining reservations and your FastPass reservations. You can make and manage your Park Pass reservations from the app. These are all things you can do ahead of your trip, which makes it so valuable. Plus, once you're in the parks it'll offer maps, wait times, and even games to play while you're waiting in line. And if you want, it can even act like your room key, unlocking your hotel room door!
Definitely take time to download this app as soon as you book your trip and play around with it. Get familiar with everything it can do because it's going to make planning and enjoying your trip so much easier!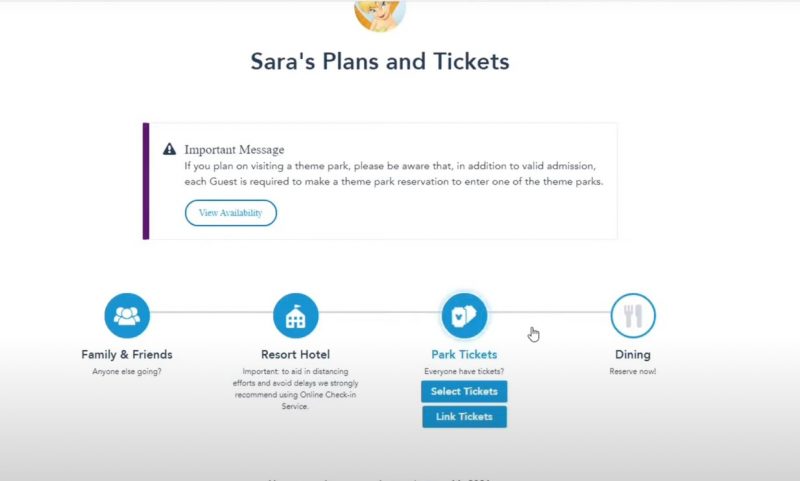 ONCE YOU ARRIVE AT WALT DISNEY WORLD YOU'LL BE MUCH MORE RELAXED
Remember how my friends all stated how stressed they were when planning their trips? The great news is that effort really paid off. When they got to the parks they were so much more relaxed, knowing they had a general idea of where they were going to eat and what attractions they were going to see. It made their trip so much more enjoyable.
I know you'll hear it a billion times about how much bigger Walt Disney World is than Disneyland, and it's true. So it's going to take you longer to get to the parks from your hotel. But you'll find that you're actually going to have a more relaxing trip. At Disneyland you may be used to trying to fit in as much as possible for one day because you've only gone for the afternoon. Or perhaps you only are staying for three nights. That makes for a rushed time in the parks dashing from attraction to attraction to try to get your FastPasses and see as much as possible in a limited time.
At Walt Disney World there's no possible way you can do it all, which means you don't need to rush to try and fit it all in. You have your dining reservations booked. You have your FastPasses already scheduled. There is no running here and there to fit things in. You can spread your days out and relax as you go around the parks.
So there you go! These are just a few things to keep in mind as you start to plan your Walt Disney World vacation. It's definitely different to what you're used to in a Disneyland vacation, but I think you'll find you're really going to like it!