Some of my favorite YouTube videos are Buzzfeed's "Worth It" series. The hosts visit "three different restaurants, at three different price points, to determine which one is the most worth it."  They have done everything from burgers to sushi, and I love it!
The concept of value versus cost is particularly appropriate for a Disney vacation. What makes a resort hotel "worth it"? Inspired by Steven and Andrew (the hosts of Buzzfeed's Worth It), today is the beginning of a series on "Worth It"  – Disney resort edition. Let's start with the Walt Disney World Value Resorts.
I'll be evaluating five different metrics for each resort category. Location – how close are they to the theme parks? Rooms – how big are the rooms and how are they laid out? Amenities – what does the resort offer for pools, entertainment, etc? Dining – How is the variety and quality of the food offered? And X-Factor – what sets this category apart?
The Value Resorts – Are They 'Worth It?'
Location
For me, location is the number one factor when it comes to deciding if something is 'worth it.' From which restaurant you choose to the home you buy, location is almost always a factor! No one wants to spend hours getting somewhere. Choosing a Walt Disney World Resort is no different. (To learn which resort is closest to each theme park, check out this post.)
The Value Resorts are Walt Disney World's most affordable option. What this means for location is that they are located the furthest from the theme parks, and can take the longest to get somewhere. For the All Star Resorts, bus transportation is your only option. But the new Skyliner service at Disney's Pop Century and Art of Animation gives these resort an upgrade in the location department! Skyliner service offer transportation to both Disney's Hollywood Studios and Epcot. As a result, the Skyliner helps to make Pop Century and Art of Animation a bit more 'worth it' for the price point!
Rooms
The rooms at Walt Disney World Value Resorts are the smallest on property. Most rooms (with the exception of the Family Suites at Art of Animation or All Star Music) only sleep up to four guests. Some resorts still have two full beds in each room but as Disney continues to upgrade the rooms at each Value Resort, they have been installing queen beds. (In most rooms, it is one queen bed and one queen-size Murphy bed. See photo below. The brown cabinet is actually a cleverly concealed bed!) The queen beds go a long way towards making these resorts 'worth it.'
The rooms are basic but are well organized and make the most of the square footage with clever storage options in the room and bathroom/sink area.
One important thing to know is that as you move from Value to Moderate to Deluxe Resorts, everything gets an upgrade. From the towels to the mattresses to even the toilet paper!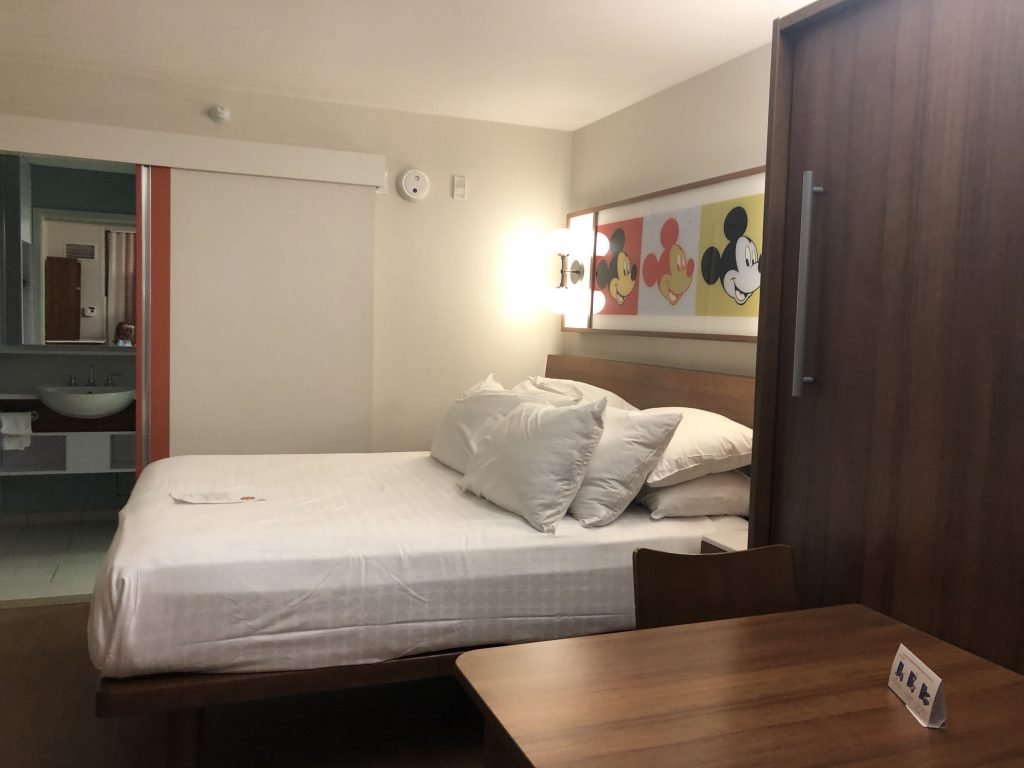 Disney's Pop Century Resort has newly remodeled rooms!
Amenities
The pools at Disney's Value Resorts are large and have fun theming. One important thing they lack is a slide! There are also no hot tubs at the Value Resorts. The main pool has lifeguards during operating hours as well as a schedule of games throughout the day.
Another popular activity are the "Movies Under The Stars" shown outside on select nights during your stay. Check your resort schedule for times!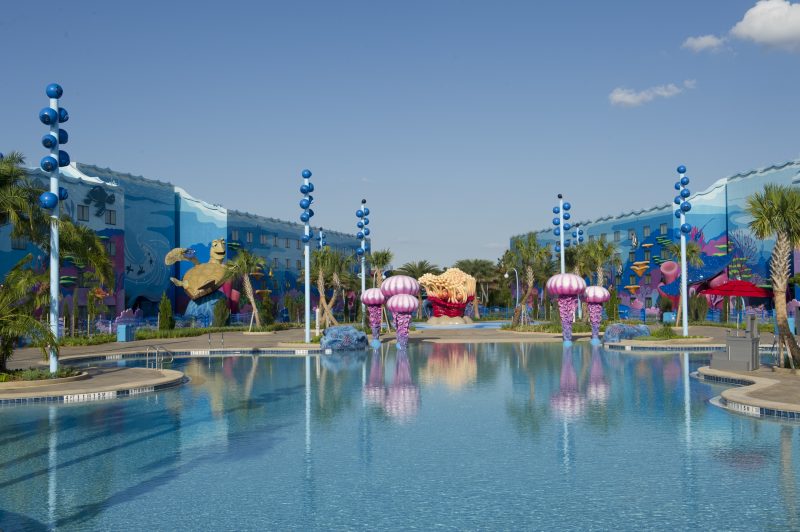 Disney's Art of Animation Resort features the popular 'Big Blue Pool' in the Finding Nemo section. Photo Courtesy of Disney
Dining
Disney's Value Resorts have food courts as their primary dining option. There are no table service restaurants available. The food courts serve breakfast, lunch, and dinner. There are a variety of menu options from sandwiches to entrees that are themed to each resort. My personal favorite is the Landscape of Flavors food court at Art of Animation!
Guests can also order Pizza Delivery or enjoy a cocktail, wine, or beer at the pool bars.
'Worth It' X-Factor
The X-Factor is something that is unique to each resort category. For the Value Resorts, it is the theming! These resorts are bright and colorful from the moment you pull into the driveway. Disney touches can be found throughout the resorts. The giant icons are irresistible to kids, and nostalgic for grown-ups. There is just something so FUN about these resorts! Who can resist trying to play a game of giant Twister?!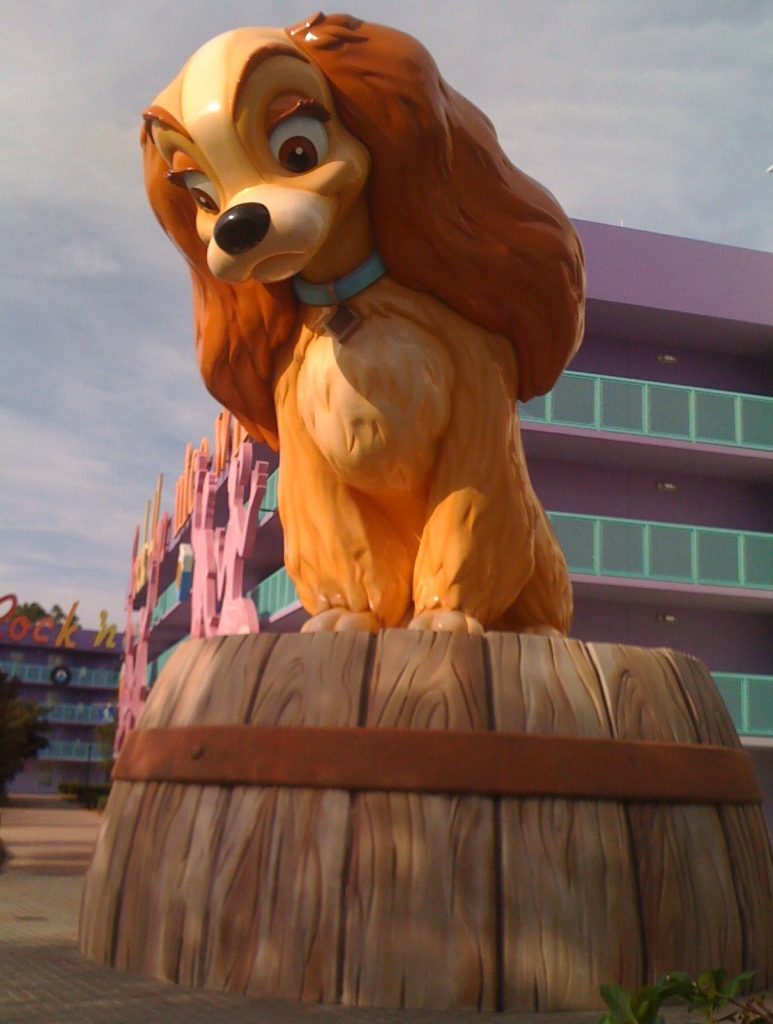 Conclusion – Are the Value Resorts 'Worth it' At Their Price Point?
Disney's Value Resorts are the most affordable resorts on property. But are they worth it? Some of them! I would strongly encourage you to consider Disney's Pop Century Resort and Disney's Art of Animation Resort due to their access to the Skyliner Service. For me, that is the piece of the puzzle that makes these two resorts 'worth it.'
Next in the series – Disney's Moderate Resorts!
P.S. Now that you've found us, be sure to subscribe to our newsletter by taking our quiz or in the link on the side! You can also check us out on YouTube, Facebook, and Instagram!