In exactly nine days I'll be back in Walt Disney World and I am so excited I'm practically crawling out of my skin! Aren't the few weeks just before your trip the most torturous? All the planning has been done and now all you have left to do is wait, and meanwhile the days seem to be crawling by. So, to ease my impatience, here are the things I'm most looking forward to on this trip.
EPCOT INTERNATIONAL FOOD & WINE FESTIVAL
If you've read my past blog posts, you know I love this event. I adore it. It's my very favorite time of year at Walt Disney World. And I couldn't let a whole year pass without visiting the Epcot Food & Wine Festival.
I am so excited to taste my way through the park. I'm already thinking about my strategy, what I'll eat first (cheese bread), what I'll have several samples of (cheese bread), and what's likely to be my favorite item (cheese bread). Seriously, though, all of the options this year have my head spinning. I cannot wait to try the new Cider booth or try Emil's cheese trail. Plus, all the new cocktails! There's just not enough time for me to fit in everything.
I'm a little sad that I didn't book myself any special events this year. I usually always do three or four each festival, but because I'm going so late in the festival there actually aren't many available so I'm skipping that part this year. It won't be the same without a food & wine pairing lunch, but I know there are more than enough tastes to keep me occupied!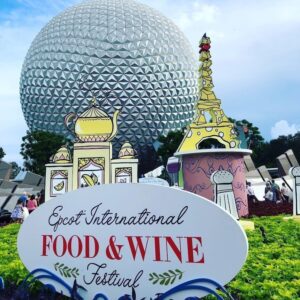 JUSTIN'S FIRST VISIT
Can you believe it!? Poor Justin has never been to Walt Disney World!!!! Okay, so he did go once when he was about six, but that hardly counts because everything is so different now. Even though he visits Disneyland pretty frequently with me, I'm so excited to show him Walt Disney World and all of my favorite things there.
I get to show him the Food & Wine Festival, but also Pandora and Test Track and countless other rides that are only in Florida. What is he going to think of the size of everything? Will he like the food better than in Disneyland? Is he going to know how to work a Magic Band!?
Isn't it such a great feeling to bring a 'newbie' to Walt Disney World? I think I'm almost more excited than he is because I know all of the fun he's about to have and the new experiences he'll be a part of. I am so excited to watch the look on his face as he sees Epcot for the first time or rides the 'real' Tower of Terror. Plus, I love playing tour guide, so it'll be great to show him all of my favorite restaurants and little hidden detail. Hopefully he'll love it as much as I do!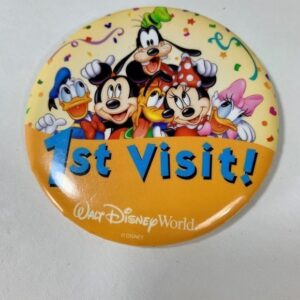 WILD AFRICA TREK
Okay, so this is actually a surprise for Justin's birthday (which is the main reason we're heading out on this trip), so I hope he isn't reading this! I've done this tour before and love it so much. I cannot wait to do it again. And I can't wait for Justin to do it, because he's a huge animal lover. Who doesn't want to get up close and personal with giraffes?
Not to mention getting to walk across rope bridges and watch hippos being fed right in front of you? I love that this is a little bit adventure trail, a little bit of personal safari. It's so nice to be able to ask questions and not have to be moved through the savanna quickly because another car is coming up behind you. Plus, the food they serve is delicious AND you get to relax in a beautiful hut overlooking the savanna before heading back to Harambe. In my opinion, this is well worth the cost and I cannot wait to get to do this again.
This is one of the best backstage tour options at Walt Disney World!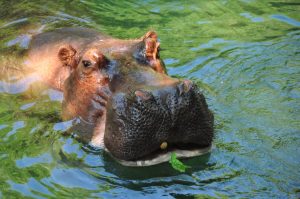 WINE BAR GEORGE
Oh how I have been wanting to do this for a long time. A bar dedicated solely to wine and tapas!? YES PLEASE! Thankfully, Sharla and her family will be in town and we're all having a date together because I could not possibly go to the wine bar without my wine-loving partner in crime.
I'm really looking forward to trying all of the quick bites here, but mostly to step out of my comfort zone and try wines that I have never heard of. Also, the lounge looks absolutely gorgeous and cozy and I can't wait to either snuggle up in a booth or grab a seat at the communal table and make some new friends.
DISNEY'S BOARDWALK INN
I've stayed at the Boardwalk countless times, and even though the Beach Club across the lake is still my favorite resort, I'm super excited to stay here. There's just so much energy at the Boardwalk, especially in the evenings, that it makes for a special trip.
I can't wait to stroll the Boardwalk in the evenings to take in the street buskers and maybe get chosen to help with a magic trick. I'm also super excited to be visiting the Abracadabar again to soak up the atmosphere and special little secrets the Imagineers have thrown in.
Plus, let's be honest here. It's Food & Wine time over at Epcot and there's literally nothing better in the world than being within walking distance to World Showcase this time of year. What's that? I feel a little cheese bread craving coming on? I'll be at that Brazil booth in exactly 7 minutes, thank you!

So there are the things I'm looking forward to most on my next visit to Walt Disney World. How about you? What are you most excited for on your next trip? I'd love to hear in the comments below!