Visiting Hong Kong Disneyland was such a fun experience for me. And I know that going to the Disney parks around the world are a bucket list item for a lot of people. But I also know that it can be a little overwhelming planning these trips when you're unfamiliar with the parks and aren't sure what you should be doing. So here are some of the little things I knew before I got to Hong Kong Disneyland, and I hope they help you with the planning of your own visit there!
YOU NEED TO STAY AT A HONG KONG DISNEYLAND RESORT HOTEL
Just like the parks in the U.S., staying at a Disney-owned resort really pluses up your vacation experience. Not only are they beautiful, but they come with some perks that are going to help you get the most out of your experience.
For example, at the Hong Kong Disneyland resort there are three resort hotels – the Disneyland Hotel, the Explorer's Lodge, and Disney's Hollywood Hotel – and staying at any of them will give you your own entrance into the park. That means less waiting in line to get in. Plus, all three are within walking distance to the park, mostly along the Park Promenade, which ambles along next to Penny's Bay. Let me tell you, there's something majestic about being right on a massive body of water with mountains in the background while still being on Disney property.
Another fun perk is that guests staying at any of the three Disney Resorts receive Priority Admission Passes for select attractions – basically just like a FastPass. If you stay in a Sea View room you'll receive 3 passes per person, or if you're in a Kingdom Club Room at the Disneyland Hotel (like Club Level), you'll receive 4 passes per person. You're basically getting extra FastPasses and have to do nothing other than stay at the resort! It's a little touch that's really going to help with your time management at the park. However…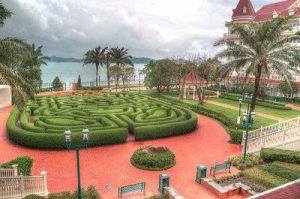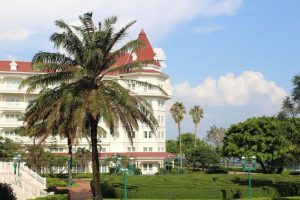 NOT ALL HONG KONG DISNEYLAND RESORT HOTELS ARE EQUAL
Here's where you have to decide what's really important to you in a hotel. As I mentioned before you can walk from all three resorts to the park entrance, but how long do you want to walk each day? Figuring that part out will help you determine which resort you should consider.
The Hong Kong Disneyland Hotel is going to be the closest to the park entrance, with only about a 10-minute walk to the front entrance. The Explorer's Lodge would be in the middle and Disney's Hollywood Hotel is the furthest, with about a 20-minute walk. And while that sounds pleasant (and it IS a gorgeous walk), doing that at the end of a long day in humidity so intense it makes Orlando seem like an arid desert, it suddenly doesn't feel as leisurely of a stroll as you imagined.
You'll also want to consider the amenities each resort offers and what's important to you on vacation. Remember, this is China, so they value different things in a hotel than we do. For example, the Disneyland Hotel is their flagship resort, and I mentioned it's the closest to the parks. But it does not have a lounge for cocktails (they only serve them with meals), so if you like to grab a nightcap after dinner, this may not be the resort for you.
There's also no quick service dining location, so if you're like me in the mornings where you just want to grab a quick bite to eat or a latte before heading out for the day, you'll find it slightly frustrating that you can't just head to the lobby and get something fast.
However, some of the best meals I had were at the sit-down restaurants here. Disney's Hollywood Hotel is the furthest from the park, but they do have a beautiful art deco lounge for cocktails in the evening as well as a very basic quick service restaurant (who thankfully had lattes but not a big menu). The Explorer's Lodge is the sweet spot for amenities we're used to in America. There are two sit down restaurants, a quick service restaurant, and a coffee bar.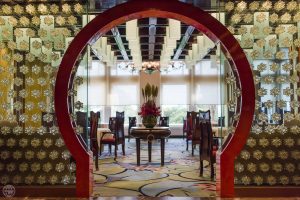 WALKING AT HONG KONG DISNEYLAND IS THE FASTEST, BUT THERE IS A BUS LOOP
You'll get to and from your hotel fastest if you walk. But there is a bus loop for those times you simply don't have the energy to make the trek. Hotel guests can ride any of the Hong Kong Disneyland resort shuttles between the three resort hotels and the Disneyland Resort Public Transport Interchange. This is basically an area about 5 minutes from the park entrance where city buses, tour buses and the resort shuttle drop and pick up guests.
There's a covered area to wait for your bus, and there are always cast members there helping you figure out which bus to get on. It takes about 10 – 15 minutes round trip, and the buses run every 20 minutes or so (10 minutes during the busiest times of day). The shuttle runs on a continuous loop, so it's a great way to jump on at your hotel and take the shuttle to another for dinner or to explore.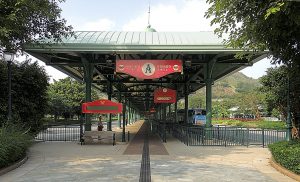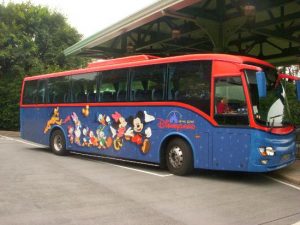 IT'S EASY TO GET INTO HONG KONG AND EXPLORE – AND YOU SHOULD
The MTR subway has its own line for Hong Kong Disneyland (which I love so much I mentioned it in another article HERE), and it's literally steps from the main entrance to the park. It is so easy to jump on the subway and head into Hong Kong to visit other sites. You really need to take a day or three to explore this city – the architecture, the food, the culture – it's to wonderful not to take advantage of.
You never have to worry about getting lost as the MTR is super easy to use, very clean, and incredibly efficient. You can be in the city within 20 minutes, and everything is clearly marked so you know which train to get on, where to transfer, etc. You'd be doing yourself a disservice by not visiting on your trip to the park!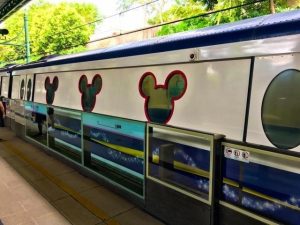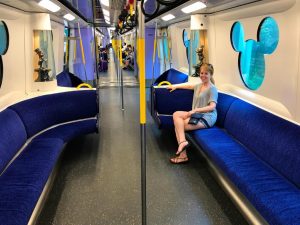 CROWD LEVELS AREN'T WHAT YOU THINK
Believe it or not, Hong Kong Disneyland isn't overly crowded! As someone who is constantly shocked by the crowd levels at Disneyland on a random Thursday in February, I cannot describe how refreshing it was to walk into the park and have literally no waits for ANY ride. I actually didn't even need to use those fancy aforementioned Priority Admission Passes.
Just know that's not always the case. I was there in September during their unbelievably hot season, so even though there were plenty of guests coming in for the day on the weekends, it wasn't peak season. However, during China's national holidays the park gets packed, and you're going to want to have all of the FastPasses and Priority Admission Passes that you can. So be sure you look up a calendar before you plan your trip and try to avoid any of the national holidays or festivals.
Remember that their culture is different than ours and the normal times that we would avoid – like Christmas or Spring Break – are low season for them. Instead, things like Chinese New Year, the Mid-Autumn Festival and Golden Week are major holidays for the Chinese, and these celebrations can last weeks, so you'll want to plan accordingly.
I hope that makes Hong Kong Disneyland feel a little more accessible for you, and this helps with your planning. This park is so charming, and I enjoyed my time here so much – I know you will, too!