Cruising has a long history of formal dinners and photo ops. Many first time cruisers worry about what to wear or think that cruising requires "fancy" clothes. With Disney Cruise Line, there is no need to worry!  Disney Park Princess has you covered – so to speak. Check out our guide on "What to Wear On Your Disney Cruise!"
I would rather be on a Disney Cruise ship than almost anywhere else on earth. I remember my first cruise on the Magic back in 2001. I was frantic about packing! (A task I loathe on the best of days. Mid-September 2001 was NOT the best of days.) And that was back when cruising was still pretty formal! The dress codes have relaxed quite a bit but even now I frequently get questions about the dress code on board the ship.
"My husband HATES to dress up! Will they still let us eat in the dining room?" "My kids refuse to wear pants – is this ok?!" Fear not! While there are some guidelines to dressing on a Disney Cruise, this family-friendly line makes sure that EVERYONE feels comfortable. We've got you covered with our guide to what to wear on your Disney Cruise!
What To Wear During The Day On Your Disney Cruise
What To Wear Onboard the Ship
This is the one category I seriously overpack for on my Disney Cruises. I always forget how much time I will spend in a bathing suit and cover-up! (Possibly because I spend as much time as possible in the Spa…) As long as you have a few t-shirts and a couple pairs of shorts/pants, you will be fine. It can also get chilly on deck, depending on your itinerary, so be sure to bring a sweatshirt or light jacket! (Of course if you are on an Alaska cruise – pack warner clothes!)
Keep in mind that bathing suits are not allowed in the dining rooms so if you want lunch in the dining room, you will need to change out of your suit. Want to stay in your suit? Cabanas buffet or the fast food options on the pool deck have tons of options!
My favorite thing to pack is a t-shirt dress. It can be dressed up or thrown on over a bathing suit!
What to Wear In Port
If you have booked a shore excursion, make sure that you pack for it! Some excursions are more active and may require sneakers or even hiking shoes. Even beach excursions require some forethought with packing. For rocky beaches, you may want water shoes!
Planning a Mediterranean cruise? If you will be going to Rome, some churches require guests to cover their shoulders and/or heads. Be sure to bring a scarf, or hooded shirt so that don't miss out!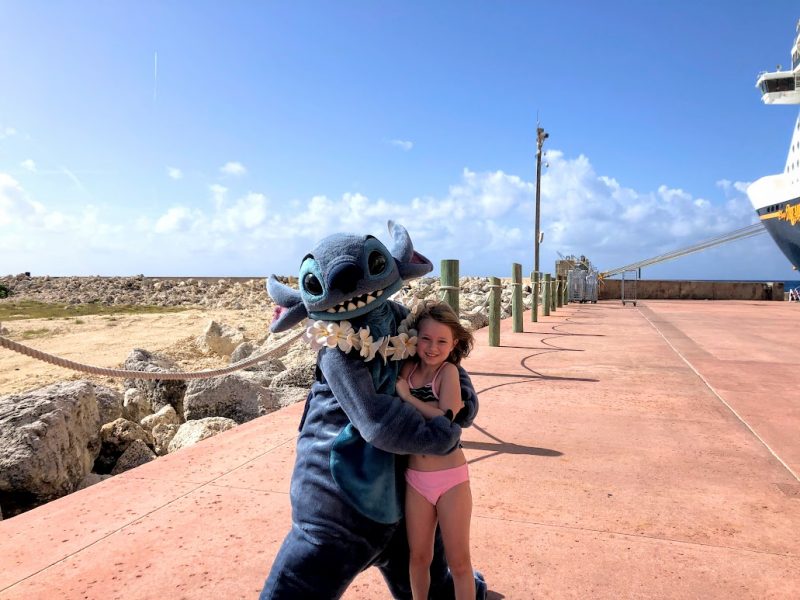 What to Wear At Night On Your Disney Cruise
Main Dining Rooms
Each Disney Cruise Line ship has three main dining rooms. On most nights, the dress code is "cruise casual." As Disney puts it, "Dining attire is cruise casual in all 3 main dining restaurants, meaning no swimwear or tank tops. Guests often like to dress up, but this is optional." You will see everything from shorts to gowns, and everything in between! Most guests tend to fall into what I refer to as "Nice Dinner Out With The Family" – polos and khakis for men, dresses or pants and a cute top for women.
Palo and Remy
Palo and Remy are the adult-exclusive restaurants onboard Disney Cruise Line. As these restaurants are more "fine dining" experiences, they have a more formal dress code. Once upon a time, a jacket was required for both restaurants but jackets are now optional at Palo. (They are still required at Remy.) The same goes with jeans – Palo now allows "nice" jeans, while jeans are still forbidden at Remy.
The "official" dress codes according to Disney Cruise Line:
"At Palo: The elegant northern Italian-inspired dining venue aboard all 4 ships.
Dinner and Brunch
Men: dress pants or slacks and collared shirt; jacket is optional
Women: dress, skirt or pants with a blouse
Jeans may be worn if in good condition (no holes)
At Remy: Serving sophisticated French cuisine aboard the Disney Dream and Disney Fantasy.
Dress to Impress
To preserve the elegant atmosphere, you are asked to adhere to a strict dress code when dining at Remy.
Dinner
At dinnertime, the following dress code is enforced:
Men: A jacket (such as a sports, suit or tuxedo jacket) is required, with dress pants/slacks and shoes. Ties are optional. Please no jeans, shorts, sandals, flip-flops or tennis shoes.
Ladies: Cocktail dress, evening dress, pant suit or skirt/blouse are required. Please no jeans, shorts, capri pants, sandals, flip-flops or tennis shoes.
Brunch and Dessert
During brunch and dessert, the following dress code is enforced:
Men: Dress pants and a shirt are required for men. A jacket is optional. Please no jeans, shorts, capri pants, sandals, flip-flops or tennis shoes.
Women: A dress or pantsuit is required. Please no jeans, shorts, capri pants, sandals, flip-flops or tennis shoes."

What to Wear For Special Events on Disney Cruise Line
Pirate Night
Pirates IN the Caribbean is a special event held on most Disney Cruise Line sailings. With a themed menu, a spectacular dance party, and fireworks to cap off the night, this event is not to be missed! Guests are encouraged to wear their pirate garb but just in case, every guest receives a pirate bandana at dinner. This is one of my favorite events because some people really go all out!! I have seen full-on costumes that looked right out of a movie, including the parrot!
Semi-Formal and Formal Nights on Your Disney Cruise
On select sailings, especially 7-night and longer sailings, Disney Cruise Line may have a semi-formal night and/or a formal night. Here is what is important – THIS IS COMPLETELY OPTIONAL. You do not need to dress up if that isn't your style! Semi-formal for men usually refers to jacket and tie, and cocktail dresses for women. Formal usually refers to suits for men, and long dresses for women. But again – you will see a wide range of attire!
If you prefer a more casual atmosphere for dining – no problem! Don't forget that there are plenty of alternatives to the main dining rooms. Room service, the quick service options on the pool deck, and Cabanas are typically also available for dinner.
Photo Ops On Your Disney Cruise
Let's say you have zero interest in dressing up for dinner, and don't plan to dine at Palo. And the pirate thing? Not so much. I get it! But there is one last thing to think about when deciding what to wear on your Disney Cruise – Photo Ops!
Every ship has a photographer practically everywhere you turn. Your photo will be taken when you first board the ship, when you disembark at every port, every time you meet a character, every night at dinner, and so on. And if that isn't enough – they have formal portrait sessions in their onboard studios, or in the atrium each night! When was the last time you had a nice family photo taken that had ALL of you in it? That's what I thought. This is your chance!
So break out the color coordinated outfits, or just come as you are. But take the opportunity to snag a family photo that will remind you of your cruise for years to come! (Note – Photos are not included in your cruise fare. There are photo packages available for purchase, or you can purchase individual pictures.)
What are your worries about what to wear on a Disney Cruise? Ask in the comments and we are happy to answer your questions!
P.S. Now that you've found us, be sure to subscribe to our newsletter below or in the link on the side! You can also check us out on YouTube, Facebook, and Instagram!