It's time to continue my series on planning your first visit to Disneyland – and we've come to my very favorite topic: DISNEYLAND DINING! If you're anything at all like me, you'll know how much I love Disney food. It's my favorite part of any Disney vacation! But it does take some advance planning. Let's look at the basics.
TYPES OF RESTAURANTS
As at Walt Disney World, Disneyland has two distinct types of restaurants – counter (or quick) service and table service.
COUNTER SERVICE
A counter service restaurant is what you would think of as 'fast food', where you walk up to a cashier, order, and take your food with you to find a table. But don't think for a second all your going to find at counter service restaurants are burgers and chicken fingers. While those are widely available, counter service restaurants at Disneyland can be very sophisticated! You'll find things like pot roast, pasta, soups, gourmet sandwiches… the list goes on! You can read my article on my Top Five Counter Service Restaurants at Disneyland for my top choices.
TABLE SERVICE
Table Service restaurants are what you would consider a 'traditional' restaurant. You'll be greeted by a host, led to your table, and have a server take your order and bring your meal. These restaurants can be very casual or super fancy. It all depends on the experience you are looking for, so definitely do some research. It's also important to note that sitting down to a meal (whether it be breakfast, lunch or dinner) can take anywhere from an hour to three hours. Be sure to plan accordingly in case you're wanting to fit it in around show or parade times.
RESERVATIONS REQUIRED?
Yes, I know. It's vacation. You want to relax and not have to be held to a plan, right? But in the case of any Disney vacation, a little planning goes a long way and that's especially true when it comes to dining. If there are restaurants you absolutely must eat at to have your perfect Disneyland experience, I highly recommend making your dining reservations ahead of time.
The good news is that no counter service restaurants require reservations. So you can very easily walk into these establishments, order, and enjoy your food within minutes! This is especially great when you're touring the parks and just want something quick in the middle of the day.
But what about those table service restaurants? Do you HAVE to have a reservation to eat there? It really depends. Disneyland is so much less about planning than Walt Disney World. It's very likely to walk up to a restaurant, wait for some time, and be able to grab a table. However, if you don't like waiting long periods of time, or you just really need to eat at a restaurant you've heard about, you're better off making a reservation. There are no guarantees any restaurant will have walk up availability on any given day so if there's somewhere important to you to try, you'll definitely want to make a reservation ahead of time.
Let's talk about those reservations! Disney calls them Advanced Dining Reservations (ADR's) and you may be familiar with them from Walt Disney World. Things are just a little different at Disneyland, though. ADR's can only be made at 60 days in advance of your preferred dining time. For all you Walt Disney World veterans who hate trying to figure out where you'll want to eat six months from now, it's time to rejoice! Another fantastic perk is that reservations don't get booked full the second the reservation system opens for the day! So if you want to sleep in or take a few days to think about it, you won't have many problems getting all the reservations you're looking for.
PLANNING AHEAD
You can see that Disneyland planning is a little more relaxed than its Florida counterpart, right? But one major difference that lax attitude brings is in the way you make your reservations. In Florida you're used to making all of your dining reservations at once, starting 180 days from the first day of your trip. Not so at Disneyland!
ADR's at Disneyland can only be made 60 days from the date you would like to dine. That means if your first reservation isn't until two days after you check in, you won't be able to make your reservation until 60 days prior to the date you'd like to eat. Confusing? Let me take it one step further! You also cannot make all ADR's for your trip at once – you must go day by day hitting the 60 day out mark for each date of your trip. I know, it seems a little strange, especially when you're familiar with the Florida way of doing things. But once you're used to the concept it's very easy.
And here's my pro tip: to save yourself from having to look online or calling the dining line every day, just wait until 60 days out from your final restaurant. That way, you'll be able to book everything for your entire trip – beginning to end – all at once! This is where that relaxed attitude about planning comes in handy!
When you're ready to make your ADR's you can do so by visiting the Disneyland website, calling 714-781-3463, or having your travel planner make them for you.
MOBILE ORDER
Remember when I said counter service restaurants didn't need ADR's? And that they are a great way to eat some fabulous food but still be flexible in your plans and quick with your time? It's all still true, but recently Disneyland added a way to make counter service dining even faster!
Last year mobile ordering was introduced to the Disneyland app. Once you've downloaded the app to your smart phone you can use it to order your food ahead of time from your phone! Just simply select which restaurant you're interested in, select items off the menu, enter your credit card information, and head to the restaurant. Once you're there, click the button that lets the restaurant know to start preparing your food. After a few minute wait you'll pick your order up from a special window and be on your way!
This is a fantastic way to avoid lines when it's super crowded. Or to limit the amount of time standing outside in the heat. Just be aware that sometimes it can actually take longer for your mobile order to be ready than if you just ordered the traditional way. Sometimes walking up and ordering is faster than going through the app. But if you're elsewhere in the park and you're ordering before you make your way to the restaurant, it's best to just click the 'I'm here' button and let them start preparing before you actually arrive. That way, you won't be waiting all that long to pick up your food.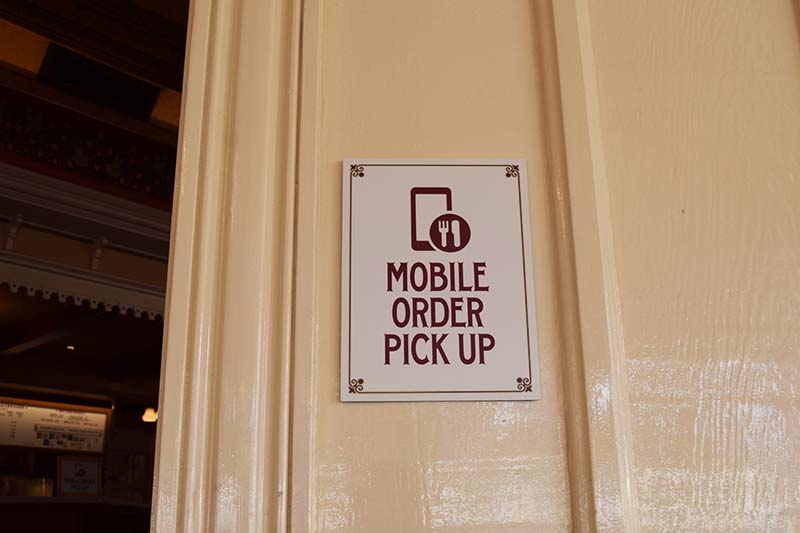 SNACKS, SNACKS, SNACKS!
If you read my blog post on my favorite Disneyland snacks, you'll know I think Disneyland does snacks better than anyone else. That's not an exaggeration – they continue to create new options all the time that are out of this world! I'd be remiss if I did an article on Disneyland dining and DIDN'T mention snacks!
Please be sure to save some room in your stomach to snack around the resort. In fact, you could really make an entire day doing all of your meals via snacks. You can read my post for my personal favorites. But some of the most iconic Disneyland snacks that every first time visitor should try are the churros, a corn dog from the Little Red Wagon on Main Street, and a chimichanga. Oh, and you should throw in a Jack Jack Cookie Num Num for good measure. You can thank me later.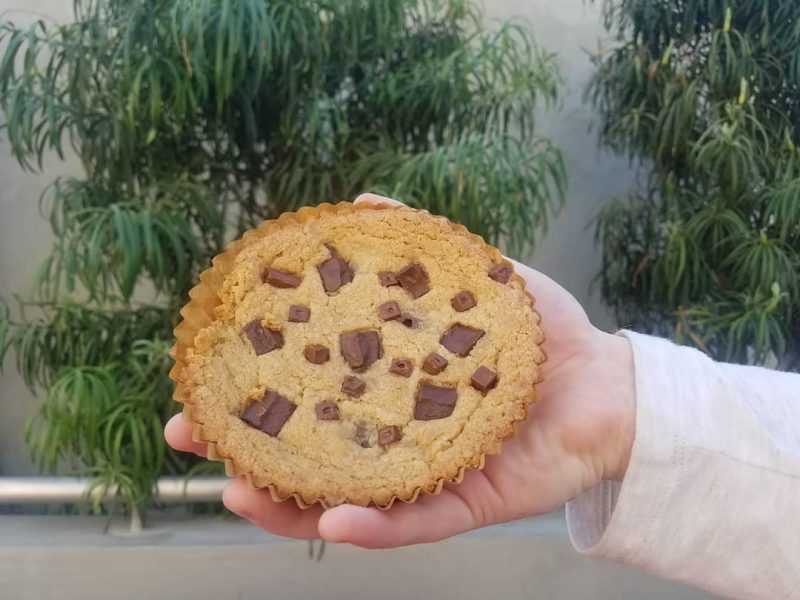 So there you have it! The basics of dining at the Disneyland Resort. If you keep these things in mind when planning your trip you'll be armed with all the information necessary to have the culinary time of your life when you visit!