I hope you're enjoying my series on how to plan your first visit to the Disneyland Resort! If you've been following along you've gotten an overview of everything Disneyland Resort has to offer and have an idea of what to expect. You've figured out where you want to stay. But now it's time to talk park tickets! Afterall, they're the main reason you're visiting in the first place! I'm going to break down how many days of tickets you'll need, Max Pass, and other area attractions that can be included so you can make the best decision on tickets that will work best for you!
HOW MANY DAYS DO I NEED IN THE PARKS?
Such a great question! There are two schools of thought here – people who want to spend every single day of their trip inside one of the parks, and people who want to spend enough time to see the highlights but would like to do other things in the area.
If you're looking for just the minimum amount of days to spend in the parks and still see the highlights, I'd recommend a three-day ticket. This will give you enough time to visit all of the things on your 'must do' list, as well as allow you to go back and do your favorites again. Plus, it will build in time for you to go slower so you're not rushing and takes into account the fact that the parks are usually crowded.
I think anything less than three days in the parks will cause you to be very rushed, and you don't want that. It's vacation – you want to be able to slow down and enjoy yourself!
If you'd like to spend as much time in the parks as possible (and who wouldn't? They're so much fun!), then I recommend a five-day ticket. Any more than that and I fear you'll run out of things to do. Plus, that's all you CAN get. Disneyland does not sell tickets with more than 5 days on them. If you really want more time in the parks, you can always purchase single day tickets at the gate or from their website, but remember, single day tickets are seasonally priced so the cost changes daily – be sure to check the Disneyland website for daily pricing!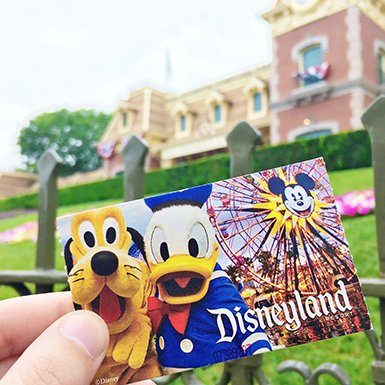 TO PARK HOP OR NOT TO PARK HOP?
The answer to this is YES!!!! ALWAYS YES!!! At Walt Disney World a Park Hopper isn't always necessary, but at Disneyland I truly believe that it is. Remember back in the first article I mentioned the size of Disneyland? This is where that works to your advantage!
Because everything is so close it is SO easy to start your day in one park, head to the other for lunch, go to your hotel for a swim, and then back to the first park for the evening show or parade. And remember those crowds I mentioned? When things get crowded at Disneyland you can pop over to California Adventure, grab a FastPass, and ride an attraction within minutes.
It's really a disservice to yourself to NOT get the Park Hopper here. If you want to make the most of your time at the Disneyland Resort then the Park Hopper is a must. It's worth the extra cost, and I promise you'll use it (at least three times)!
DISNEY MAXPASS – WHAT IS IT AND DO I NEED IT?
MaxPass can be confusing for some people – especially if you're a Walt Disney World veteran. Let's break it down!
MaxPass is essentially the FastPass+ service you know from Walt Disney World. It is the ability to make FastPass reservations directly from your phone on the Disneyland app. There are two major differences between MaxPass and FastPass+, though. They are:
1. MaxPass does not allow you to make your FastPass reservations in advance of your trip.
You can only use the service to book FastPass reservations once you use your ticket to enter the parks each day. From there, you can book FastPasses, one at a time, throughout the day.
2. MaxPass is not free – there is a charge to use the service.
At time of writing, the cost is $20 per person, per day. You can choose to package this into your reservation which will include MaxPass for the length of your park tickets. Or, you can purchase it daily after you enter the parks from the app. This will let you decide each day whether or not you'd like to use MaxPass.
There is an added bonus if you choose to go with MaxPass. Do you love all of those PhotoPass photos around the parks? They're all included if your purchase MaxPass! This way you get access to rides with little wait AND all the pictures to remember your trip by.
Whether or not MaxPass is right for you is an entirely personal decision. On one hand, it is expensive and if you have a larger party you may not want to spend money on it. But on the other, it's incredibly convenient to use and saves you from running across the parks to obtain a FastPass for later in the day. Plus, MaxPass users are usually treated to earlier return times on attractions than guests just using the standard FastPass service.
If your goal is to see and do everything, MaxPass is really going to help you accomplish that. Also, if you don't like stressing out about your plans or running from location to location just to get on a ride, you're going to LOVE MaxPass. But if you are more relaxed in your touring, don't care what attractions you ride or not, and you come back often then it's okay to skip the MaxPass!
OTHER AREA ATTRACTIONS
You mean there are things to do in Southern California that aren't Disney!?!? I know, impossible to conceive, but there are! And you might want to see them! The good news is, if you're booking a Walt Disney Travel Company package (either directly with Disney or with your Travel Advisor) you have the ability to package some into your reservation!
Some popular options are Sea World, the San Diego Zoo, Knott's Berry farm (especially fun during the summer when Ghost Town Alive is happening!) – you can include admission to all of these if you'd like. If you won't be renting a car you can include transportation to/from your hotel as well! Plus, there are options to include guided sightseeing of the OC beaches or into Hollywood to see the famous sights! It's easy to package this all together so your entire trip is taken care of in one reservation.
I hope this helps break down what park tickets might be right for you. Coming from the East Coast parks it can be daunting to figure out what might work for the California parks. Breaking down what you really want out of your California trip will help determine what type of ticket works best!
P.S. Now that you've found us, be sure to subscribe to our newsletter by taking our quiz or in the link on the side! You can also check us out on YouTube, Facebook, and Instagram!