Adventureland is one of my favorite places in Walt Disney World. For some reason I feel like Adventureland was Walt's favorite land, though I have no proof of that! It's a large land with a lot of things to see and do, including some interactive games and the world famous Dole Whips to eat!
Pirates of the Caribbean
Look out! Pirates have invaded a Caribbean seaport! This classic attraction takes you by boat through the town fraught with cannon fire, booty stealing, and all around madness as the Pirates cause distress on the townsfolk. You'll also catch a few glimpses of Captain Jack Sparrow himself as he seeks a legendary treasure.
The first few minutes of this attraction could be a bit scary for young children.
FastPass+ is available

Magic Carpets of Aladdin
Aladdin and Jasmine aren't the only ones who get their very own magic carpet! Hop aboard your own carpet and see Agrabah from above the ground. The front row button will control the height of your carpet, while the back row will control the pitch. Beware of the spitting camels!
FastPass+ is available
Jungle Cruise
Exotic! The Jungle Cruise is one of the classic attractions that Walt Disney himself helped design. Boats and their skippers (full of every corny joke imaginable) will take you through the rivers of Africa, South America, and Asia as you see animals from each of the respective areas.
FastPass+ is available, though the queue is chock full of interesting things to see and hear.
Swiss Family Treehouse
The Robinson family's boat crashed, but luckily they managed to salvage most of their things, including their writing desk and their beloved pipe organ, to make a home out of this extra large tree. Climb the steps all the way up and to see the intricate water system, library, bedrooms, and kitchen of the Swiss Family Robinson. Along the way you'll see plaques with excerpts from Father Robinson's journal, explaining much of their trials and journey.
Tip: This attraction has many stairs, and not much room for passing. Children (or adults) with small bladders should use caution before ascending the tree.
Walt Disney's Enchanted Tiki Room
This show, where "all the birds sing words and all the flowers croon," is so much fun! The entire room (and outside queue) is filled with audio-animatronic birds, flowers, and even totems. Join the birds and sing along- the song is an earworm (but in a fun way!).
This is fun for all ages, but does get dark and stormy at one point. The show is about 15 minutes long and runs continuously throughout the day. This is a great place to go to beat the heat or the Florida thunderstorms, but it's so charming it's worth going to on any day.
Dining
Aloha Isle
– Featuring Dole Whips and Sunshine Tree Terrace- with Orange flavored Dole Whips are two of the best places in Adventureland to get a snack. Whether you like the original pineapple treat, or the vanilla, orange, or a swirl you'll be all set. And they serve root beer floats too!
Tortuga Tavern
is a nice quick-service restaurant located across the thoroughfare from Pirates of the Caribbean. It's connected on the inside to Frontierland's Pecos Bill restaurant, so you can easily get food from either site. The menu is limited but still good, with short ribs, turkey legs, hot dogs, and the like. They also have soft pretzels and black bean chips (with hummus and sriracha for dipping).
Jungle Navigation Co., Ltd. Skipper Canteen
The newest restaurant in Magic Kingdom is the Jungle Navigation Co., Ltd. Skipper Canteen. Not only is the food really good, the whole restaurant (including the staff) is full of the puns we love to hate from the Jungle Cruise. The menu has a wide variety of food from chicken to prawns to steak, and has a really amazing bread service (Second only to Sanaa)! Take some time to look around and see if you can spot some references to Dr. Albert Falls and other Jungle Cruise characters and jokes.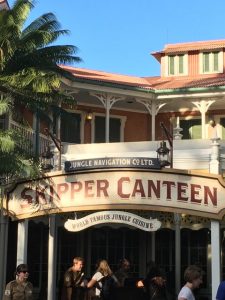 Other fun activities in Adventureland include A Pirates Adventure- Treasures of the Seven Seas. In this interactive scavenger hunt you search for treasure with a special map and clues to go throughout Adventureland and find the buried treasure. This game is free to play, just visit the Crow's Nest on the Frontierland side of Adventureland to pick up a map and instructions. It's a lot of fun and will take anywhere from 20 minutes to an hour or so.
There are several places to shop here too, and Aladdin and Jasmine often greet guests near the Magic Carpets.
Finally, kids can get dressed like a Pirate or a Mermaid at the Pirates League, a makeup and costume boutique in Adventureland. Similar to Bibbidi Bobbidi Boutique, packages range in price from $25-$85, with a wide variety in between.
With so much to do and see (and eat!) in Adventureland, you can see why it's one of my favorite places in Walt Disney World!