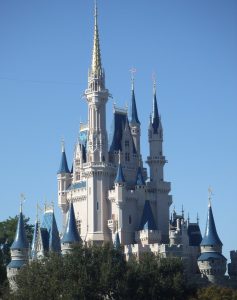 Fantasyland is the largest area of the Magic Kingdom and definitely the most family friendly of all areas in Walt Disney World! With almost no height requirements, just about every attraction is available to everyone in the family, no matter how large or small! The two roller coasters in Fantasyland are available to kids beginning at just 35 inches high so they are perfect beginning coasters for young children. The Walt Disney World Railroad has a stop here as well. And with multiple character meet and greets as well as many dining options, Fantasyland is indeed a fantastic way to spend the day!
Cinderella Castle
Standing almost 190 feet tall, Cinderella Castle is arguably one of the most recognizable icons in the world. This towering castle welcomes you to the Magic Kingdom. Inside the castle are murals depicting Cinderella's story. As you walk through the castle you can imagine yourself going into a world of fantasy, and on the other side you will see just that- Fantasyland. You can become a princess in the Bibbidi Bobbidi Boutique and you can dine with Cinderella, her Stepmother, and her Stepsisters inside the castle at Cinderella's Royal Table.
"it's a small world"
"…There's so much that we share that it's time we're aware it's a small world after all." These words by the Sherman brothers sum up this attraction perfectly. Climb aboard a boat for a tour around the world, where you can see children and animals with symbols of many of the world's countries and regions. The final scene brings them all together and you get to hear the lyrics of this timeless song.
Height Requirement: any
FastPass+ yes
Peter Pan's Flight
How else but with Disney magic can you fly over London and Neverland in a pirate ship? Join Peter Pan and the Darlings as they leave the nursery and go past Big Ben, London Bridge, and the moon and make it to Neverland, where they encounter mermaids, Lost Boys, and, of course, pirates! Led by the nefarious Captain Hook, the pirates capture our heroes and Peter Pan must come to the rescue. Listen carefully and you just might hear the tick-tock of the crocodile waiting to feast on Captain Hook!
FastPass+ is available and highly recommended. This is a very popular attraction and the lines can get quite long, but the new queue is a lot of fun if you do have to wait.
Height Requirement: any
FastPass+ yes
Mickey's PhilharMagic
Don't touch Mickey's magic hat! Donald learns this lesson the hard way as he is swooped up and into the worlds of Ariel, Peter Pan, Aladdin and Jasmine, Lumiere and Fantasia.
This is a 3D show, and you will be given "opera glasses" to wear.
Height Requirement: any
FastPass+ yes
Enchanted Tales with Belle
Join Belle to hear the story of Beauty and the Beast from the Beauty herself. Audience participation is a must here as Belle is without her supporting cast. Belle will take photos with the guests as a meet and greet after the show too!
This unique storytime takes place in the in the cottage near the Be Our Guest restaurant.
Showtimes will vary daily, so be sure to check the My Disney Experience app or Times Guide for the schedule.
Height Requirement: any
FastPass+ yes
Seven Dwarfs Mine Train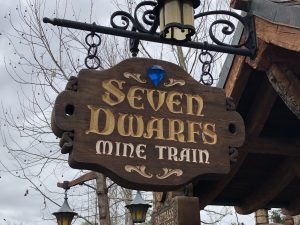 Part roller coaster, part dark ride, this attraction is so much fun! The coaster doesn't go too fast, but it does have some nice hills. The inside with the Dwarfs hard at work is great- notice all the details in the Dwarfs faces! The mine cars sway left to right as well, so ride in the back if you want extra movement.
FastPass+ is available and recommended, though the queue is pretty fun once you get inside so if you can't get a FP+ you'll have some entertainment. The lines on this can get quite long so try to ride first thing in the morning or last thing at night.
Height Requirement: 38 inches
FastPass+ yes

Under the Sea~ Journey of The Little Mermaid
Join Scuttle as he tells the story of Ariel- from her days as a mermaid wishing she could be a human all the way up to becoming a human and fighting off the Sea Witch Ursula. You'll board a slow-moving clam-mobile and hear songs from the movie, with Sebastian and Ursula herself (in an amazing, enormous audioanimatronic form). This is a must-do attraction for every trip!
Height Requirement: any
FastPass+ yes
The Barnstormer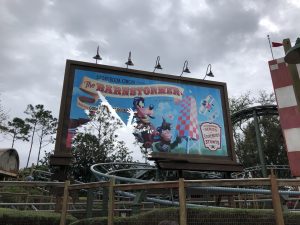 If Goofy designed a roller coaster, this is exactly what it would be! It's a lot of fun and perfect for a child's first roller coaster experience. The ride is short but goes pretty fast.
Height Requirement: 35 inches
FastPass+ yes
Prince Charming's Regal Carousel
Up, down, and around. This carousel is fun and suitable for all ages. If a horse doesn't suit you, you can ride on one of the benches on the deck. Take a look around at all the unique, hand-painted horses aboard this magical merry-go-round.
Height Requirement: any
FastPass+ no
The Many Adventures of Winnie the Pooh
Climb into your very own Hunny Pot and join Pooh and his friends on an adventure! You'll travel through the Hundred Acre Wood and see and hear all of the things Pooh, Piglet, Tigger, and Rabbit might see. This is a very popular attraction and Fastpass is recommended.
Height Requirement: any
FastPass+ yes
Mad Tea Party
These teacups are one of Walt Disney World's most famous attractions. The Mad Hatter and March Hare from Alice in Wonderland are the hosts of this tea party that can be truly maddening! The teacups are unique- they spin on three turntables- and you control the speed of your own teacup. Whether you choose to spin fast, slow, or not at all, you'll surely find a speed that is just your cup of tea!
Height Requirement: any
FastPass+ yes
Dumbo The Flying Elephant (Storybook Circus)
Have you ever wanted to ride an elephant? How about a flying elephant? You can in Fantasyland, where you'll board your Dumbo (equipped with his Magic Feather, of course) and ride in circles, and up and down if you choose. This attraction is very popular and lines can get quite long. Fastpass+ is available, but with the virtual queue play area you might not want to use it!
Height Requirement: any
FastPass+ yes
Characters
Fantasyland has many character meet and greets! Princess Fairytale Hall has Rapunzel, Cinderella, and usually Tiana and Elena of Avalor too. You can also meet Ariel in her grotto next to the Little Mermaid ride, and Goofy, Pluto, Donald, and Daisy in Pete's Silly Sideshow in Storybook Circus. Other characters mill about the area too, the Cinderella characters- Fairy Godmother, Lady Tremaine, Anastasia, and Drizella- Peter Pan, Wendy, Pooh and Tigger, even Gaston can be found in select locations in Fantasyland. And don't forget about Belle after Enchanted Tales!
Dining
Last but not least is dining! There are a lot of restaurants and snack options in Fantasyland!
Cinderella's Royal Table is a Princess meal inside Cinderella Castle. You can meet Cinderella (of course), but also possibly Ariel, Jasmine, Aurora, Belle, and Snow White. It's open for breakfast, lunch, and dinner, and is a neat place to eat. Reservations are a must, and if you don't have the Disney Dining Plan you must pre-pay for the meal at time of booking. If you do have the Disney Dining Plan you'll have to use 2 credits for lunch and dinner.
Be Our Guest Restaurant is unique in that it's a quick-service location for breakfast and lunch, and a table service location for dinner. Reservations are extremely difficult to get, so you will need to book early (like right at your 180 day mark). This is the only restaurant at Walt Disney World where you'll need a reservation for a quick service meal. Once inside, you'll see the gorgeous Ballroom, West Wing, and Rose Gallery. You can request a specific area for seating. The West Wing is the most popular, but it's dark and somewhat loud, so keep that in mind for small children.
Other restaurants in Fantasyland should not be ignored though! Pinnochio Village Haus has pretty decent flatbread pizzas and macaroni and cheese. Gaston's Tavern has cinnamon rolls, sandwiches, and LeFou's Brew, a delicious frozen apple juice drink. The Friar's Nook is open seasonally but it has tater tots- loaded almost however you like them! Snacks can be found at Prince Eric's Village Market, Cheshire Café, and Storybook Treats.
My series on the Magic Kingdom is almost finished- you can read my previous posts on Frontierland, Adventureland, and Tomorrowland.