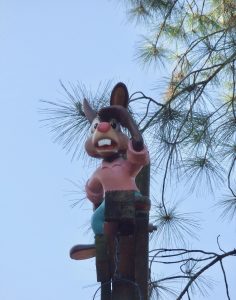 Of the 6 themed lands in the Magic Kingdom, there are so many reasons Frontierland is my favorite! Besides all of the really great attractions, the Old West theming is so charming! Two of the most popular attractions can be found here (and 2 out of 3 MK "mountains"), but there's a lot more going on. You can often find characters such as Woody, Jessie, and Chip & Dale, and you can also find the Frontierland Band, complete with banjo and sousaphone! Frontierland is also home to the infamous turkey legs in Magic Kingdom! The Walt Disney World Railroad has a stop here as well. Frontierland is a great place to watch a parade or fireworks, too.
Splash Mountain
If you've ever wanted to jump into the feet of Brer Rabbit and foil Brer Fox and Brer Bear, then Splash Mountain is perfect for you! Splash Mountain lets you ride a log through the Fishin' Hole, Chick-a-Pin Hill, the Laughing Place, and of course the Briar Patch where you'll plummet 50 feet down to a show boat full of singing chickens. Splash Mountain has the perfect amount of fantasy, adventure, and fun for every Disney fan!
Height Requirement: 40 inches, Fastpass+ Available
Big Thunder Mountain Railroad
Hop aboard a steam train for the "wildest ride in the wilderness!" Big Thunder Mountain twists and turns you through caverns and mines while you enjoy the ride. There's lots to see here, from a man in a bathtub to mountain goats to stalactites and stalagmites. This is a great scenic train ride with a dash of adventure!
Height Requirement: 40 inches, Fastpass+ Available
Tom Sawyer Island
Take a short raft ride over to Tom Sawyer Island and experience adventure! Tour the fort, the blacksmith's shop, and Harper's Mill before taking a rest and drinking lemonade on Aunt Polly's porch. The barrel-floating bridges are fun to cross and the caverns are exciting to explore. Pro tip- the water fountains back by the fort are some of the coldest on WDW property!
Country Bear Jamboree
This 15-minute show features Audio-Animatronic bears pickin' and singin'. Hosted by Henry the Bear, and starring such performers as Big Al, Teddy Barra, and Liver Lips McGrowl, the Country Bear Jamboree is a foot-stompin' good time! You'll hear songs titled My Woman Ain't Pretty (But She Don't Sware None), How Long Will My Baby Be Gone? and of course The Ballad of Davy Crockett. Besides being a cute show, the Country Bear Jamboree is a nice cool place to sit down when you need a break.
Check Magic Kingdom guide for showtimes, but usually they run continuously throughout the day
Shopping
There are a few stores in Frontierland. One is the Briar Patch located near Splash Mountain. Here you can find Winnie the Pooh and friends, and some fun Splash Mountain memorabilia. There is also the Frontierland Trading Post, which is mainly Disney Pin Trading and accessories, but there is some other neat merchandise inside as well.
Dining
Frontierland has a few restaurants and a lot of food carts- turkey legs, popcorn, churros, ice cream. The largest "cart" is Westward Ho, near the Rivers of America, and here you can get corn dogs, frozen lemonade, and warm cookies. They also have breakfast sandwiches if you're there early enough.
The Golden Oak Outpost is on the Adventureland side of Frontierland and has an assortment of foods such as chili queso fries, jalepeno poppers, and fried cauliflower. The main restaurant in Frontierland is Pecos Bill Tall Tale Inn & Café. It serves salads, nachos, burgers, and the like, but the best part (besides the indoor, air-conditioned seating) is the toppings bar! You can load up your salad or burger with just about any topping you can think of. It's a pretty popular place to eat in Magic Kingdom, so try and go early or late to get a table on a crowded day.
So that's Frontierland in a nutshell! It's one of my most favorite parts of Walt Disney World!