There are three hotels at the Disneyland Resort, and the flagship of those is the Grand Californian Resort & Spa. This resort is sprawling and designed in the California Craftsman style. That means there are beautiful dark woods, cozy nooks for relaxing, and a tranquil atmosphere. It also happens to be the most luxurious of the three resorts – which means you know I love it. Here are all the reasons I love Disney's Grand Californian Resort & Spa:
LOCATION, LOCATION, LOCATION
The Grand Californian has the best location of the three Disney resorts, and it's probably the single best reason to stay here. The resort is located right next to Disney's California Adventure, which means it's less than five minutes from your room to the park. It even has its own private entrance into the park that only resort guests can use. If you've seen the lines to get into the parks at peak times, you know how special this is. Any time I don't have to wait 10 minutes just to start enjoying the day is a bonus. Plus, the location makes it so easy to pop back to your room in the middle of the day for a rest. Or if you've forgotten something you don't feel like it takes a chunk out of your day to go grab it.
And if you're wanting to head to Downtown Disney there's a private entrance for that, too. You'll enter the shopping district right in the middle, which means it's easy to get to any restaurant or shop. And heading to Disneyland is easy, too. Just head out the Downtown Disney exit and towards the Esplanade and you'll be at Disneyland in less than 10 minutes!
This is honestly my favorite thing about this resort. I love waking up and being able to head right into the parks without a long walk. That's especially important at the end of the night when I'm exhausted and my feet are tired and all I want to do is sit down.
BRAND NEW ROOMS 
A couple of years ago the Grand Californian updated all their guest rooms and the result was stunning. They are still in the Craftsman style, but the result is somehow lighter and airier. The headboards over the beds are beautiful – paintings of orange trees grow from the center of the beds and grow out over the beds. And if you look closely, you'll see Chip and Dale scampering through the branches.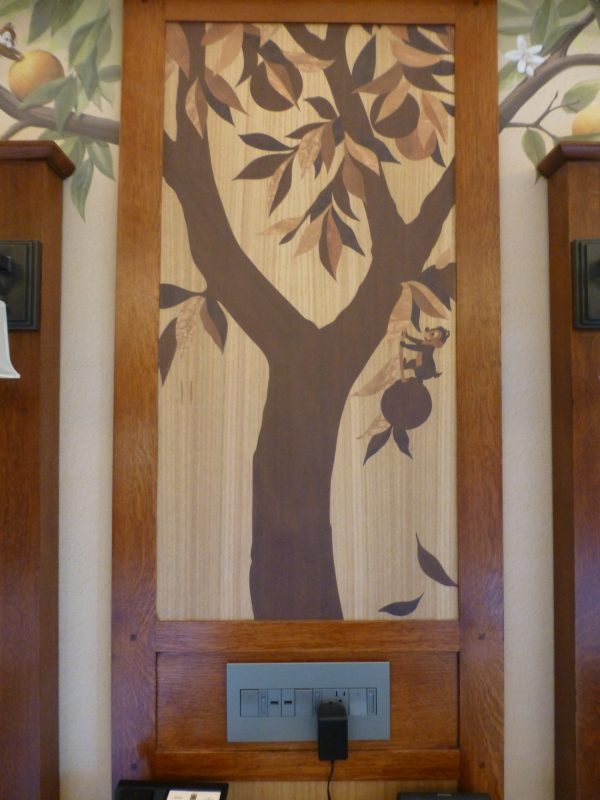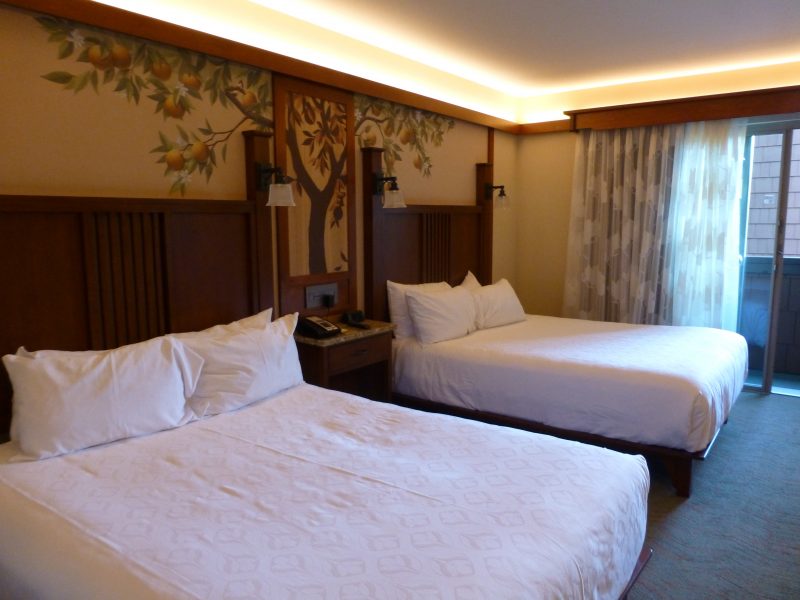 There's now a beverage station with a Keurig and little refrigerators to keep your drinks cold. And in true Disney fashion, every little detail was thought about – even ones we may not realize we're looking at. For example, if you look in the granite of the counters you'll notice broken up glass from wine bottles embedded in there. This is a nod to California's rich wine making industry. In some rooms you'll also find prints from old orange crate labels (that hint at famous Disney locations throughout California), and linocut prints of our favorite woodland friends, like Bambi.
The bathrooms got a complete overhaul, too. They're beautiful, of course, but the most important thing to note is that most of them have walk-in showers. So, if you're a family that needs a bathtub be sure to request one when making your reservation.
But probably my favorite new detail is something you might not think is important until you get on vacation and you don't have them. The new rooms have outlets everywhere! And not just standard outlets, but also HDMI chargers as well. I can't tell you how nice it is to not have to unplug various electronics just to try and get everything charged. Now I can plug in all my gadgets at once and not have to hunt for a plug. After all, isn't the perk of vacation not having to stress about anything?
RESTAURANTS AT DISNEY'S GRAND CALIFORNIAN
I think you all know by now that I love to eat. And the Grand Californian has some of my favorite places to grab a bite. Their quick service restaurant, White Water Snacks, has such a great menu for a fast bite to eat. Beyond your standard burgers, I had the best avocado toast here for breakfast. I loved it so much I went back the next morning. They put pomegranate seeds and balsamic vinegar and somehow this combination of sweet and savory that I never would have thought of worked brilliantly. Go try it now!
There's also a buffet here, Storyteller's Café, that kids love for the characters. Mickey and friends appear at breakfast and lunch, sending little ones over the moon. But at dinner the buffet is without characters so you can get your all-you-can-eat fix with a quieter environment.
Easily the fanciest restaurant at the entire Disneyland resort is here, too. Napa Rose is a AAA Four Diamond award winner and features upscale Californian cuisine with a vast wine list (and their cocktails are pretty great, too!). The menu changes seasonally, so there's always a reason to go back. But the food is outstanding. There are flatbread appetizers, sides of macaroni and cheese, and some of the most beautiful steaks you can imagine.
For an incredible treat, book a seat at the Chef's Counter, where you can watch the kitchen team cook up your meal right in front of you. It's super exclusive so reservations are definitely recommended. Want something more casual? You can always grab a seat in the Napa Rose Lounge to share some appetizers and linger over a glass of wine. Recently, Napa Rose also started offering a three-course character breakfast featuring the Disney Princesses – a meal absolutely fit for royalty!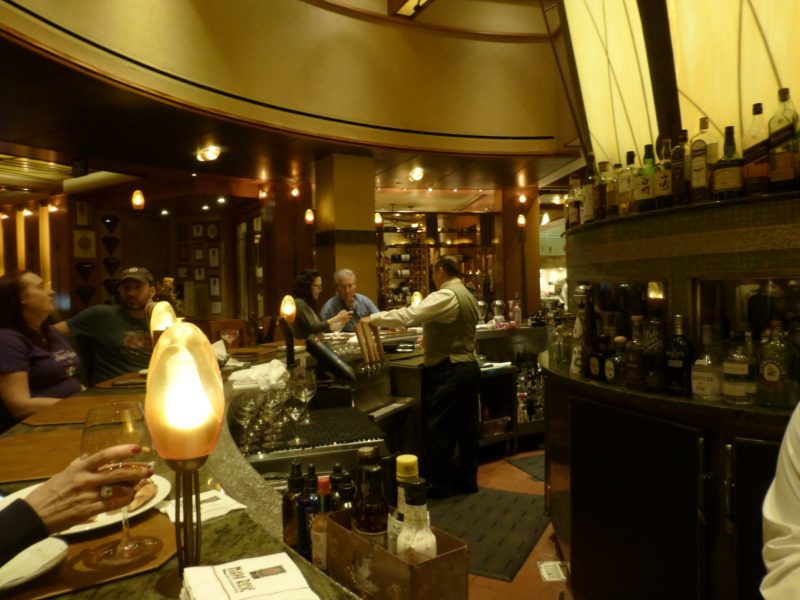 One of my favorite hidden places at the Grand Californian is the Hearthstone Lounge. Tucked into the corner of the lobby this lounge is the perfect place to unwind with a nightcap at the end of your day. There are comfy leather sofas to curl up in, and if you can get one in front of the massive fireplace you're in for a real treat. Plus, there's a small menu of flatbreads and other appetizers that are out of this world. Do yourself a favor and stop in for a cocktail (or two!) and enjoy the atmosphere.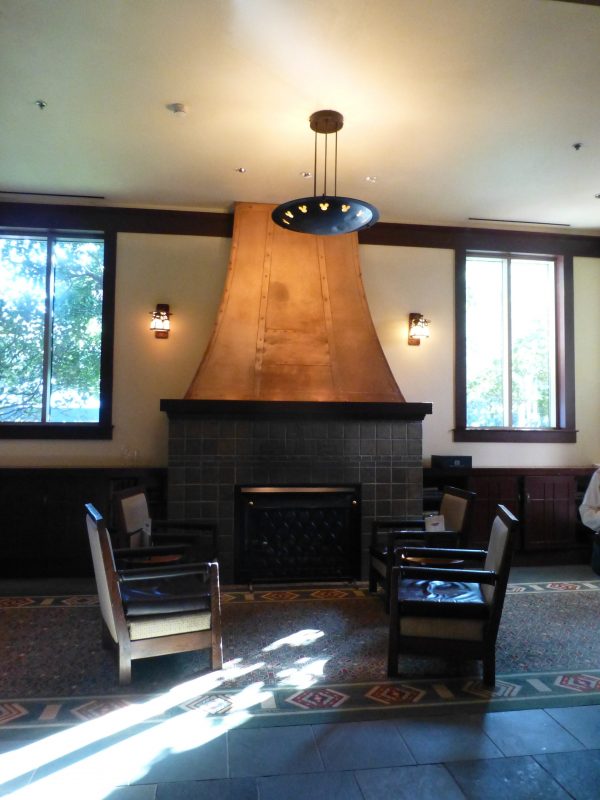 Disney's Grand Californian Resort & Spa has really become my favorite place to stay when I visit the Disneyland resort. Not only because it's beautiful, but because the location makes it the perfect place for me to base my stay. Not having to wait in lines and not having more than a few minutes' walk to the parks is so essential to me. It really helps me have the best experience possible. I'd love to hear from you if you've stayed here. Let me know what you love about the Grand Californian!