Just thinking about Hawaii evokes images of a serene tropical getaway where ocean breezes mingle with the scent of plumeria. Where surfers ride waves with the sound of ukuleles playing in the distance. For most, Hawaii is a bucket list destination worthy of childhood dreams. It's no secret that here at Disney Park Princess we believe in being pampered on vacation. Five star hotels are our destination of choice, and when we visit the island of Oahu it's hard to beat a stay at Disney's Aulani Resort and Spa. The resort somehow manages to mix Disney whimsy with the natural beauty and lore of the Hawaiian Islands. Here, let's look at the top five reasons why we love Disney's Aulani Resort and Spa.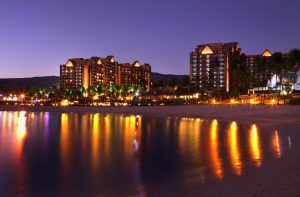 LUXURY ACCOMMODATIONS
So much more than just a place to rest your head at the end of the day, Aulani offers a full luxury experience. From the second you arrive you are treated like Hawaiian royalty. You'll be treated to a traditional lei greeting and offered a cup of the most delicious citrus water before being escorted inside the open air lobby to take your first gaze across the grounds to the ocean. Here is when you begin to relax and realize you are officially on vacation. The rooms at Aulani do not disappoint, either. Choose from standard hotel rooms, suites, or 1, 2 and 3 bedroom villas. You can choose different views as well, but you're in Hawaii – you should definitely go with the ocean view. Imagine waking up each morning and sitting on your balcony with a cup of coffee gazing across the horizon. The feeling is pure magic.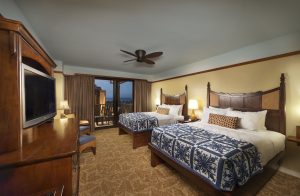 Beyond the rooms, the Disney Imagineers have thought of everything. The artwork throughout the resort is all Hawaiian – be sure to take one of the walking tours to learn about it all. You'll also find Menehune (dwarf people of Hawaiian tradition that hide in the forests and build temples, roads, etc. overnight) hidden throughout the resort; a fun game to play with your family to see if you can find them all. What's most impressive is that the cast members at Aulani seem to know what you need before you realize you need it. On hot days water is abundant at the pool and it's not unusual to find cast members passing out complimentary popsicles to sunbathers. And if you have a late flight home? Aulani has thought of that too. They offer the Luana Lounge so you can spend another day at the pool or beach, then shower and relax before heading to the airport. There's even a dryer to dry off swimsuits before putting them in your luggage.
ACTIVITIES
Sure, we go to Hawaii for the beaches and the history just like everyone else. But sometimes we want to get off the lounge chair and do something! That's where Aulani has everyone beat. They have a daily activities list a mile long – and you can pick up a copy of the Daily I'wa (schedule) each day to track what you want to do. There are yoga classes overlooking the ocean, circuit training on the beach, Hawaiian arts and crafts, hula and ukulele lessons, art walks, star gazing, and storytelling around the fire pit. All of that is enough to keep us busy for hours. And the best part? There are no resort fees! Anyone who travels to Hawaii knows that hotels are famous for their resort fees, but you'll find none of that at Aulani. Some activities do have a nominal charge, but most are included in your resort stay.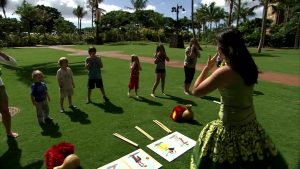 Also included in your resort stay is Auntie's Beach House. Little ones ages 3 – 12 can enjoy everything from science experiments to storytelling to movie nights. 'Auntie' and 'Uncle' oversee all activities and kids can come and go as they please. Be sure to sign your keiki (Hawaiian for children) up in advance online to avoid having to wake up early and wait in line to sign up for that days' programming.
Love snorkeling? Aulani has you covered! At Rainbow Reef you can enjoy up close encounters with tropical fish – the only private snorkeling lagoon on Oahu. The saltwater lagoon is home to thousands of tropical fish and is a great alternative to open ocean snorkeling for those who may be a little nervous (ahem, Disney Park Princess Heather…). You can use a traditional snorkel and mask, or splurge on the supplied air snorkeling option – and be sure to keep your eyes open for a Menehune or two! There's also a viewing window where you can watch and take pictures of your loved ones in the lagoon.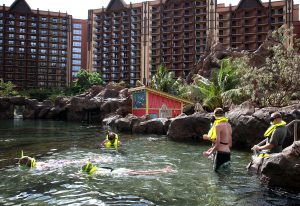 But maybe our favorite activity of all? The Menehune Adventure Trail! This is an interactive scavenger hunt (similar to Agent P's World Showcase Adventure at Epcot) where Auntie needs your help resolving some problems those mischievous Menehune have created around Aulani. Surprises abound on these adventures and it helps you discover many corners of the Aulani resort. So much fun for adults and children alike, so be sure to take some time to do one (or all!) of the trails.
LANIWAI SPA
There are few things we love more in the world than a good spa. And quite possibly the best spa we've been to is the Laniwai Spa at Aulani. No matter what treatment you book, arrive at least an hour before your treatment so you can spend some time in the Kula Wai gardens. This is Oahu's only outdoor hydrotherapy garden and it is legit heaven on earth. Enjoy luxuriating in the private vitality baths, soaking pools, six unique waterfall rain showers, whirlpool jet spas and more. In addition, you can blend a complimentary Hawaiian body polish at the mixology station, Pulu Bar. There's also a reflexology path and a lounge area with a menu of healthy foods and beverages. With so much to enjoy you can spend hours relaxing in this sanctuary – and bonus! You can stay as long as you'd like before and after your treatment, so plan on making a day out of it.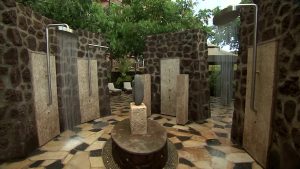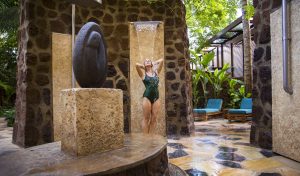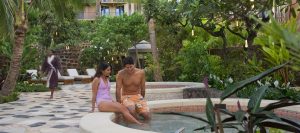 WAIKOLOHE VALLEY
The main feature of Aulani is the Waikolohe Valley – the pool area of the resort. We can go on for hours about this area of the resort. In addition to the main pool area there are two slides and a lazy river. There's also the Ka Maka Grotto – an infinity pool overlooking the ocean. Like the infinity edge? Then make sure to visit the two level whirlpool spas with ocean views. It's the perfect spot to watch the sunset with someone special. In addition to areas for the whole family, keiki have their own interactive splash zone that resembles a tide pool, as well as the Menehune Bridge – a special water play area constructed by those mischievous little creatures. Alternatively, there's an adult's only pool area – complete with pool bar and relaxing music – for mom and dad to enjoy while the little ones are in Auntie's Beach house.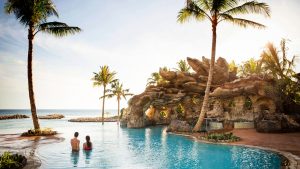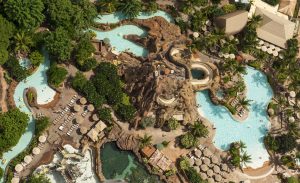 THE AULANI FAMILY
But maybe the best part of Aulani, and any destination at all, are the cast members. The staff at Aulani go above and beyond to make you feel like part of their o'hana (family). They treat you as if they've known you forever and make you feel at home. They teach you about their culture, which is really the most important aspect of travel. They anticipate your every need – a true aspect of a luxury resort. And we can't think of another resort that manages to make every guest feel as if they have been welcomed into someone's home.
Have you stayed at Aulani? We'd love to hear what your favorite part was. What are you most looking forward to on your next trip? And if it's the shave ice and drinks in the Olelo Room we'll be sure to meet you there!