Disney's Animal Kingdom Lodge is one of the most iconic resorts at Walt Disney World. With its distinctive architecture, and incredible views of wildlife, this resort is definitely a resort worth trying! But Disney's Animal Kingdom Lodge is not for every family or for every trip.
When it opened in 2001, Disney's Animal Kingdom Lodge quickly became a "must do" option for animal lovers. The building itself is designed to resemble a kraal (traditional African village) and is horse-shoe shaped.  The lobby features a thatched ceiling, mud fireplace, and extensive collection of African artwork.
But the hotel is not the main attraction! It is the grounds of the resort that truly amaze visitors, with over 200 mammals and birds roaming throughout the 46 acres. Guests can spot giraffes, zebras, wildebeests, and flamingos as well as many others.
Accommodations
Disney's Animal Kingdom Lodge has over 950 rooms including standard view, pool view, and savanna view rooms. But let me be brutally honest – if you are not going to stay in the savanna view room, pick another resort! Being able to enjoy coffee on your balcony while giraffes nibble on nearby trees is an incredible experience, not to be missed.
Rooms sleep four guests with the exception of Deluxe Rooms and Suites. In addition to the usual rooms, Disney's Animal Kingdom Lodge also offers Club Level rooms. Guests with larger parties or who want more space can book Villas at Disney's Animal Kingdom Lodge – Jambo House (in the main buidling) or Kidani Village (located in a separate part of the resort).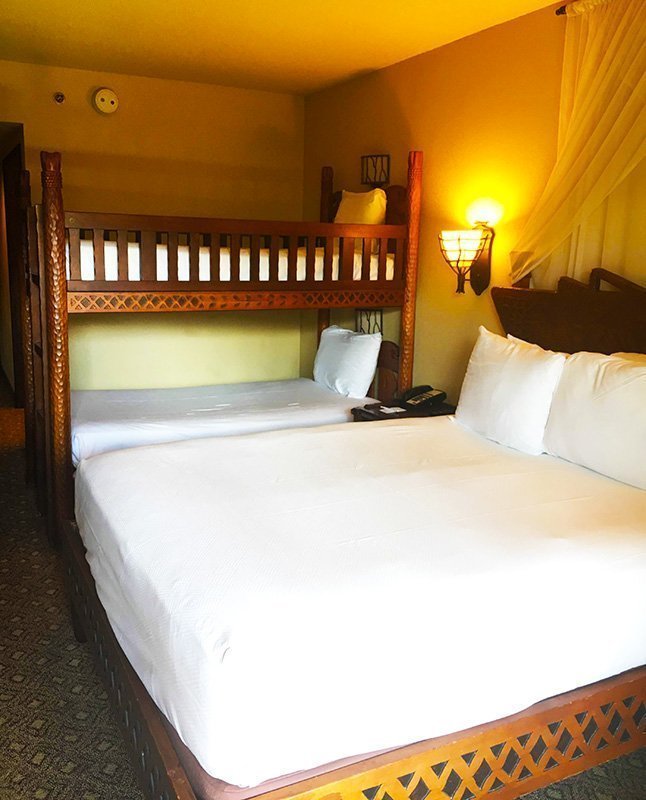 A bunk bed room at Disney's Animal Kingdom Lodge
Amenities
The 9000 square foot Uzima Springs Pool at Disney's Animal Kingdom Lodge offers a savanna view with your swim! In a classic case of "Who is watching who?", guests can keep an eye on the animals of the savanna while they swim. (And vice versa!) Two hot tubs offer the perfect way to relax at the end of a busy day. The Hakuna Matata playground is near the pool for younger kids to burn off some energy.
The savannas are clearly the best part of a stay at Disney's Animal Kingdom Lodge. And while you can see a lot of animals throughout the day, nighttime has its own special magic at this resort. Night vision goggles give guests the chance to spot some of the resorts nocturnal residents. And the outdoor fire pit has storytellers to both entertain and enlighten!
Pumba's Fun & Games Arcade is a great way to spend some time on a lazy resort day, or rainy day.
Dining
The only thing that may be able to compare with the incredible savannas at Disney's Animal Kingdom Lodge, is the food! The resort has two full service restaurants – Jiko (an incredible Signature Dining restaurant)  and Boma (a delicious buffet). The Mara is the resort's Quick Service location. There are also lounges and pool bars offering drinks and snacks. (DPP Tip: Victoria Falls is our favorite place to grab a drink and relax listening to the sound of the falls!)  And over at Disney's Animal Kingdom Lodge Kidani Village is one of my personal favorites – Sanaa.
Transportation
And here we come to one of the few negatives of this resort. Disney's Animal Kingdom Lodge is located adjacent to Disney's Animal Kingdom park. Which means that this resort is pretty much as far as you can be from any of the other parks.
Bus transportation is the only free service available to other destinations around the Walt Disney World Resort. This means that you are a good 20 minutes or more by bus from any of the other parks – Magic Kingdom, Epcot, Disney's Hollywood Studios or Disney Springs. Want to get there faster? Try Disney's Minnie Van service!
Conclusion
Disney's Animal Kingdom Lodge is the perfect resort for a "Do Less, Enjoy More!" trip. This resort is also a great option for a relaxing pre- or post-Disney Cruise stay! Guests wishing to stay more in the middle of the action may wish to consider a resort such as Disney's Beach Club or Disney's Grand Floridian. A Savanna View Room at Disney's Animal Kingdom Lodge is a must!
Have you stayed at Disney's Animal Kingdom Lodge? Let us know in the comments what YOU loved!
LOVE DISNEY VACATIONS?
Don't miss any of our DPP vacation tips. Plus get a free gift instantly!