Disney's Boardwalk Inn offers the perfect mix of nostalgia and a luxury hotel experience. It is quickly becoming one of my favorite Walt Disney World resorts! Often overlooked in favor of its neighbors the Yacht & Beach Club, I might argue that in fact, this resort is a better option for some guests. (::gasp::) Learn why we love Disney's Boardwalk Inn! 
Overview
Opened on July 1, 1996, it is appropriate that it always feels like summer at Disney's Boardwalk Inn. Themed to the Atlantic Seaside Resorts at the turn of the 20th Century, the Boardwalk Inn is located in the Epcot Resort area, on Crescent Lake.  Much like Disney's Beach Club, Disney's Boardwalk Inn is located just a short walk from both Epcot and Disney's Hollywood Studios. But what sets this resort apart from the other Epcot area resorts is an entertainment district with yes – an actual wooden boardwalk!
Disney's Boardwalk Inn is eclectic in both its décor and its offerings. This resort wins all the awards for small details! There are nods to the Jersey Shore everywhere you look. (No, not Snooki and her crew. The REAL Jersey shore!) Listen carefully and you will hear carnival music in the lobby and on the grounds of the resort. Walk down the hall from the lobby to the Bellevue Room where you can find an old-fashioned radio that actually plays music! And on the Boardwalk itself the smell of cotton candy and funnel cakes lures you in.
Accommodations at Disney's Boardwalk Inn
There are 372 guest rooms at Disney's Boardwalk Inn. Rooms are an average of 370 square feet and offer garden or water views. There are also Deluxe Rooms which offer slightly more square footage at 530 square feet. In addition to the usual room types, the Beach Club also offers Concierge Level rooms and suites. Concierge rooms are located on the fourth floor of the hotel, and include access to the Innkeeper's Club (concierge lounge) where guests can get snacks and drinks throughout the day as well as assistance from the Concierge team with planning.
Most rooms have two Queen Beds and a sofa that converts to a twin bed. Some rooms have one King Bed and the convertible sofa. (Check out the video below for a room tour!) King BEds can be tough to come byat Walt Disney World so if this is important to you, make sure to note this request when you book! (Or have your Travel Agent add the request to your reservation.)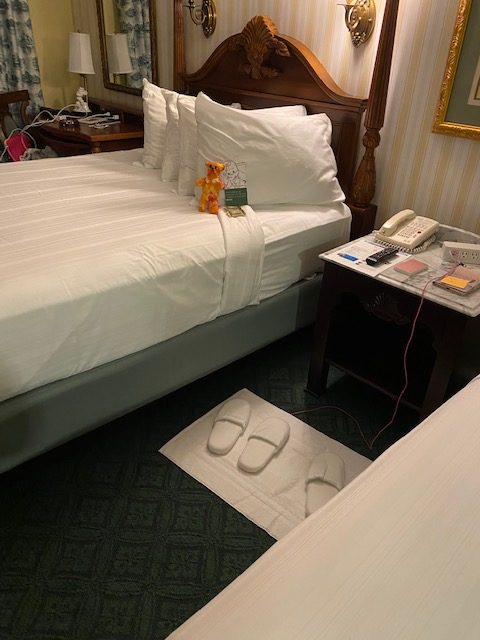 Turn down service is included for Concierge rooms and you get slippers!
But the stand out accommodations are the Garden Cottages! Booked as "Outer Building Concierge Garden Rooms" these charming cottages sleep two people. Enter through a white picket fence gate and pass through the front rose garden to the door. Inside you will find a comfortable living room. Upstairs is the loft bedroom with a King Bed and full bathroom. It is the perfect option for a honeymoon! These are our favorite accommodations at Disney's Boardwalk Inn.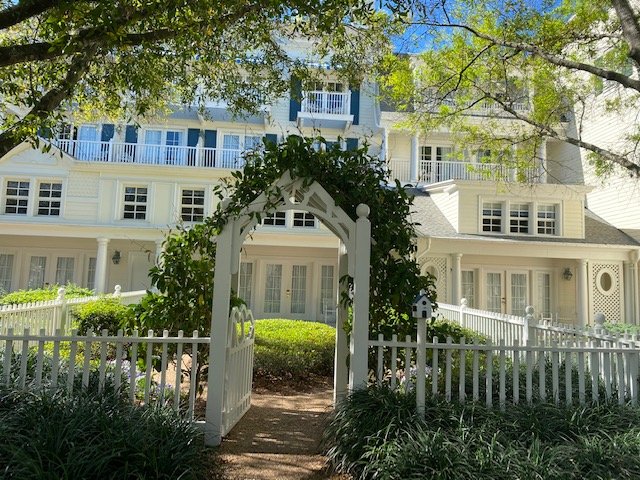 Amenities at Disney's Boardwalk Inn
Luna Park Pool is the main pool complex. The pool slide received a big upgrade in our opinion from the previous "clown" slide to the new Keister Coaster! Modeled after the wooden roller coasters found on the East Coast, this thrilling slide is 200-feet long. There are also two leisure pools at the resort, one in the Luna Park Pool area, and another on the other side of the resort. Leaping Horse Libations is the pool bar.
There is a playground for kids with a jungle gym and other carnival-themed playground equipment.
Trying to stay fit on vacation? Muscles and Bustles Fitness Center is a fully equipped gym.
Guests can also enjoy S'mores and Movies under the Stars. Not to mention all of the activities on the Boardwalk which we will get to next!

Photo Courtesy of Disney
Dining and Entertainment Options
Even if you aren't staying at the Boardwalk, you should DEFINITELY still plan a visit one night! The Boardwalk entertainment district is a quarter-mile homage to Coney Island and Atlantic City. (Without the gross casinos!) Rent a Surrey Bike, have your palm read, and grab a funnel cake.
Then you can enjoy one of the MANY restaurants and/or lounges on the Boardwalk! Whether you want a place to catch "the game" (ESPN Club) or are looking for a Signature Dining experience like Flying Fish, there is something for everyone. Want to dance the night away? Atlantic Dance Hall and Jellyrolls are the perfect way to start OR end your night! But if you are looking for us, we will be at Abracadabar – the magic themed lounge.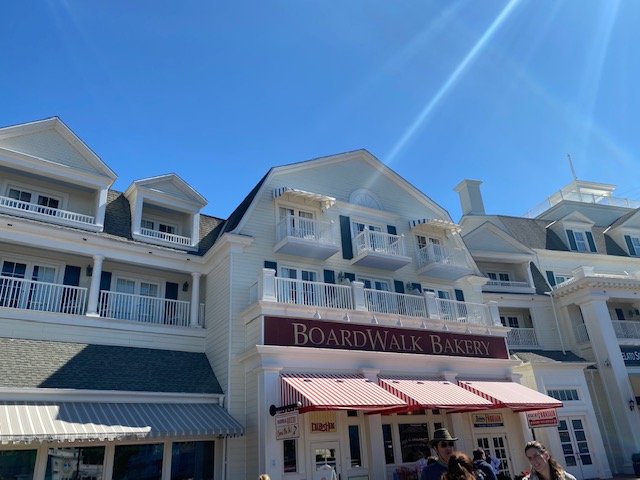 Transportation at Disney's Boardwalk Inn
We've discussed in a previous blog the importance of location when choosing a Walt Disney World resort. Well look no further because the location of the Boardwalk Inn is tough to beat! And what parks you can't just walk to, you have multiple transportation options.
Walk – Guests can walk to both Epcot and Hollywood Studios
Boat – Don't want to walk to Epcot or Hollywood Studios? Take a Friendship Boat!
Bus  – Animal Kingdom and Magic Kingdom are accessible by resort bus
Skyliner – And oh yeah – the Skyliner is an option for Hollywood Studios as well!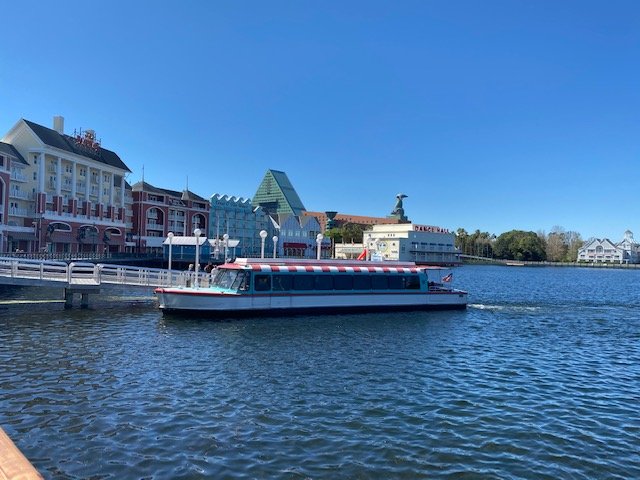 Conclusion
Disney's Boardwalk Inn is a fantastic option for guests at Walt Disney World. And while Disney's Beach Club will always remain my favorite, you will frequently find me at the Boardwalk! Why? Oh I may have forgotten to mention – Disney's Boardwalk Inn is often CHEAPER than the Beach Club! I have frequently found better rates at the Boardwalk. On our last trip, we paid less for a Concierge room at the Boardwalk than we would have for a Standard Room at the Beach Club!
Have you stayed at the Boardwalk yet? What did you think? Let us know in the comments! And check out our video below for a full review.
P.S. Now that you've found us, be sure to subscribe to our newsletter below or in the link on the side! You can also check us out on YouTube, Facebook, and Instagram!