Disney's Wilderness Lodge is truly the best of both worlds. Located in the heart of Walt Disney World, mere minutes from the Magic Kingdom, this resort still offers the perfect respite from the hustle and bustle of the theme parks. Read on to learn why I love Disney's Wilderness Lodge Resort!
Built in 1994, Disney's Wilderness Lodge is located on Bay Lake, adjacent to Disney's Fort Wilderness Resort & Campground. Modeled after the inns serving the National Parks in the Pacific Northwest, the resort's decor feels rustic yet indulgent. An eight-story fireplace towers over the lobby, built from stone representing the layers of the Grand Canyon.
Rocking chairs in front of the roaring fireplace invite guests to relax and rock for a spell while listening to the relaxing sounds of the babbling brook that begins in the lobby, and continues outside to the waterfalls overlooking the pool area. Outside, a smaller version of Old Faithful Geyser actually spouts water every 30 minutes during daylight hours.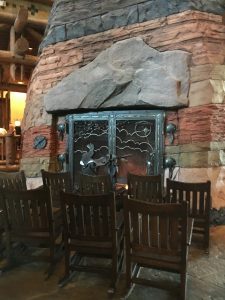 Accommodations
There are 727 guest rooms at Disney's Wilderness Lodge. Rooms are approximately 344 square feet and have two queen beds. Unlike most Deluxe Resorts at Walt Disney World, most guest rooms only sleep four people. Guests can choose from Standard View, Courtyard View, or Nature View rooms. There are Courtyard View and Nature View rooms that have a set of bunk beds in lieu of the second queen bed.
In addition to the usual room types, the Wilderness Lodge also offers Concierge Level rooms and suites. Concierge rooms include access to the Old Faithful Club (concierge lounge) where guests can get snacks and drinks throughout the day as well as assistance from the Concierge team with planning. Our favorite room type is a Nature View Room, preferably Concierge level! DPP Tip: Some Nature View Rooms offer a partial view of the fireworks. Request a room on an upper floor, facing the Magic Kingdom! 
Amenities
Copper Creek Springs Pool at Disney's Wilderness Lodge has something for everyone from the water slide to the splash area for toddlers to the "spa" (Disney-speak for a hot tub). Guests can also enjoy the Boulder Ridge Cove Pool, located between Wilderness Lodge and Boulder Ridge Villas. This is a "quiet" pool without a water slide.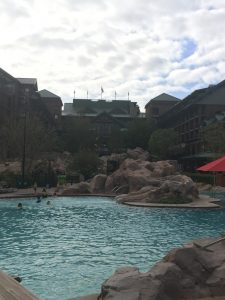 In addition to the pool, guests can take advantage of the jogging trail, arcade, bike rentals, an outdoor campfire and movies on the beach, and more. Sturdy Branches Fitness Center insures that guests can keep up with their beauty and exercise routines while on vacation.
Dining
Disney's Wilderness Lodge has two full service restaurants – Artist Point, and Whispering Canyon Cafe. Beginning December 16, 2018, Artist Point will be the home of the "Storybook Dining at Artist Point" character meal with Snow White and friends. Whispering Canyon Cafe serves a family style menu plus a la carte items for breakfast, lunch and dinner.
Roaring Forks offers quick service dining. Geyser Point Bar & Grill offers pool-side dining and drinks, with both quick service and a limited table service menu.  DPP TIP: Whispering Canyon Cafe in the past was known for shenanigans on the part of the wait staff which led to a boisterous dining experience. Recent changes to the service have definitely led to lower volume levels, but sadly a bit less fun at this popular restaurant. 
Transportation
Disney's Wilderness Lodge is located just a short boat ride from the Magic Kingdom. All other theme parks and Disney Springs can be reached by bus. Boat service is also available to Fort Wilderness and Disney's Contemporary Resort. Guests can also use Minnie Van service to get anywhere on Walt Disney World property.
DPP Tip: One of my favorite things to do is ride the boat from the Wilderness Lodge to the Magic Kingdom during the fireworks! 
Disney's Wilderness Lodge is the perfect choice for guests who want to get away from it all at the end of a busy day. What do you love about the Lodge? Let us know in the comments!