Located at the end of the Downtown Disney district, the Disneyland Hotel is the original hotel of the Disneyland Resort. It was opened in October 1955 – just months after Disneyland itself. Even though it looks nothing like it did when it opened (there were only 104 guest rooms over several two story buildings), the Disneyland Hotel is a piece of Disney history and its morphed into a beautiful high end place to stay on your vacation. It's easily the most 'Disney' of the three resort hotels – all whimsy and magic, while still having an upscale feel. Here's why we love staying at the Disneyland hotel.
LOCATION OF DISNEYLAND HOTEL
Located at the end of the Downtown Disney district, the hotel is only a 10 minute stroll to the front of the park. One of the best things about the Disneyland Resort is its size – you can walk to everything and don't have to rely on transportation! But if you just don't feel like walking, the monorail station is right next door to the hotel, which means you can take a ride into Tomorrowland in less than 30 seconds from when you leave your hotel room!
Being next to Downtown Disney also means you are just steps from all the shopping and dining the district has to offer. It seems like every other month a new eatery or shop is opening, and staying at the Disneyland Hotel makes it easy to pop downstairs and go grab a bite.
ACCOMMODATIONS
The rooms here are beautiful, and they're also the biggest in size of the Disney resorts. You can easily do a few cartwheels around your room if you wanted to! The décor is classic in dark blues and browns, with little nods to Disney, without it being in your face. There are Mickey gloves holding up lights in the bathroom, and hidden Mickey's in the carpet.
But probably the greatest feature of these rooms are the headboards. At first glance the headboards look like a beautiful wood carving of Sleeping Beauty Castle. But in true Disney fashion, there's a bit of Pixie Dust here. Simply click a button on the night stand and the headboard begins to shimmer and twinkle, fiber optic fireworks explode and 'A Dream is a Wish Your Heart Makes' starts to play. It's your own mini fireworks show any time you want it, and if I could figure out how to have that headboard in my own bedroom, I absolutely would! It's little touches like this that make staying here so special.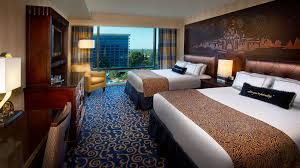 There are four different view categories. Standard rooms will overlook the hotel parking lot, while Deluxe rooms are going to look out onto the hotel grounds. Premium view rooms are higher up and look out over the pool. And for a special treat, you can book a Downtown Disney View that let's you see out onto all of the action – and even the nightly fireworks over at Disneyland! There are also 1 and 2 Bedroom suites, concierge rooms (with probably the prettiest view of a concierge lounge anywhere!), and themed Signature Suites (more on those in a later post!).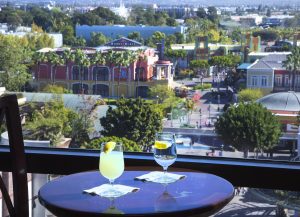 AMENITIES AT DISNEYLAND HOTEL
The grounds of the Disneyland Hotel are so lovely. You can easily spend the day lounging around the rose garden, maybe stumbling upon a bride on her way to her wedding. But the best feature is the E-Ticket pool area. This free-form pool has a tropical feel with palms and flowers everywhere. It's perfect for spending a lazy day, grabbing some food or a cocktail from a passing waiter. But when you're ready to have a little more fun, head over to the Monorail Slide, where you can race your friends down the dueling body slides.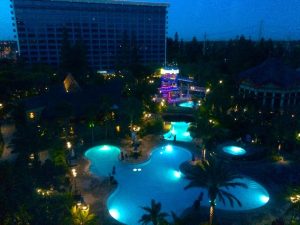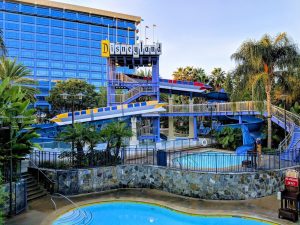 DINING AT DISNEYLAND HOTEL
Restaurants
There are so many dining options at this one hotel, and they all happen to be my favorites! It's literally impossible to go hungry here – there's a flavor for every taste!
For family dining, there's Goofy's Kitchen, one of the most popular character meals in Disneyland. You can meet Chef Goofy and his friends as they visit your table to say hello. The character interaction here is fantastic – the characters usually come around several times to each table. But the real star is the food! This buffet is massive. Even at breakfast you'll find a dessert table the size of two normal dining tables AND there's a self-service ice cream machine (just give me all the sprinkles!)! The food is delicious and plentiful. You absolutely MUST try the PB&J pizza – it's their 'famous' dish.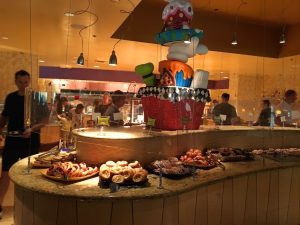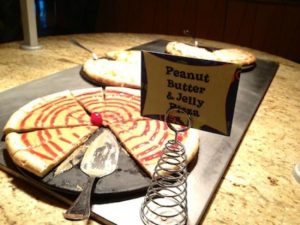 When you're in the mood for a nice dinner, head to Steakhouse 55. Just like the name suggests, this is a steak restaurant, but very fancy. The décor is mid-century, and you'll want to get there early so you can grab a cocktail in the beautiful lounge before your reservation. The food is so good, and the portions are massive. Steakhouse 55 also does a wonderful breakfast (I still dream of the eggs benedict!) and an afternoon tea – which they theme to Halloween in the fall!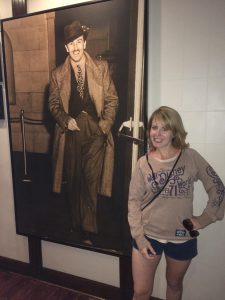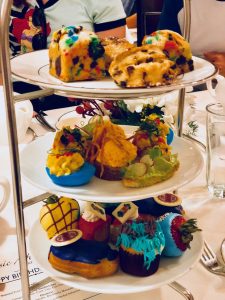 When you just want to grab something quickly, head to Tangaroa Terrace, the resort's quick service restaurant. Serving breakfast, lunch and dinner, this little spot is located next to the pool and the outdoor patio is a great spot to watch the action in the water. The food is Polynesian with things like spam musubi, a Hawaiian cheeseburger, and my personal favorite – kalua-style poutine (I should not be writing this before I've had breakfast; I'm craving that poutine now.). There's now even a Dole Whip window for all you fanatics out there!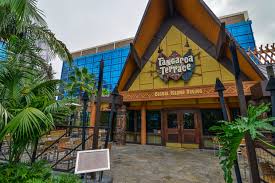 Trader Sam's Enchanted Tiki Bar
I've saved the best for last, though. One of my favorite places anywhere at Disneyland happens to be located right here at the Disneyland Hotel. Trader Sam's Enchanted Tiki Bar is a tiki bar on steroids. Enter this space and you'll find loud antics, little Disney Easter eggs all over the walls, and a menu of tiki cocktails a mile long (all with VERY fun names).
But my favorite part is the special effects that happen every time a drink is ordered. Each drink triggers a different surprise to happen, and the longer you spend there the more you get into the antics with the bartenders. When you're looking for a less raucous way to spend your evening there's an outdoor patio with tiki torches and live music with a Hawaiian flare. There's also a great food menu here – please just do yourself a favor and get the panko-crusted green beans. You're welcome.
I really love the Disneyland Hotel. It feels special staying there – like you're part of the magic. Plus, any hotel that can be fancy but still give me Mickey soaps makes me happy!