I was lucky enough to visit the Shanghai Disneyland Resort last year and had the most incredible time, even with the massive amount of rain I had during my trip. I got to stay at the Shanghai Disneyland Hotel, which was incredible. It was elegant and the location across from the park was so convenient. I couldn't imagine going back there and staying anywhere else. Here are my Top Five reasons why I fell in love with the Shanghai Disneyland Hotel.
1. It's So Pretty at the Shanghai Disneyland Hotel!
Like I mentioned, this is a GORGEOUS hotel! Walking into the lobby you instantly feel transported to an era of opulence. The décor is Art Nouveau and I was immediately reminded of the lobby of the Disney Fantasy. The Imagineers definitely drew upon the cruise ship design. The lobby has a massive stained glass chandelier and sleek columns lead up to stained glass toppers. The hallways from floors above are open to the lobby with iron railings designed to look like peacock feathers. Direct across the lobby from the entrance are floor to ceiling windows draped in opera curtains. During the day you'll have clear views right to the park. You'll also notice a bronze statue of Mickey conducting his friends in a musical performance.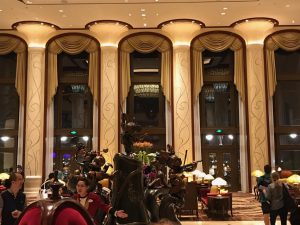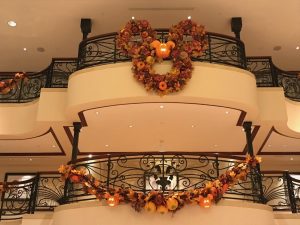 For me there's nothing quite like a nice hotel. It sets the tone of your vacation, and I want my vacation to be relaxing and an escape from my everyday life. I want to feel like royalty, and that was absolutely accomplished here.
2. Bacchus
Okay, I am not at all ashamed to admit that this is where I spent the majority of my time at this hotel. Bacchus Lounge is themed after the 'Pastoral' scene from the Disney classic Fantasia. For those of you that know your Roman mythology (oh, wait? You're not up to date on that?), you'll know that Bacchus is the Roman god of Wine. And I love wine. A lot.
Located just past the lobby, Bacchus offers an extensive wine list (there's lots of Sauvignon Blanc, in case you like that sort of thing. I do!) and fancy cocktails. They also do a really nice high tea in the afternoons. The service was quick and the bartenders and wait staff started to learn my preferences, which was great.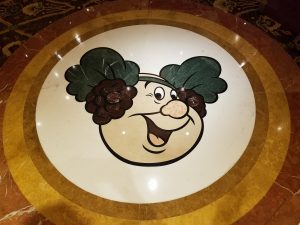 But the absolute highlight of this lounge was the giant picture window at the far end looking directly out to Fairytale Castle. Getting to sip a glass of wine while watching the lights on the castle glow? Priceless.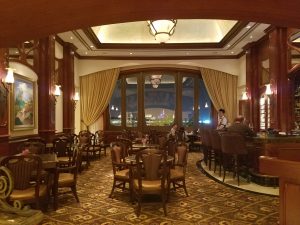 3. Location, Location, Location
I said it above, but I'm going to tell you again. The location of this resort cannot be beat! Located directly across Wishing Star Lake from Disneyland, the hotel is only a quick 10 minute walk to the main gate. Don't feel like walking? Just take the quick water taxi ride. There's just nothing like being able to get to the park quickly to get on your favorite ride (I'm talking to you, Tron Lightcycle Run!).
The Chinese people also really love outdoor space, so they split their time between Disneyland and Wishing Star Park. It sounds crazy to us who love to be in the park non-stop, but this outdoor paradise is absolutely worth your attention. This beautiful waterfront space has seating overlooking the lake, gorgeous flowers, walking paths, and grassy patches to relax. And the best part? It's just outside the gates of the Shanghai Disneyland Hotel, so taking your morning cup of coffee for a quiet stroll becomes the most special luxury.
4. Rooms
Somehow the Shanghai Disneyland Hotel manages to walk the line between whimsy and elegance so perfectly. There are dark woods with cream walls. Bedspreads have tones of mahogany, blue and gold. Tinkerbell appears on the headboard, along with Fairytale Castle, and with the push of a button Tink sprinkles some of her pixie dust across the headboards. In the bathroom you'll find mosaic tiles on the floor, fancy amenity kits and slippers to use throughout your stay. Talk about feeling like a total VIP guest – give me slippers and I'm a happy girl!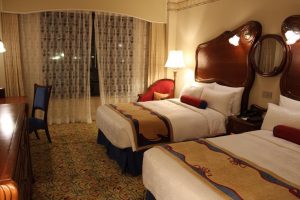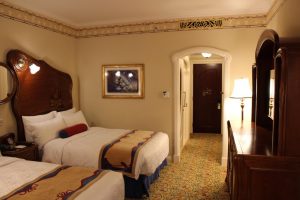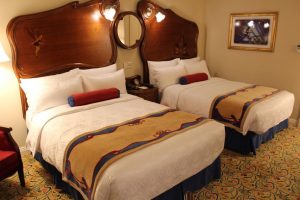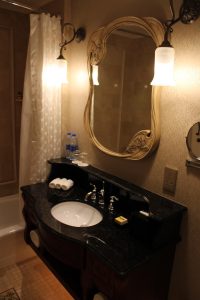 5. Food
We all knew it was going to come to this, right? Food makes everything better. There were two options I adored here. The first was Ballet Café, located right next door to the Bacchus Lounge. This quick service option offered amazing breakfast pastries and wraps, fancy coffees, and NOODLES! All the noodles! I believe they even sold popcorn in crazy flavors in souvenir tins to take home. Some friends may or may not have gotten seaweed flavor popcorn from me…
Then there's Lumiere's Kitchen, a character buffet themed to the iconic Be Our Guest scene in Beauty and the Beast. If you want to eat like a princess, you have got to try this buffet at least once. You can meet the Fab Five, which is great, but here the food is the real star. Waffles with Darth Vader make an appearance, there's a yogurt bar, eggs, pancakes, muffins and cupcakes shaped like Mickey. But then there's the Asian influence – noodles for breakfast, ALL the dim sum (I'm talking at least 14 different kinds of dumplings here), pickled eggs (definitely not my favorite), and more than one jar of bugs. So, hey, here's your chance to try something you never would at home and come home with an awesome vacation story!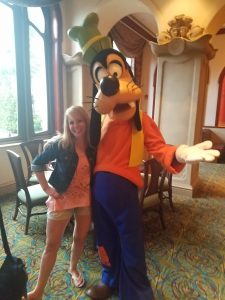 I hope I was able to give you a glimpse into this gorgeous hotel. I loved it so much and I cannot wait to go back. Mostly because I need to spend time without a monsoon, and you can bet the castle I'll be staying at the Shanghai Disneyland Hotel again! Have you stayed here? Let me know your favorite part in the comments below!